This is another great development for gamers. Advanced Micro Devices (NASDAQ:AMD) announced its new Kaveri-powered mobile FX APUs at Computex 2014. AMD's old CPU-only FX processors for desktop computers were legendary for their octacore power. Thanks to its eight cores of Radeon R7 GPU, The 35W TDP FX-7600P will give ultrabooks desktop-quality gaming performance.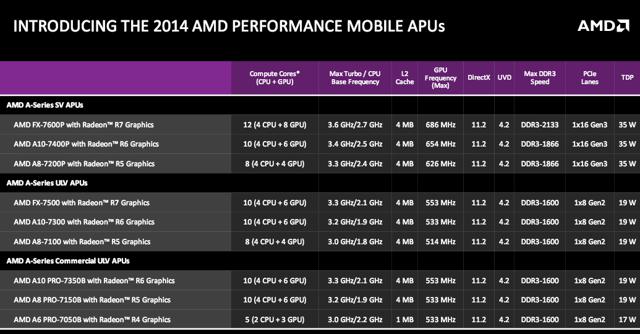 Source: AMD
The more energy efficient 19W TDP AMD FX-7500, which only comes with six cores of R7 graphics, will deliver more than 50% better gaming performance than an Intel (NASDAQ:INTC) Core i7 Haswell CPU. AMD cannot compete with cash-rich Intel in tablets this year, but it can seriously compete in the gaming laptop category.
Kaveri To The Rescue
The Kaveri mobile APU is an energy-efficient product, which boasts support for Mantle, Graphics Core Next (GCN), and Heterogeneous System Architecture (HSA). The new FX and AMD A-Series Pro aims to bring desktop-level gaming performance to laptops starting at $400 retail price level.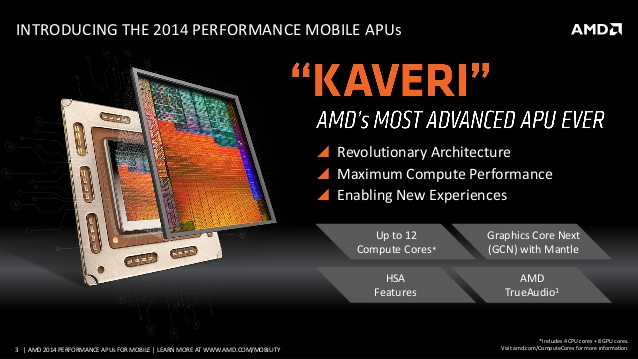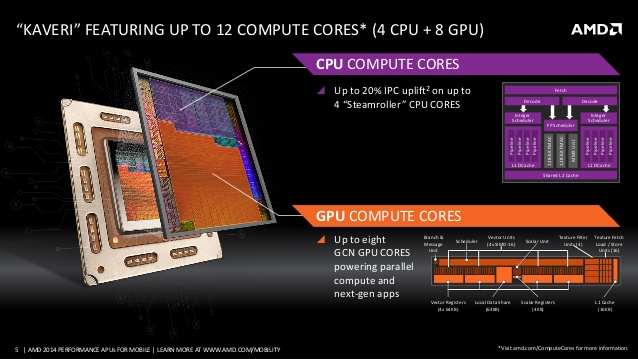 Source: AMD
AMD's graphics market share has been losing ground to Intel and Nvidia (NASDAQ:NVDA) for the last two quarters. An aggressive push towards gaming notebooks may help AMD's overall GPU business. Cheaper but more powerful gaming laptops will entice more gamers to buy AMD-equipped notebooks.

Source: Jon Peddie Research
AMD's x86 PC business continues to decline but the company is aggressively developing cheaper APUs that should attract more industry support. The PC gaming community is a huge $25 billion market that AMD can continue to rely on. Kaveri promises to deliver console-like gaming power to Windows laptops.
MMORPG and MOBA (Multiplayer Online Battle Arena) gamers will need gaming laptops to continue practicing their Dota 2 or League of Legends skills. MOBA gamers in North America and European Union countries are gravely addicted. Based on the chart below, MOBA gamers are spending more than 1.7 billion playing hours every month.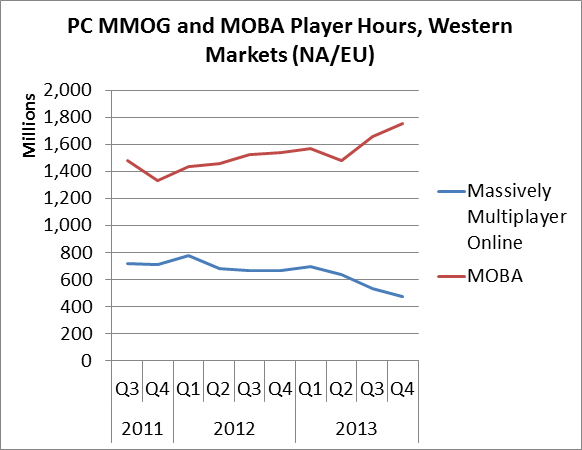 Source: gamesindustry.biz
The more people that gets addicted to MOBA games, the better it is for AMD investors. The total addressable market for mobile Kaveri-equipped notebooks benefits from continuous growth in PC gamers' population.
Industry Support
Rory Read's former employer and world's number one PC vendor, Lenovo (OTCPK:LNVGY), will be the first company to bring out notebooks with mobile Kaveri/FX APUs. AMD Kaveri will be inside the 15.6-inch Flex 2, 14-inch Flex 2, and $399 B50 and G50 laptops. Lenovo will also be using AMD APUs in its high-end Z-Series laptops, which starts at $579.
This is another good turn of events. AMD is no longer discriminated against among x86-based PC makers. The new mobile APUs will not be relegated to sub-$350 notebooks. Intel's current focus on mobile chips for tablets this year will distract it enough to let AMD slowly penetrate the high-margin premium laptop sector.
I expect Acer, Samsung (OTC:SSNLF), and Hewlett-Packard (NYSE:HPQ) to also come up with Kaveri-powered laptops before 2014 ends. Take note that these AMD gaming laptops will also be capable of running most Android apps inside the Windows 8.1 OS. AMD has contracted BlueStacks to create an AMD-exclusive special version of their Android Emulator software.
Conclusion
A $400 Kaveri-equipped gaming laptop is very attractive to millions of gamers. AMD investors will appreciate it very much if Rory Read can revive the company's falling market share in GPUs. Gamers accustomed to the FX brand name for their old desktop gaming rigs should also be impressed with the new FX-7600P and FX-7600 quad-core APUs.
A return to more than 20% market share in graphics sales is highly desirable. AMD has been trading sideways around the $4.00 price level. I hope Lenovo's global distribution network and the low price tags of Kaveri-powered gaming notebooks helps AMD breach the $5 barrier this year.
Kaveri needs to pay-off big time to make AMD's big gamble on ATI purchase a winning preposition. This company's stock used to trade above $42 in 2006. The huge debt that AMD had to incur was due to the overpricing of the ATI acquisition. On the other hand, ATI's fusion technology of CPU/GPU has allowed AMD to outpace Intel in terms of making game-centric x86 SoCs.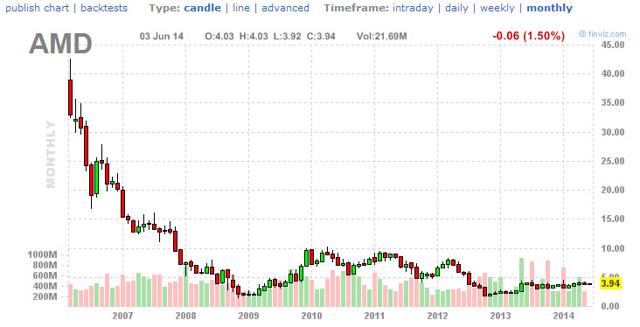 Source: Finviz
The current low 0.54 Price/Sales ratio of AMD makes it a good long-term Buy. Despite the heavy debt (4.18 Debt/Equity) handicap of AMD, five analysts from BarChart still rate it as a Buy. Five other analysts polled by FT.com support the Buy rating of those five analysts from BarChart.
I heed the assessments of those ten analysts. I remain long on AMD.

Disclosure: I am long AMD, INTC. I wrote this article myself, and it expresses my own opinions. I am not receiving compensation for it (other than from Seeking Alpha). I have no business relationship with any company whose stock is mentioned in this article.