I have decided to give some of the most important reasons as to why I own shares of the companies I hold within my various portfolios. Henceforth, I will be doing a focus article on each stock with MY reasons for owning the shares, and why I believe you should too.
Focus On Johnson & Johnson
Johnson & Johnson (NYSE:JNJ) has been hitting 52 week highs, seemingly every day. I would argue that the performance of the stock has been a result of some dynamic growth in both revenues and earnings, even though this enormous company is no longer considered a classic "growth" stock. That being said, the company continues to offer terrific shareholder value in both dividends and capital appreciation.
Johnson & Johnson Is A Dividend Champion
I know that I have said this before, and each time the stock rises, the yield dips a bit, but to me that is not as important as what I will gain long into the future, based on the actual history of JNJ, and dividends.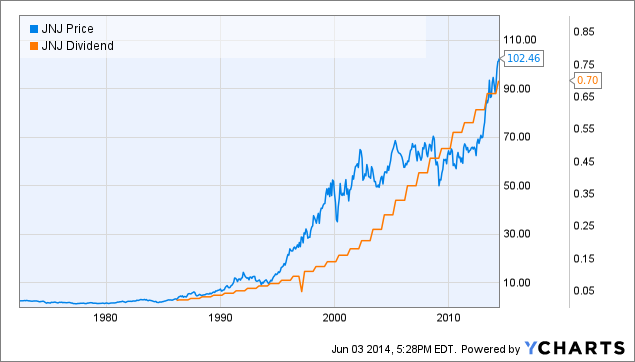 When it all boils down to what shareholders receive in return for owning shares over the long term, it is all about money. Not only has JNJ given shareholder value in capital appreciation, but look at the dividend trend.
If your employer gave you increases year after year, as well as a bonus, would you take a job with them at a somewhat lower salary than some other company? So the share price is $102 now. Is it too high? Maybe today it is, but in 10 years what will it be and what will be your benefit?
The same thing was said when the stock was $50, $60, $70, $80, etc. Given that the company is perhaps one of the 20 greatest companies on the planet, is it completely inconceivable that the stock can continue its trajectory for another 25 year? I would think it is MORE than conceivable, and actually makes perfect sense!
JNJ Financials Tell Us Quite A Bit
Some of the basic elements to point to comes directly from the company 8k from the first quarter.
Let me toss up two charts from the report:

Show me a company that has as much earnings as JNJ and can still produce a quarter-over-quarter increase of 34% in earnings and I want to own that company also. This is a remarkable performance and likely the catalyst that continues to move the share price higher.
Now take a look at this one: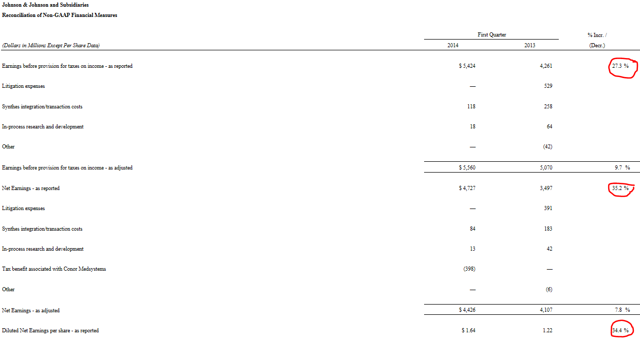 Non-GAAP fundamentals in each category broken down are impressive enough, but look at this chart: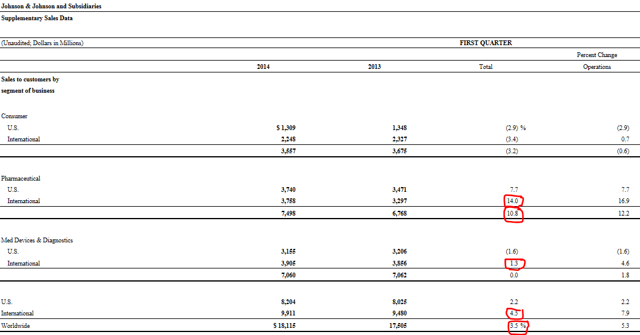 In each division, aside from consumer products which fluctuate all the time anyway, the numbers are also well ahead. Take a close look at where the best increases are coming from.
The global footprint of JNJ is more than enormous, and is growing. Could this also be a catalyst of the share price? To me, this is where the company is headed. As emerging markets grow, and economies in Europe and elsewhere strengthen, isn't JNJ a stock that will benefit for not just the short term, but for the long term?
I can see the stock continuing its march upwards in the face of a rising PE simply because it is proving that it can already. Keep in mind that the booming pharmaceutical sector is also outpacing YOY and the numbers internationally are staggering:

As the world goes, so goes JNJ and the world keeps growing as does JNJ. As the company website states very clearly:
The Pharmaceutical segment of Johnson & Johnson invested $5.3 billion in 2012 on research & development. The Janssen Pharmaceutical Companies of Johnson & Johnson are dedicated to addressing and solving the most important unmet medical needs of our time, including oncology (e.g., multiple myeloma and prostate cancer), immunology (e.g., rheumatoid arthritis, irritable bowel disease and psoriasis), neuroscience (e.g., schizophrenia, dementia and pain), infectious disease (e.g., HIV/AIDS, Hepatitis C and tuberculosis), and cardiovascular and metabolic diseases (e.g., diabetes). Driven by our commitment to patients, we develop sustainable, integrated healthcare solutions by working side-by-side with healthcare stakeholders, based on partnerships of trust and transparency.
Even The Basic Fundamentals Are Amazing
When I simply glance at the metrics of the company, I have to wonder why everyone does not own JNJ stock, even at today's prices.
The forward PE is below the S&P 500 average, at 16.19.
Operating margins are over 27%.
YOY earnings (34%) and revenues (3.50%) beat the previous quarter even though the numbers are huge.
The dividend payout ratio is only at 50%.
JNJ has about $30 billion in cash and just $23 million in debt.
Institutional holdings are at nearly 70%.
A low beta of just .54
An enterprise value of nearly $275 billion makes it one of the largest public companies on the planet.
Nothing is risk free of course, and JNJ can have another Tylenol fiasco of 25 years ago that could drop the share price, but those are just blips on the radar screen as far as I am concerned and offer buying opportunities.
People can decide that they do not want the medical devices anymore, and the share price could drop.
The economies around the globe could go into a tailspin, including here in the US and the stock could get hammered.
The value of the dollar vs. other currency causes bottom line issues even if business globally is strong, but I see no evidence of that.
I can list another thousand potential issues, but I think you get the point. JNJ has weathered them all, since it became a public company, which is why I will always own it, and so should you.
If you want to see where JNJ is in the BTDP take a look at this article that will give you just about everything at one glance.
The Bottom Line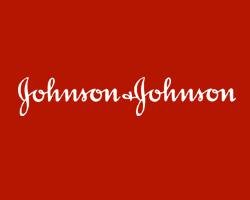 If you do not buy JNJ now, you will at some point, for a long-term investment. Time will tell if you can buy it on sale or if the share price will be $125 by the time you decide.
Johnson & Johnson should be a core holding of any serious investors portfolio, period.
Disclosure: I am long JNJ. I wrote this article myself, and it expresses my own opinions. I am not receiving compensation for it (other than from Seeking Alpha). I have no business relationship with any company whose stock is mentioned in this article.