As an investor and a trader, I feel it is important to pay attention to what insiders are doing with their shares. I believe it is an insightful indicator of future results.
For this brief segment, I have picked three different companies that management is selling.
First on the list is Salesforce.com, Inc. (NYSE:CRM).
Let's look at a chart.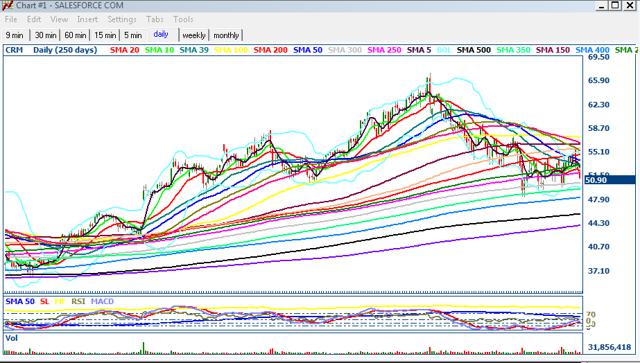 Above is a 250-day chart to illustrate my thesis of insider selling, followed by a move down in the stock price. Salesforce.com is a $31 billion software company that provides enterprise cloud computing solutions to various businesses and industries worldwide. What is management doing with their shares?
You can see more information from this sight by clicking here.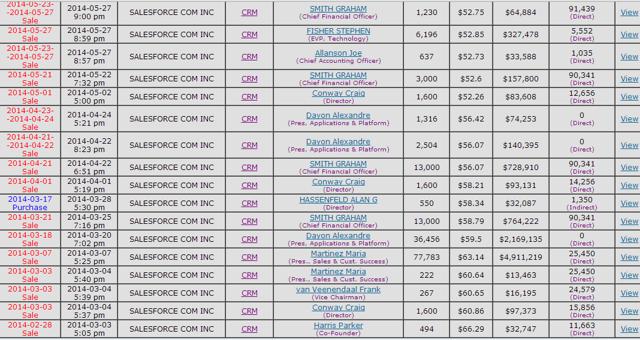 Insiders have sold a net $23,079,554 worth of stock in the last 6 months. The stock price has dropped from an all-time high of $67 a share to $50.90 as of yesterday's close.
Now, let's take a look at a chart for insider selling in Micron Technology Inc. (NASDAQ:MU).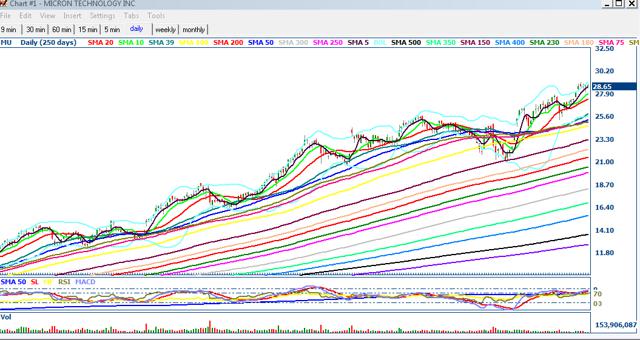 For an even better perspective, look at a weekly chart.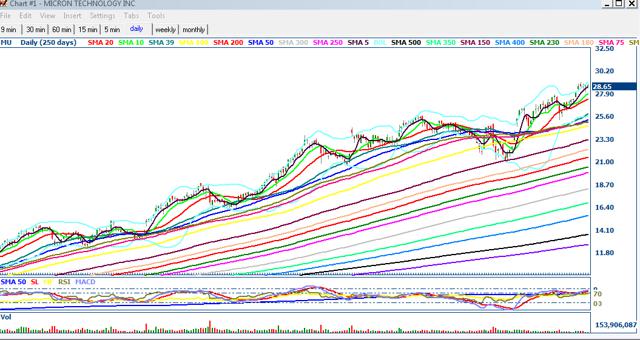 You can see above that the stock appears to be getting ahead of itself. The share price is at the upper edge of the Bollinger bands. While it could move higher, it looks to me like a correction is imminent.
According to Secform4.com, there has been $52,107,845 in insider selling in the last 6 months.
Yesterday, the CEO sold over $5.4 million in stock at $28.42 a share. Obviously, he is watching the stock peaking and decided to cash in. Can you blame him or any of these insiders? The company continues granting stock options and stock units, the new buzzword. In my opinion, corporate executives are finding ways to dilute shareholders and confuse general public as to exactly what kind of compensation they are actually receiving. Why do these people deserve to make 10 to 20 times more than the President?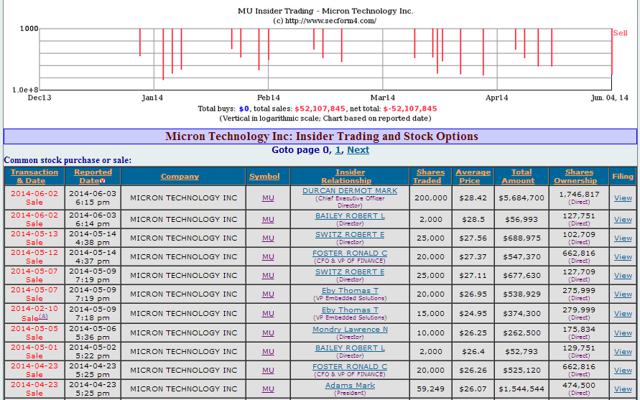 Let's examine Autodesk Inc. (NASDAQ:ADSK).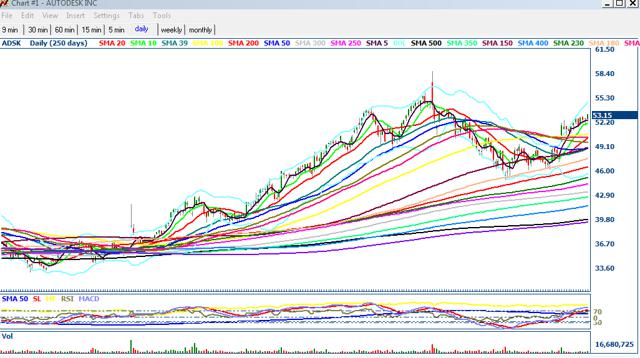 You can see about 14 days ago, the stock gapped up from $47.50 to $50.52 on a less-than-impressive earnings report. The company reported net income down 50%. The company currently trades around a 61 P/E ratio, with minimal growth forecasted. I expect that gap to be filled soon.
What are insiders doing here?
This data is readily available; all you have to do is look for it. Insiders sold $68.9 million of stock in the last 6 months. The CEO, Carl Bass, sold around $60 million of stock and stock options for himself. That is a large sum of cash. What I find troubling about this is that during the same period, the company bought $102 million of its own stock. Why? Is Autodesk propping up its own stock price to sell its private shares? Something is not right here; this does not pass the smell test. This is not a high-growth company; it is a 30-year old software company that is trading at a multiple of a 100% revenue growth company. I see pain in the future for this business model.
Conclusion
Insider trading can be very insightful to anyone considering investing in a stock. I feel it is important to always look at what insiders are doing with their shares. I believe certain tech stocks are in a bubble. I, for one, would rather buy stock in a company where insiders are purchasing stock for themselves. I am short ADSK for the reasons above. Do not take my advice; do your own research, make your own decisions and always have an exit strategy in place before making any investment decision.
Disclosure: I am short ADSK. I wrote this article myself, and it expresses my own opinions. I am not receiving compensation for it (other than from Seeking Alpha). I have no business relationship with any company whose stock is mentioned in this article.