fiASCO!
I want to make three things clear before I begin.
I'm a Cyclacel (NASDAQ:CYCC) shareholder, and I believe in the science of sapacitabine.
Cyclacel management has, on several occasions, acted in complete indifference to shareholder concerns, most recently by creating an event on Saturday, May 31st, that they had to know would lead to a stock sell-off on Monday, June 2nd.
Management has damaged shareholder value in other ways, but most notably through misleading statements made prior to large equity raises that served only to compromise investor trust.
On May 28, 2014, Cyclacel published a press release in which it announced a webcast presentation of its plans for a "randomized controlled trial" of sapacitabine for the indication of intermediate-2 and high-risk MDS after treatment failure of hypomethylating agents. The recently completed Phase II trial with 63 active arm participants had more than doubled known rates of overall survival in this badly compromised treatment population of high unmet medical need.
Use of the term "randomized controlled trial" left open many possibilities that beleaguered, but hopeful shareholders pondered over in the days leading up to the big event. This speculation expressed itself in questions concerning the type of registration study to be selected. And the high level of expectancy was equal to the magnitude of the event conveyed.
For instance, although it was not an official ASCO event, nor endorsed officially by ASCO in any way, Cyclacel usurped the ASCO name by location and through the use of the ASCO brand in its PR.
Cyclacel Pharmaceuticals Inc., a biopharmaceutical company developing oral therapies that target the various phases of cell cycle control for the treatment of cancer and other serious disorders, today announced that it will webcast an invitation-only institutional investor and analyst presentation from 6:30 p.m. to 8 p.m. CDT, Saturday, May 31, in Chicago during the 2014 ASCO Annual Meeting.
Furthermore, the hype continued with a featured guest speaker, Dr. Hagop Kantarjian, chief of the Department of Leukemia at the University of Texas MD Anderson Cancer Center.
May I have 5 minutes of silence please.
It should be noted that on the day of the presentation, Cyclacel investors were glued to their computer screens in anticipation of the big news. There was a fresh, new video interface that provided an exciting focal point. But when the event started, there wasn't any sound or video. In fact, other than two sound checks, there wasn't any media output until after the 5-minute mark when President Spiro Rombotis began his opening remarks.
This isn't all that uncommon. However, this 5-minute gap wasn't edited out of the recorded presentation until Monday, June 2nd. How long does it take to edit out 5 minutes of needless silence? For most of us, that's measured in minutes. For some, perhaps hours. For Cyclacel management, days is the standard of measurement.
So, what we have at this point are some very frustrated and very hopeful investors clamoring on message boards for some word of what's to come. Remember now, a positive message regarding a registration trial will likely move the stock up significantly, and perhaps reverse entirely its downward trend.
It's my pleasure to introduce a champion for sapacitabine: Dr. Hagop Kantarjian. Well, not exactly.
Here's Spiro Rombotis, snuggling up to Hagop Kantarjian in his opening remarks.
Dr. Hagop Kantarjian, who as many of you know is the chair of the department of leukemia at the MD Anderson Cancer Center. Dr. Kantarjian, among his many laurels has been a champion for sapacitabine. He started working with us as far back as the phase 1 hematological malignancies trial several years ago now. He has been steadfastly supporting the company and its efforts to discover the properties of this drug, and has chaired the phase 2 program, and is also the chair of the SEAMLESS study. So, without further adieu, here's Dr. Kantarjian to discuss his perspective.
And here's Kantarjian, refusing to be pulled quite so close.
So, just as a background, I'm helping Cyclacel develop sapacitabine but I don't have conflict of interest except the research support. So, I don't have any (pause) overt or hidden conflicts of interest. I think the drug is an important one, and I'd like to see it come, hopefully, to availability to help the patients.
Now, I don't know if this is the standard disclaimer that an invited guest speaker recites, but it certainly was a guarded one. Dr Kantarjian's name, after all, is on many of the slides Cyclacel uses to compare data from the pilot and lead-in studies of SEAMLESS to the DACO-016 trial results.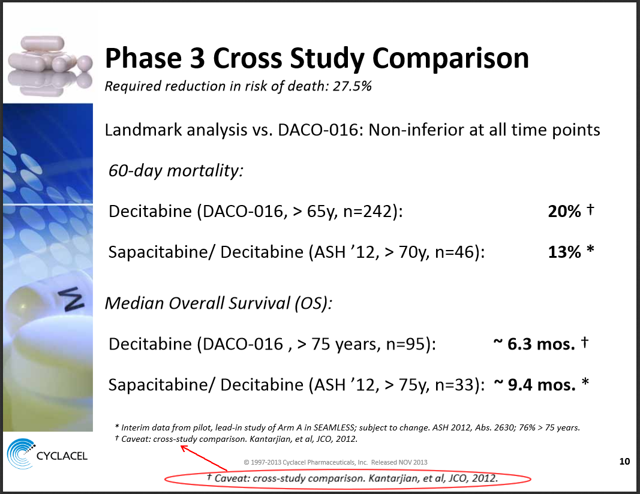 I've openly requested Dr. Kantarjian's help in ascertaining by what unit of measure a month was calculated in the DACO-016 trial. This is important because Cyclacel is making a direct apples-to-apples comparison between these overall survival rates that investors are using to calculate trial data differences in the hope of making an informed investment decision. And if there is a discrepancy in the unit of measurement - 28 days versus 30.41 days, then there is a significant impairment of that ability, which is detrimental to fair assessment, and therefore, to shareholder value.
By design or by accident, what does it matter?
The decision to create such a grand stage for conveying the pathway forward for sapacitabine in refractory myelodysplastic syndromes, or R-MDS, was reckless, at best. The announcement that Cyclacel made didn't meet with the magnitude of the moment. The intensity of feeling surrounding this ballyhooed event was in stark contrast to the underwhelming decision to forgo a pivotal Phase III R-MDS trial in favor of a 2nd Phase IIb study. I'll be discussing the merits and implications of that decision in my next article, but at this point, I want to remain focused on this one issue of presentation.
You see, I've engaged many people in conversation about the leadership of this company, most of whom have expressed displeasure with it. At the top of a short list of off-putting items would be trust, especially as it relates to messaging prior to stock dilution. A close second, however, would be the company's inability to tell its story in a manner that attracts institutional investment and a would-be partner.
Take a look at this screen grab of the Cyclacel Yahoo message board. A member named Jathman is polling investors on retaining Spiro Rombotis as president. Thumbs-up is for his removal.

I have privately and publicly defended Spiro Rombotis, because I see him as a very intelligent, crafty and articulate man who has been a good steward of sapacitabine and cell cycle science. It is largely because of him that I retain all shares purchased in my portfolio to this very day.
I haven't, however, been blind to his shortcomings. He's completely passive when it comes to conveying the Cyclacel story in a timely fashion. He's been negligent in responding to the concerns of Cyclacel shareholders. By way of example, he's never acknowledged the problem of the daily false reporting of the company's market cap on Yahoo and Google Finance, and therefore, has likely done nothing about it.
It seems that for Spiro Rombotis, the mastery of cell cycle science and safeguarding of company assets is sufficient to the execution of his responsibilities as president and CEO. It's not! The value of company shares will appreciate when and if Spiro Rombotis realizes that his job encompasses much more than that.
The catastrophe that was this event, and each choice that led up to it, cost Cyclacel shareholders 5.87% of their equity in a single day. Equity that Spiro Rombotis has a fiduciary responsibility to protect and enhance. Here's the one-day chart.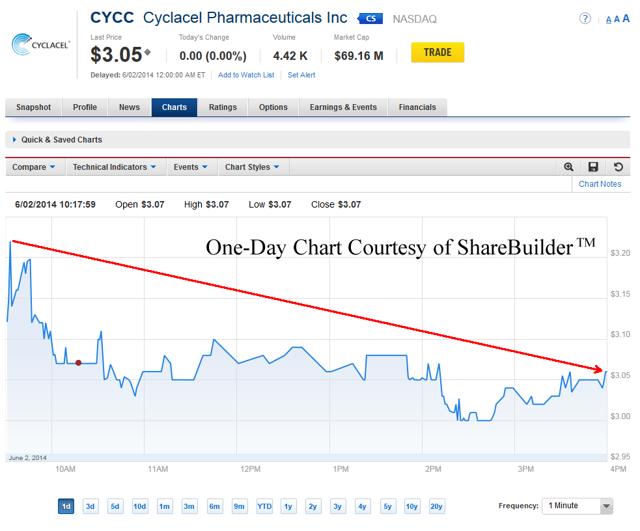 In light of that solemn obligation, Spiro's decision to create this climate of anticipation can be described politely only as incomprehensible. Now, take a look at the 9-month chart, and note that management has blundered away 39.8% of our equity since early December of last year.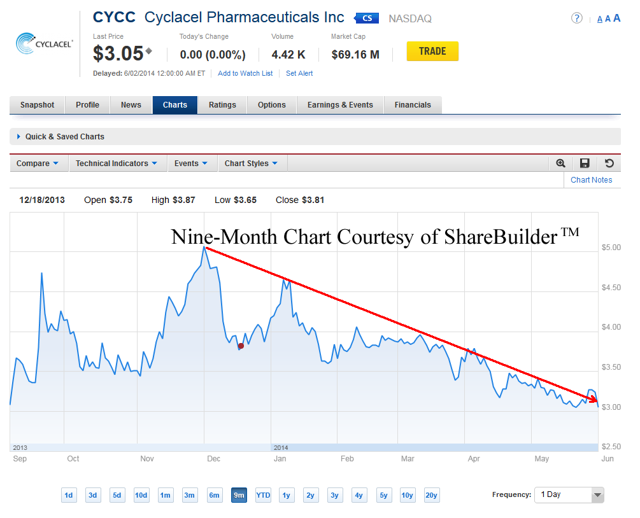 I think this announcement could better have been made through a simple press release on a Thursday evening prior to a 3-day weekend. This likely would have resulted in a slight dip of the stock price, but may, in fact, have resulted in a small gain, as new investors not acquainted with the story might have been attracted to the added value that a phase trial under normal circumstances represents.
It's a certainty that all of the expenses associated with this fiasco would have been avoided, including the air fares, dinners, space rental, speaker fees, media production costs and so forth.
"Let me be the Devil's advocate..."
Hagop Kantarjian, M.D., has been playing the role of devil's advocate a lot lately. A year ago, Dr. Kantarjian ambushed the entire biotechnology industry when he joined a group of 100 cancer specialist from around the world to protest the high price of cancer drugs.
From the article...
The doctors and researchers, who specialize in the potentially deadly blood cancer known as chronic myeloid leukemia, contend in a commentary published online by a medical journal Thursday that the prices of drugs used to treat that disease are astronomical, unsustainable and perhaps even immoral.

They suggested that charging high prices for a medicine needed to keep someone alive is profiteering, akin to jacking up the prices of essential goods after a natural disaster.
Of course, Kantarjian is right, but the issue is never quite that simple. Part of the cost that goes into any commercialized drug is borne on the backs of shareholders whose equity has been lost on countless other drugs that failed to make it to approval.
It was, however, interesting that Kantarjian, the lead author involved in the stand on behalf of patient access to medicine, believed that as a result, his career was in jeopardy.
"I am sure I am going to be blackballed," he said. "My research career will be hurt."

But he said it was time to speak out. "Pharmaceutical companies have lost their moral sense."
Who knew?
It's my contention that though Dr. Kantarjian was consulted by Cyclacel regarding the path forward for sapacitabine in R-MDS, he likely wasn't made aware of its choice to undertake yet another Phase II trial prior to the event in Chicago taking place. He certainly wasted little time questioning vice president of Clinical Development and Regulatory Affairs, Judy Chow shortly after seeing this slide on the Phase IIb R-MDS trial design.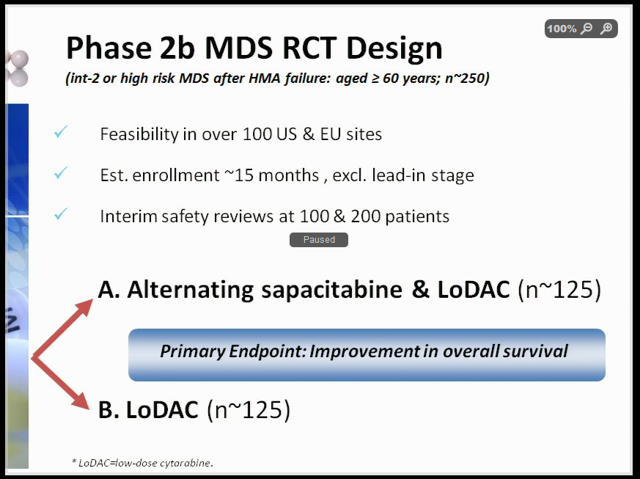 Kantarjian -
So Judy, I didn't understand it. So, suppose it's splitting well. Do you change it into a phase 3 pivotal or that's not allowed?
Judy Chow -
Change it into a pivotal?
Kantarjian responds -
Right, so this is a phase 2 with 250 patients. Are you going to throw that out and go to another pivotal trial with 400 patients? Or are you gonna say, we're gonna increase the numbers?
The forcefulness of questioning crescendoed. Kantarjian became less of a guest and more of a shareholder advocate. Perhaps it occurred to him, as it did to me, that this information was asychronous to the stage created and the moment at hand.
So, after complimenting Hagop on his "great question" and responding with heavily qualified regulatory gobbledygook, Hagop puts Judy back on the defense once again.
But why don't you do the reverse? You design a phase 3 trial and you have an early stopping rule for futility that's monitored by independent data monitoring committee? So build it for your p value, but then say we're gonna review the study after the first 250 patients and decide whether it's worthwhile continuing or not.
Spiro Rombotis and Judy Chow went on to make it very clear that Cyclacel's choice to pass on pursuing a pivotal trial was final. The consequences of that decision are as yet not fully known.
What we do know is that it allows a competitor to risk a Phase III outcome and beat Cyclacel to the R-MDS finish line. Additionally, as Dr. Kantarjian rightfully points out, it considerably adds to shareholder expense in the long term, especially when considering the rarity of trial upgrades being granted by the agency. I doubt that management would have addressed the issue of a trial conversion to a registration format at all, had Kantarjian not brought it up in the first place.
The main beneficiaries of this cautious regulatory approach are Cyclacel management, who have ensured not only the longevity of sapacitabine's trial life, but the longevity of their jobs and incomes in parallel.
In the free flow of dialogue that followed, Spiro Rombotis essentially confirmed this.
So if you look at it from the corporate perspective, the sensible thing is to gather more data. If we are right, and this is a weak control, and the active arm does outstandingly, we still have the same options ahead of us. But if we are wrong, we haven't damaged the drug. This is the key point from the corporate side that we have to be very cognizant of, that this is all hypothesis generating until the data shows otherwise. If however, the data is outstanding, we have other choices. I hope this is very clear.
In order to justify this Phase IIb approach Cyclacel has opted for, Rombotis, not normally given to criticizing the competition, takes several swipes at Onconova's (NASDAQ:ONTX) recently failed rigosertib Phase III trial, in which he characterizes it as rushing in and perhaps inadequately powering its trial.
He'd better hope that Onconova doesn't rush in again this time, with an attempt at a Phase III trial in the same refractory patient group. I doubt the FDA would listen attentively to Cyclacel's pleas to upgrade its Phase IIb trial to a pivotal format with an ongoing registration trial underway in the same indication.
Kantarjian offers up this last bit of bewildered dissent to the rigosertib comparison.
But, let me be the devil's advocate. The study you're referring to missed the p value, but there was good difference in the outcome - 5 verses 7 and 1/2 or something. So, one could criticize them and say look, they didn't size it enough, and had they sized it to the proper number, they could have hit a significant p value.

So, are you gonna be in the same problem? But, what you're saying is, no, we're in a different situation because there is an ongoing AML study that we hope will be positive, and this will give us a clue in terms of the median survivals to pursue, right?

But the counter argument will be, well, don't give the analogy to the other drug because if they had sized it to 354 verses 270, they would have an indication by now, right?
In the end, it seemed as if Kantarjian was worn down to a state of resigned acceptance. And when asked to give some closing comments, responded by asking; "Really?"
Moving Forward
Forgive me, won't you, for feeling somewhat taken from at market close on Monday, June 2nd. I know that taking a position in the stock market is to assume a high degree of risk, and to be prepared to live with the consequences of that choice. Some losses, I suppose, are easier to live with than others.
In this article, I've attempted to shine light upon what I believe to be a glaring problem for Cyclacel shareholders - poor conduct relative to telling the Cyclacel story effectively. As a consequence, you are no doubt thinking that my disappointment extends to disagreement with the decision to execute a Phase IIb strategy. It doesn't! In fact, I favor it for all of the reasons articulated so brilliantly by Spiro Rombotis and Judy Chow.
And in roughly a week's time, I'll share with you why I believe this strategy will offer Cyclacel shareholders the most value moving forward, both in terms of catalysts to look forward to and as a way to augment SEAMLESS success or to mitigate trial failure.
Until then, always be well...
Disclosure: I am long CYCC. I wrote this article myself, and it expresses my own opinions. I am not receiving compensation for it (other than from Seeking Alpha). I have no business relationship with any company whose stock is mentioned in this article.
Additional disclosure: Any information or opinion expressed herein may not be true, accurate or correct and it does not constitute any suggestion to buy, sell, hold or adopt any investment strategy for this stock or any stock that may be mentioned. Reliance upon information in this article is at the sole discretion of the reader. The sole purpose of my article is to entertain by providing information, the accuracy of which is as good as the public sources it was derived from. Do not act on anything I have written. Rather, do your own due diligence and consult an investment professional before making any investment decision. Acting on what any one writer, including me has imparted to you is foolish at best. I have no better access to resources or gift of opinion formulation than you do. I sometimes make mistakes. There are a myriad of things, which can happen in lieu of any forward-looking statement I have made. Any stock featured or mentioned in an article I compose is subject to all manner of influences, which can change its value in dramatic fashion upwards or downwards. These events can be of a wide variety not limited to news-related occurrences, managerial decisions, trial failures, stock manipulations and so on. I make every effort to declare positions I have in stocks I cover or mention in an article but reserve the right to move in and out of said investments at my own discretion based upon the wisdom of doing so. I implore you to do your own due diligence, invest at your own considerable risk attaining the just reward your efforts have wrought.
Editor's Note: This article covers one or more stocks trading at less than $1 per share and/or with less than a $100 million market cap. Please be aware of the risks associated with these stocks.