The Washington Post reports that the list of Troubled Asset Relief Program (TARP) deadbeats continues to climb. One hundred and twenty seven TARP recipient banks have missed dividends or have failed by the time of the August 2010 dividend. There were only 707 banks in the TARP program that received capital injections. Thus, greater than one in six missed their dividends or interest in August 2010. These banks receive $6.939 billion in taxpayer bailout monies, according to my calculations.
This is up from 101 banks in May 2010 according to my research "TARP's Deadbeat Banks". The missed dividend and interest payments from banks since the TARP capital injections have began total $376 million. This is higher than the Treasury's headline figures because the Treasury likes to exclude banks that have failed from their calculations. The graph below shows the number and the value of the missed dividend payments of TARP's deadbeats has been rising at a steady clip.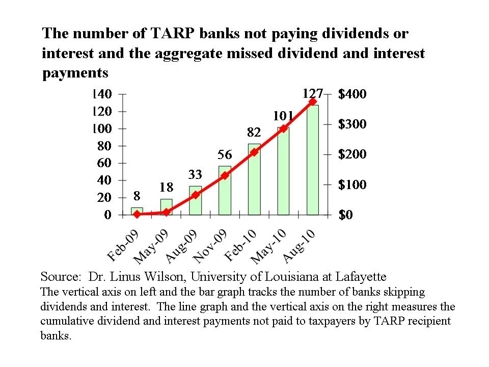 There are seven banks total and six new banks that have missed six or more TARP dividends. Once a bank misses six bailout dividends the U.S. Treasury has the right to nominate two board members to the board of that bailed out bank. Nevertheless, the U.S. Treasury has signaled on page 9 of a recent report that is only likely to appoint board members to Anchor Bank of Wisconsin and Seacoast Bank of Florida because these are the only two banks of the six which have received investments of over $25 million.
Banks Missing Six or More TARP Dividends
| | | | |
| --- | --- | --- | --- |
| Bank Name | TARP Investment | $ Value of Missed Dividends | No. of Missed Div. |
| Anchor BanCorp Wisconsin, Inc. (ABCW) | $110,000,000 | $8,479,167 | 6 |
| Seacoast Banking Corp. of Florida (SBCF) | $50,000,000 | $3,750,000 | 6 |
| Blue Valley Ban Corp (OTCQX:BVBC) | $21,750,000 | $1,631,250 | 6 |
| OneUnited Bank | $12,063,000 | $904,725 | 6 |
| United American Bank (OTCPK:UABK) | $8,700,000 | $704,640 | 6 |
| Lone Star Bank | $3,072,000 | $255,377 | 6 |
| Saigon National Bank | $1,549,000 | $117,663 | 7 |
At the very least, the U.S. Treasury should appoint board members at OneUnited Bank. It appears that the current board is captive to a manager who has made several bad judgments, which have hurt the banks' shareholders. The board at OneUnited has done a poor job in its role of reigning in management abuses. OneUnited received a cease and desist order from the FDIC because the CEO was having the bank pay for personal expenses like his Porsche and renting a multi-million dollar home. Moreover, the current CEO allowed the bank to speculate in Fannie Mae and Freddie Mac preferred stock, which has caused the banks' current capital problems. Now OneUnited's local Congressional representative, Barney Frank (D-MA), who helped ensure that the bank received TARP funds, is calling on the U.S. Treasury to appoint board members because of its poor lending record.
The current administration would like to have a big TARP-like honey pot to dole out to bankers who support their cause. The administration and the current majority in Congress want a new $30 billion slush fund to funnel to politically favored banks. This "son of TARP" legislation has been misleadingly titled the Small Business Lending Fund. My research on page 27 shows that this would be a $6.6 to $13.0 billion subsidy to recipient banks. My joint research with Dobrina Georgieva shows that the smaller banks, which are targeted in that legislation, are more likely to be TARP deadbeats. The Congress knows that by re-branding the unpopular legislation it can continue to win friends with your tax dollars. The mini-TARP passed the Senate yesterday. The President will no doubt sign the bill soon.
Disclosure: I have long positions in broad-based index funds. I do not own individual securities in the companies mentioned.