The more we look at the coffee trade, the more we have to question the reasoning that many of the retailers and brands have in regards to keeping prices stable. With one big manufacturer of key brands deciding to raise prices yesterday it seems that we could see everyone follow suit but with recent comments from management teams on their conference calls we would not be surprised if they tried to pick up market share by not raising prices.
Also catching our eye this morning is a deal that was already in the works before the EPA news earlier this week but highlights the trend we see developing with utilities going out and buying production derived from clean, or cleaner, renewables.
Chart of the Day:
The past few sessions have seen copper come under pressure and the move has been significant as one can see. We still think that with the current economy that copper is a buy around the $3 area as we see US economic growth ramping up through the end of the year.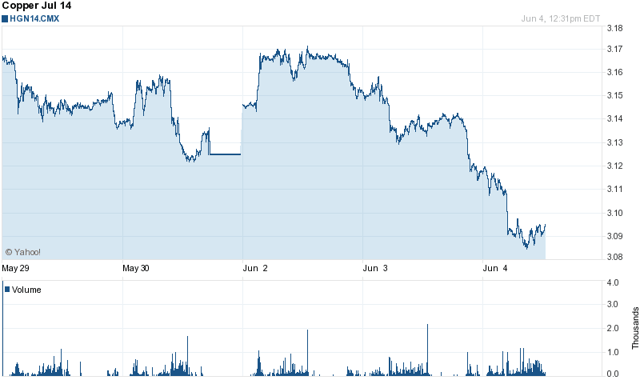 Source: Yahoo Finance
Commodity prices are as follows (at time of submission):
Gold: $1,244.80/ounce, up by $0.30/ounce
Silver: $18.825/ounce, up by $0.062/ounce
Oil: $102.70/barrel, up by $0.04/barrel
RBOB Gas: $2.9422/gallon, down by $0.0065/gallon
Natural Gas: $4.625/MMbtu, down by $0.004/MMbtu
Copper: $3.0935/pound, down by $0.0435/pound
Platinum: $1,433.00/ounce, down by $0.50/ounce
Renewable Energy
We discussed yesterday the probability that big utilities would most likely seek to offset the need for coal in their production mix with renewables now that it is apparent that pollution standards are going to get a bit tighter. The first deal we have following the news is NRG Yield's (NYSE:NYLD), a subsidiary of NRG Energy (NYSE:NRG), announcement to purchase the Alta Wind Energy Center in California for $870 million while also assuming project financing of $1.6 billion. This will add 947 MW of operating wind capacity to the company's portfolio just as the run for clean energy production is kicking off.
The Coffee Market
Although prices for the commodity have risen, many retailers such as Starbucks (NASDAQ:SBUX) and Dunkin' Brands Group (NASDAQ:DNKN) have kept prices stable and gone as far as to say that rising prices will not affect them in the near future. We have wondered about this and thought that with rising prices making the headlines of mass market news outlets that the companies could easily boost revenues, margins and profits by simply raising prices for their goods or shrinking their cup sizes.
Investors cheered the news yesterday from J.M. Smucker and we think this could be good news for investors in coffee names...and bad news for coffee drinkers as their cup increases in cost.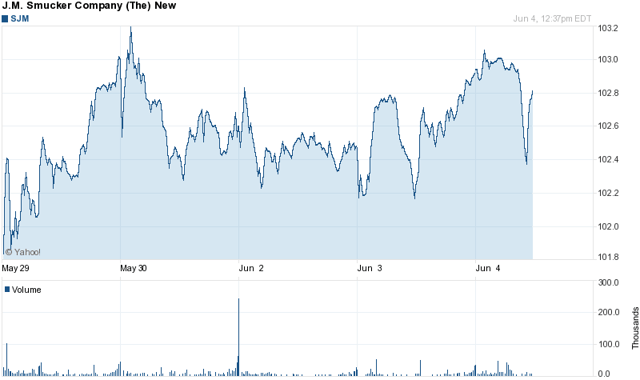 Source: Yahoo Finance
Something has to give and with the latest news from The J.M. Smucker Company (NYSE:SJM) and their plan to raise prices for the first time in three years we think that everyone will find it convenient to raise prices in the next six months. If 2015 is the key year for many of these companies because they will see rising prices, then it only makes sense that the management teams would want to get out ahead of that (assuming of course that there is not going to be a market share war).
Disclosure: I have no positions in any stocks mentioned, and no plans to initiate any positions within the next 72 hours. I wrote this article myself, and it expresses my own opinions. I am not receiving compensation for it (other than from Seeking Alpha). I have no business relationship with any company whose stock is mentioned in this article.