As some of you know, I'm attending the annual REIT Week conference in New York City. One of the REITs in attendance and one that I have been following quite closely is American Realty Capital Properties (ARCP).
When I arrived at the company's investor presentation meeting there were no seats left so it was standing room only. Given the considerable activity surrounding ARCP, investors were literally lined up to hear the company's CEO, Nicholas Schorsch, discuss his company's latest endeavors.
To bring you to speed, the latest news with ARCP is the proposed Red Lobster sale/leaseback (see my article here) and the recent equity issuance (138 million shares at $12 each). In addition, ARCP had previously announced (in March 2014) a spin-off of its shopping center portfolio (for $2.2 billion); however, the company later decided that it would be simpler to sell the shopping center portfolio to Blackstone for $1.98 billion in cash.
Given the extraordinary pace in which ARCP has announced these transactions, it's clear that the market is confused. On one hand, you see a company that is becoming more focused by selling off non-core assets; however, on the other hand you see a company that is issuing high cost equity ($12.00) to acquire sub-investment grade leased assets.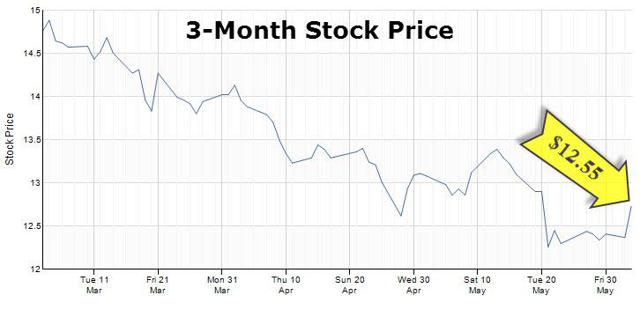 Earlier this week, activist investor, Marcato (based in San Francisco) who owns 21.8 million shares of ARCP, sent a letter to ARCP criticizing the company for reckless management. Marcato said:
Such willingness to destroy shareholder value, by issuing shares at an acknowledged discount to fair value, illustrates a disregard for existing shareholders that we find very problematic.
At the investor meeting, Schorsch said he had no specific response to the criticism from Marcato; however, he stated on multiple occasions that ARCP was "disciplined" and he cited the word "transparency" a handful of times. He stated:
Our board of directors and management team regularly review the company's strategic priorities and opportunities, including deleveraging, capital allocation, and assess a variety of strategic options…We are committed to driving value for all ARCP stockholders and will continue to take actions to achieve this important objective.
The REIT didn't need to offer shares to raise money because it agreed to sell most of its multi-tenant shopping centers to Blackstone Group for about $2 billion, Marcato said in the letter. Schorsch explained:
I'm clearly telling you we will continue to grow the company, but there will be a little less activity. We won't stop buying properties. Our balance sheet is in very good shape right now.
The Latest Presentation
ARCP recently filed an updated Investor Presentation (see HERE) and during the 30-minute investor presentation Schorsch actively referenced the word "transparency." By providing shareholders with the following executive management chart, Schorsch was trying to provide investors with full connectivity of ARCP as well as the company's private capital management, Cole Capital.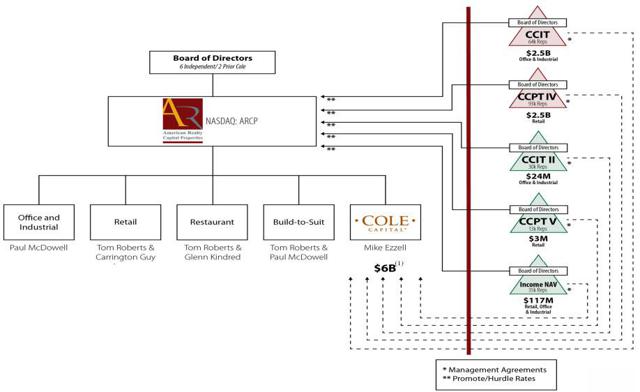 I have often referred to the ARCP model as the "anchor and the buoy" model whereby the company acquires a blend of assets ranging from higher credit deals (low cap rates) to lower credit deals (high cap rates). Utilizing that analogy, Red Lobster is definitely a buoy and seems to be one of the biggest concerns for investors (in ARCP) today. In the presentation, ARCP utilizes a barbell to illustrate the same concept.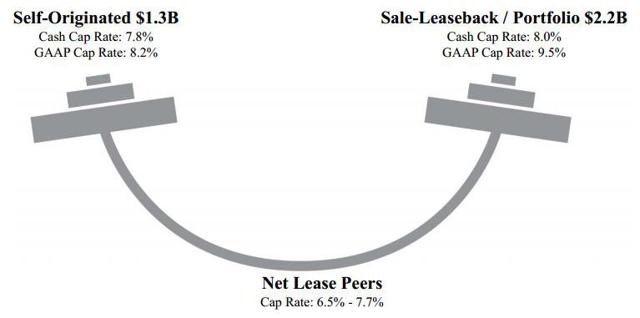 ARCP said that total acquisitions year-to-date are $3.5 billion with a cash cap rate of 7.9%, GAAP cap rate of 9.0% and weighted average lease term of 16.4 years. The company's initial acquisition target was $3 billion (granular acquisitions and pipeline deals); however, as a result of the Red Lobster deal the company increased its 2014 acquisition target to $4.5 billion.
The size of ARCP's portfolio (post Red Lobster) will increase to 4,328 properties with over 93.9 million square feet. The weighted lease average will be 12.3 years and the portfolio will include around 45% of investment grade rated tenants.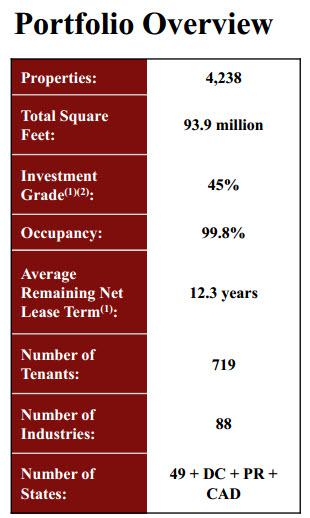 One of the big concerns is Red Lobster. As illustrated below, the struggling sea food chain will be the top tenant for ARCP with over 12% of rental income. I suspect that ARCP will sell-off a number of its properties in order to reduce the Red Lobster concentration to around 5%.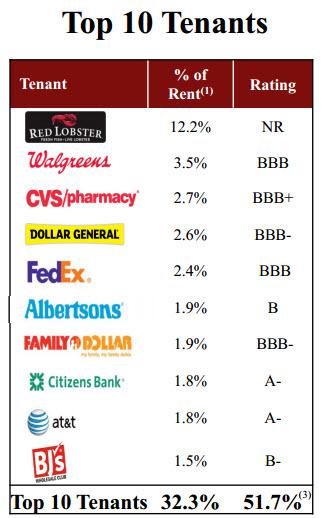 Here is a snapshot of the diversification characteristics (post Red Lobster):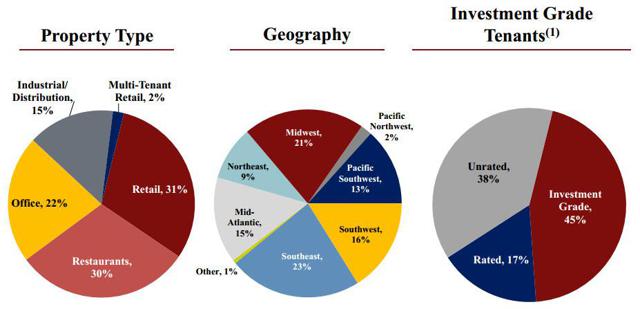 ARCP's gross assets will be over $21 billion.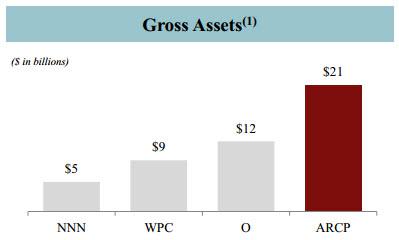 Cole Capital
One of the more interesting things about ARCP is the related private capital business, Cole Capital. It's always been apparent that ARCP (and Schorsch) wanted to own Cole Capital and after forking out $11.2 last year, it became reality. The question: Did ARCP overpay for Cole?
I don't think it's fair to assess the deal with "back of the napkin" mentality and at some point I'll write a more thoughtful analysis on the Cole deal. However, it's clear that ARCP's private capital business, Cole Capital, has value as it generates around 10% of ARCP's income stream. The bigger question then is how much is the Cole Capital brand worth?
Most investors don't see the value in Cole Capital and it seems that is one of the reasons that the market is placing a lower value on ARCP shares. Although Schorsch has become legendary in the non-traded REIT sector, most public REIT analysts and investors have little desire to own non-traded REITs, especially now.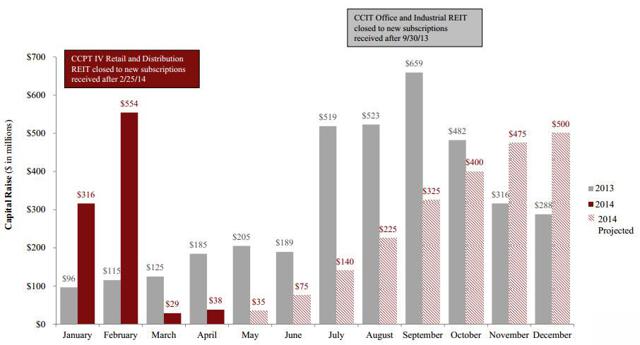 In addition to lack of understanding, one of the biggest concerns with Cole Capital has to do with the inherent conflicts of interest with ARCP. All of the acquisitions for ARCP and Cole Capital are funneled through ARCP's investment group. So that means that there are usually opportunities that ARCP could buy but one of Cole's funds acquires instead (or vice versa). As an investor in ARCP, I would prefer to see ARCP's management team dedicated to sourcing deals for one strategy.
In my opinion, ARCP should consider spinning off Cole Capital to Realty Capital Securities. The investment management company (created by Schorsch) is already a distributor for a variety of asset classes selling to over 80,000 registered representatives with over 200 broker dealers. This seems like a "no brainer" and by monetizing Cole Capital, ARCP investors will benefit from (1) deleverage, (2) no conflicts of interest, and (3) becoming a true "pure play" net lease REIT. In summary, that should MOVE THE NEEDLE.
What About Houdini?
Last week, the Wall Street Journal reported that an outside analysis showed an incentive-related $222.1 million pool of compensation for Schorsch and ARCP executives. Schorsch's share of the compensation plan alone could have been $92.7 million, targeted to performance over a five-year period. At the REIT Week conference Schorsch stated:
I disagree with those numbers and that there was a pretty high hurdle to reaching that level of compensation because it is tied to performance standards that will be difficult to reach.
Peeling back the April 29, 2014 filing (DEF 14A) it appears that Schorsch is right. He draws a base salary of $1.1 million and that is the only guarantee. His incentive pay is based on performance aligned with shareholders, including these two components: (1) For any total returns above 7%, the management team gets 4% above a 7% preferred return. In other words, if the share price goes from $100 to $107 nothing happens for Schorsch. Any amount above that management gets 4% incrementally. (2) ARCP's peer group: In order for management to receive compensation, ARCP must outperform the peer group by 600 bps. So if the medium peer group total return is 10% and ARCP's total return is 16%, management gets nothing. Above that management gets 4%. To put that in perspective, In order for management to max out the plan, shareholders must have $6 billion of value creation.
As I see it, the compensation plan for ARCP is aligned with shareholders. I have no problem with allowing Schorsch (and his team) to make $222 million (over 5 years) as long as I'm getting rewarded along the way. Remembering that the only guarantee for Schorsch is $1.1 million (comparable to other CEOs with similar market capitalizations).
By biggest problem with Schorsch has to do with his "day to day" duties. As an investor in ARCP, I want a CEO who is 100% focused on one REIT, not multiple REITs. Recognizing that Schorsch is proud of the portfolio and the team that he has created, I believe that he should make a choice - run ARCP or hire another CEO. Personally, I would prefer to have Schorsch running ARCP as I believe he is a talented leader, having witnessed the transformation of ARCP, I have grown more confident in Schorsch's capabilities.
At the end of the day, I own ARCP for the durability of the income stream. Although I'm not an institutional investor, I am also interested in share price growth. The market has clearly recognized the disconnect and I believe that ARCP can begin to move the needle by reducing risk - that means, spinning-off Cole Capital, reducing exposure to Red Lobster, and most importantly, aligning decisions with shareholders. No smoke and mirrors, just plain old dividend magic.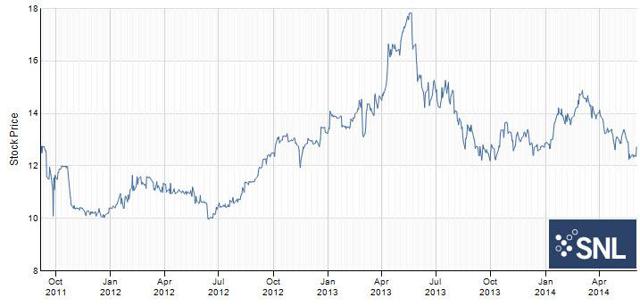 For more information on my REIT portfolio, check out my monthly REIT newsletter HERE.
Sources: SNL Financial and ARCP Presentation.
Disclaimer: This article is intended to provide information to interested parties. As I have no knowledge of individual investor circumstances, goals, and/or portfolio concentration or diversification, readers are expected to complete their own due diligence before purchasing any stocks mentioned or recommended.
Disclosure: I am long O, DLR, VTR, HTA, STAG, UMH, CSG, GPT, ARCP, ROIC, HCN, OHI, LXP, KIM, WPC, DOC. I wrote this article myself, and it expresses my own opinions. I am not receiving compensation for it (other than from Seeking Alpha). I have no business relationship with any company whose stock is mentioned in this article.