Annaly Capital (NYSE:NLY) shares were down approximately 0.7% at noon Wednesday. The decline appears to be on early morning data releases that also influenced the broader market, but impact the real estate relative sector more significantly. So why then do I view the decline as an anomaly?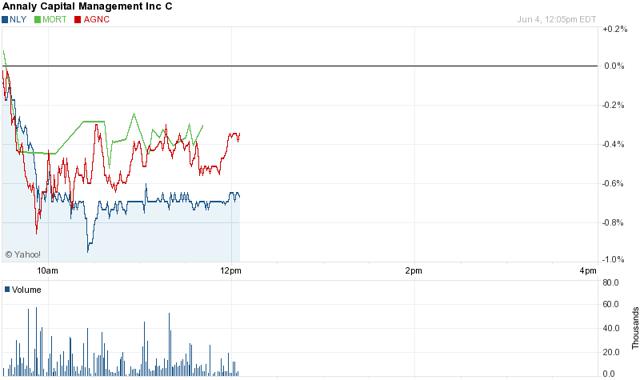 The early morning chart action for Annaly Capital, American Capital Agency (NASDAQ:AGNC) and the Market Vectors Mortgage REIT ETF (NYSEARCA:MORT) shows sector softness to start the day. This same softness affected the shares of Bank of America (NYSE:BAC), and I believe on the same catalyst, which I published on earlier this morning.
I believe much of the market decline was due to a soft ADP Private Employment data point. However, NLY's beta coefficient is nearly zero, which indicates it should not be sensitive to broader market impacting factors.
What I believe is pressuring the mREIT this morning is the just reported Weekly Applications Survey for the period ending May 30th. It showed that mortgage applications declined 3.1% through the period, and it was a broad reaching decline. Purchase applications, or those tied to the acquisition of a home, fell by 4%, while the Refinance Index declined by 3%.
Fear not though dear NLY holders, because there's an anomalous reason behind the decline. Look at the seasonally unadjusted figures and find that overall mortgage application activity fell by 14%. The seasonal adjustment here is accounting for the Memorial Day holiday. However, in my following of this data point over the years, I've noted that it seems to adjust for three-day holidays in a less than perfect manner. I believe this is because of the decrease in activity that likely occurs on the Friday before and the Tuesday following a three-day weekend. As a result, next week's data will likely be stronger than what the accurately adjusted measure should show. So, if the data is imperfect, then the decline in NLY this morning is anomalous and should be corrected swiftly.
Secondarily, if there is less demand for mortgage applications from home buyers, the supply of mortgages on the market is negatively impacted. If supply is reduced, price goes up for Annaly while yield falls. That's a bad thing for a mortgage REIT, and likely the reason its shares are lower today. But it's a flawed premise, because the data is inaccurate in my opinion. In reality, the Fed is decreasing its purchases of mortgages, which increases supply of mortgages available for Annaly to buy at lower pricing and theoretically higher yields. Obviously, there is also the threat of a damaging impact to the value of the held portfolio if rates are rising, and if it is not well hedged.
| | |
| --- | --- |
| Mortgage REIT | Through 12:00 PM ET |
| Annaly Capital | -0.7% |
| Market Vectors Mortgage REIT | -0.4% |
| American Capital Agency | -0.5% |
| Two Harbors Investment (NYSE:TWO) | +0.4% |
| Chimera Investment (NYSE:CIM) | +0.2% |
The early move lower has not yet been corrected for at the NLY pit or that of its mREIT peer group shown above here. It should be completely wiped away given the anomaly I've pointed out here, so that soon enough, these shares should have corrected and taken back lost ground.
Market Realist points out another reason for NLY to rise today in an article published earlier this morning. The article suggests that declining delinquencies serve agency REITs like Annaly, though not as much as non-agency REITs.
Yesterday, I pointed out why real estate relative shares shook off soft construction spending data. It's interesting that both the construction spending data and the mortgage application data appeared significantly negative based on their headline result and worked against the real estate relative group and NLY. In reality, each of these reports proved to be anomalous and deceptive, and offer nothing to be concerned about. So, I suggest any selling in NLY due to this data will be corrected before long. Thus, the decline today in NLY should prove to be at least a short-term trading opportunity if not a better entry point for new stakes.
Disclosure: I have no positions in any stocks mentioned, and no plans to initiate any positions within the next 72 hours. I wrote this article myself, and it expresses my own opinions. I am not receiving compensation for it (other than from Seeking Alpha). I have no business relationship with any company whose stock is mentioned in this article.