There have been some pretty good books about value investing written over the years. However, one of the best is "Margin of Safety: Risk-Averse Value Investing Strategies for the Thoughtful Investor" by Seth A. Klarman. Seth Klarman, as many of you know, is a billionaire investor who founded the Baupost Group, a Boston-based private investment partnership. We're going to follow Mr. Klarman's recommended path for investing using one of our holdings, Cal Dive International (NYSE:DVR), as an example. As Klarman states in his Introduction,
"Value investing requires a great deal of hard work, unusually strict discipline, and a long-term investment horizon."
These characteristics have always been somewhat rare for the average retail investor in general. In today's fast-pace, internet at your fingertips, immediate gratification world, they have become almost non-existent. However, what the great value investors of our time, Warren Buffett and Seth Klarman, among others, have taught us is that value investing is a key component to long-term investment success and has survived the test of time.
Cal Dive International
Cal Dive International provides manned diving, derrick, pipelay and pipe burial services to the offshore oil and natural gas industry. The company was founded in 1975. Cal Dive provides work in the Gulf of Mexico, Northeastern U.S., Latin America, Southeast Asia, Australia, the Middle East, India, the Mediterranean and West Africa. Cal Dive owns and operates a diversified fleet of surface and saturation diving support vessels and construction barges capable of operating in water depths of up to 1,000 feet.
Cal Dive has had a tough twelve months as reflected in the stock performance (see graph below).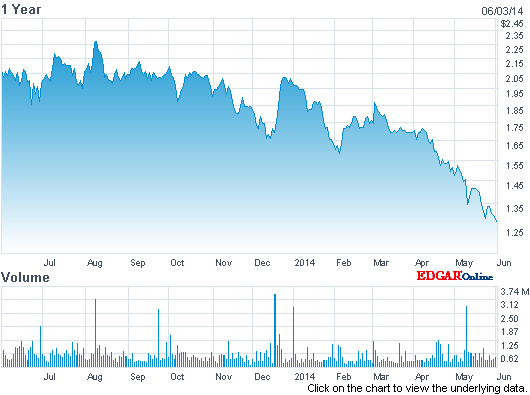 A Value-Investment Philosophy:
Define Your Investment Goals
Klarman quotes Warren Buffett in his book when discussing the first rule of investing, which is the following,
"Don't lose money," and the second rule is, "Never forget the first rule."
Klarman simply states "that over several years an investment portfolio should not be exposed to appreciable loss of principal" and he makes a very meaningful point, which is that many people believe that risk comes not from owning stocks, but from not owning them. From my experiences with fellow investors, I can say this fact rings true and, unfortunately, the greater the speculative nature of the investment, the more valid the point.
As the book teaches, many investors mistakenly set goals based on achieving a specific rate of return or profit on an investment. This, of course, does nothing to help achieve that rate of return. It's somewhat counterintuitive, but if you focus on the downside, the upside has a tendency of taking care of itself.
Back to our value proposition for Cal Dive International, as it relates to our investment goal of minimizing downside risk. At current levels, Cal Dive is trading at 50% of tangible book, arguably close to its liquidation value. Cal Dive is a service company with hard, valuable fixed assets. The value of those assets in relation to the market cap of the company provides strong support against further price depreciation.
Value Investing: The Importance of a Margin of Safety
As indicated above, at 50% of tangible book, Cal Dive appears to be selling at a "bargain" price. Klarman (as well as Buffett) uses the baseball analogy of waiting for the right pitch. It takes patience to wait for the right investment at the right time under the right conditions to be considered in your "sweet spot".
From a pure value approach, Cal Dive reminds me of another investment opportunity, which surfaced towards the end of 2013. The other company was J.C. Penney (NYSE:JCP). My article on JCP, "J.C. Penney: Ability To Manage Dilution Will Drive Value", was centered around the potential need for capital to support the turnaround and the resultant dilution, which would impact the stock price.
You will notice the article is focused almost entirely on downside risk. As it turned out, the company performed better than expected and, to date, there has not been a need for an additional capital raise. Since we started our position in October 2013, our returns are in excess of 37%. While we were clearly focused on the downside, the upside has taken care of itself nicely.
Klarman makes the point that value investing is predicated on the efficient-market hypothesis being wrong. In other words, the market regularly misprices securities, which can be exploited by an investor applying disciplined analysis. I would argue that natural human behavior is the main cause of mispriced securities, particularly with small cap and speculative stocks, where the herd mentality is at its greatest.
There are many reasons Cal Dive has fallen out of favor with investors. It has historically focused its efforts on the Gulf of Mexico, which has been a difficult, highly cyclical market. The company is struggling to return to profitability. The international strategy has been slow to develop and the ramp up and deployment of assets has caused a strain on operations. Also, as indicated on the last conference call, one of Cal Dive's main vessels, a multi-service semi-submersible named Uncle John, was only utilized 50% of the time in the first quarter of the year. The company continues to underperform and miss analysts expectations. The herd is tired of waiting for a "show me" quarter and has moved on.
The Art of Business Valuation
Given the difficulty of forecasting future cash flows for Cal Dive, we'll look at liquidation value as a very conservative approach to determine a rock-bottom value. My approach is to take the position of a bank, which would be willing to lend on a secured basis to a business based on specific margins to the company's assets. It's standard lending practice to lend on 80% of receivables, 50% of inventory and 75% on fixed assets. Based on the criteria above, Cal Dive provides a valuation floor of $95.5 million or a little over a $1 a share based on its 95 million share count.
(000's)
Cash - $3,299
Receivables - $208,574 x 80% = $167,003
Net Property - $369,173 x 75% = $276,879
Other assets - $77,291
Total discounted assets - $524,472
Total liabilities - $428,883
Net value - $95,589
The fact that the company just announced the sale of its U.S. surface diving fleet and is reporting a gain on the sale, demonstrates that the company's depreciated fixed assets are probably undervalued, which further supports the highly conservative approach to value based on the above analysis.
At a current share price of $1.28, Cal Dive doesn't have much room to fall before it hits its liquidation value. However, the company is far from bankrupt. In fact, the company recently restructured its debt and has over $65 million in additional capacity on their credit facility. The additional capital and liquidity will be critical as Cal Dive takes advantage of larger opportunities in the international markets. Below is a summary of the refinancing highlights taken from the company's 1st quarter presentation.
Completed refinancing of debt structure in May to increase liquidity and financial flexibility:
$100 million senior secured second lien facility, including new loan of $80 million and conversion of existing $20 million unsecured term loan to a secured term loan under the facility. Proceeds used to repay $29.7 million secured term loan and $45.0 million of outstanding revolver borrowings.
5-year term; no scheduled amortization.
Term loan split into two tranches of $20 million and $80 million, bearing interest at Libor plus 6.75% and Libor plus 11.75%, respectively.
Amended credit facility to allow for up to $75 million in local project financing for international projects; revolving credit facility reduces down to $85 million by December 31, 2014.
Areas Of Opportunity for Value Investors: Catalysts, Market Inefficiencies, and Institutional Constraints.
Cal Dive is more than just an out of favor, undervalued stock. In fact, Cal Dive is in a prime position to take advantage of deregulation in the Mexican oil and gas market. The company already does substantial work for Pemex, the state-owned oil company, which will be privatized as part of deregulation. Operating in the Mexican market has its share of risks. However, the rewards can be substantial as well, particularly with the stimulus of deregulation and privatization of the 9th largest oil producing country in the world. The comment below from Bloomberg provides an indication of the potential windfall,
Though some foreign companies already operate in Mexico under service contracts with Petroleos Mexicanos, or Pemex, the reform could increase foreign investment by as much as $15 billion annually and boost potential economic growth by half a percentage point, JPMorgan Chase & Co. said in a Nov. 28 report.
Cal Dive generated a 50% increase in revenues in the first quarter of 2014 compared to first quarter 2013, primarily from additional contracts with Pemex. The company also had the largest backlog for the first quarter of 2014 than any of the prior first quarters over the last five years. As the Mexican market continues to open to foreign companies, Cal Dive is well positioned to win additional business.
Conclusion
There's not enough space in a brief article to cover all the lessons learned from reading a book like "Margin of Safety" and I sometimes question whether the average investor has the will to practice them after they are learned anyway. Seems to me, value investors aren't made, they're born. You can teach the analysis but the behavior is innate. You have to like to work hard, have an aversion to group thinking, a contrarian mindset and the discipline and stomach to follow a thesis to conclusion.
Cal Dive International fits the profile of a solid value investment with limited downside and positive catalysts for upside potential. Admittedly, the company has been a disappointment and existing shareholders can't be pleased. However, every dog has its day. A company doesn't have to be a great company to be a great investment. With the debt restructure behind them and plenty of working capital for new projects, Cal Dive should be well positioned to take advantage of new international markets, including the deregulation of the Mexican oil and gas market. A market they know well and are operating in successfully. All it will take is one solid quarter and the herd will return. And that is when I will make my exit.
Disclosure: I am long DVR. I wrote this article myself, and it expresses my own opinions. I am not receiving compensation for it (other than from Seeking Alpha). I have no business relationship with any company whose stock is mentioned in this article.