When people think of commodity prices they think in USD terms. Of course what they forget is that although they are transacted in USDs they are ultimately paid for in their nation's home currency. Many have said that rising commodity prices are merely due to a fall in the USD. I decided to have a quick look at how commodity prices are faring against the three top performing paper currencies over the last 6 months, the CHF, JPY and SGD. So I took the "old CRB", the CCI and converted the price series into these three currencies. The results are rather interesting.
The CCI (and equally weighted index of 17 commodity futures) has been range bound over the last 6 months or so against the CHF and JPY, but appears set to break to a multi-week high against the SGD.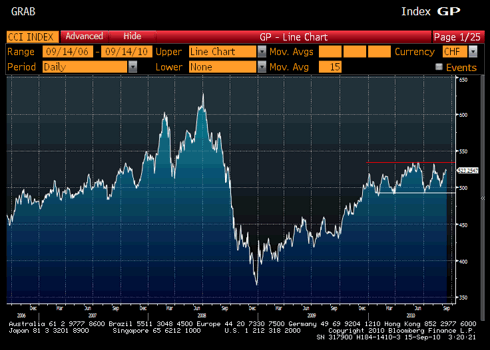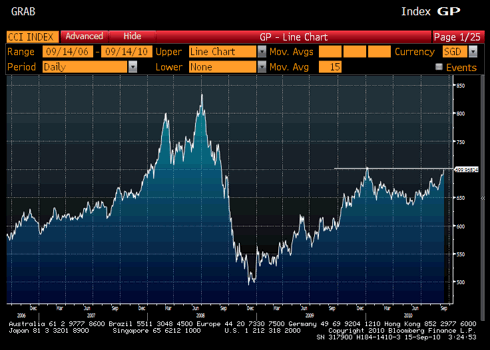 In effect, commodities have been one of the top three performing currencies over the last 6 months. Watch carefully the behavior of the CCI in CHF and JPY terms. A breakout to a multi-week high suggests on no uncertain terms that inflation is hitting on a global scale. Already we have big hints of it. Take careful note when the likes of Next warns of higher prices due to rising cotton prices. Nestle (OTCPK:NSRGY) has already hinted in its last earnings report of rising input prices. And these are just two companies that I can think of off the top of my head.
Have you noticed the recent price behavior in wheat, corn, sugar, and coffee? I wonder if ivory tower economists of the deflationist school of thought will finally wake up when they begin to pay more for their early morning, doughnut, banana bread, and coffee fix?