Google Inc. (NASDAQ:GOOG) (NASDAQ:GOOGL) investors have been on a wild ride. The stock initially declined by about 20%, earnings concerns were a catalyst, but then it most recently also bounced by 12%. Some investors may be spinning in circles, but one thing has been clear through not only this most recent cycle, but through longer-term cycles too. Google has managed to produce eye-popping growth, especially for a company of its size, and as far as investors are concerned that is all that matters.
There is a concern though. Revenues have recently declined.
Revenues are clearly up on a Y/Y basis, but Google investors have largely been accustomed to Q/Q growth in both EPS and Revenue as well, and that did not happen last time Google reported. This can cause some investors to be concerned, but on a valuation basis, if Google is able to maintain its 20% annual growth rate the 28x P/E multiple will look cheap. The problem is, for a company of that size it is very hard to grow by 20%, but Google investors have heard this before, and they are shrugging it off.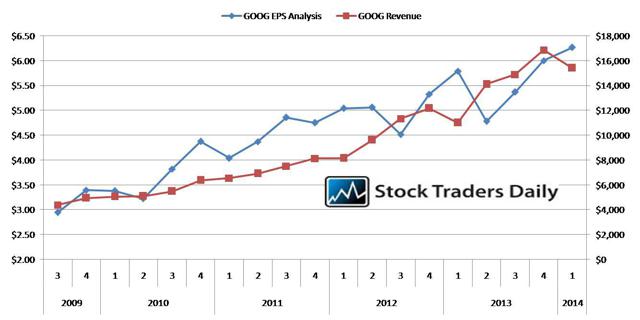 Rationally, the reason why the P/E multiple is not higher is because investors question the company's ability to sustain these rates. The recent price drop suggests the same, but EPS trends have thus far not raised any red flags. One might argue that the decision by Apple (NASDAQ:AAPL) to use Bing instead of Google Search is a concern, and I would argue that from a mobile revenue standpoint it absolutely may put more pressure on that segment of the business, but in order for Google investors to become seriously concerned EPS growth deterioration will need to surface. Thus far it has not.
That fundamental rationale could cause some investors to ignore recent volatility, but for traders it is a completely different story. A stock that has been all over the map in recent weeks, Google's volatility is what traders look for, and traders can have a field day with this stock. According to our real time trading report for GOOG, the stock has recently tested an intra channel level of resistance and if that resistance level holds we expect a decline back to longer-term support. This resistance level would need to break higher in order for positive trading signals to surface, and at this point it has not.
Disclosure: I have no positions in any stocks mentioned, and no plans to initiate any positions within the next 72 hours.
Business relationship disclosure: By Thomas H. Kee Jr. for Stock Traders Daily and neither receives compensation from the publicly traded companies listed herein for writing this article.