UnitedHealth Group (NYSE:UNH) has just announced its annual dividend increase, as Seeking Alpha has covered here. The new dividend is payable on June 25th with an ex-dividend date of June 12. This article was written in 2012 when UnitedHealth Group was added to the Dow 30 (NYSEARCA:DIA), evaluating its prospects of being a good replacement for Kraft Foods in the index.
It has been almost two years since the addition and UnitedHealth has managed to announce two dividend increases since. Hence, it is time to reevaluate the numbers using the same metrics used in the 2012 article. Let us get into the details.
New Yield: The new annual dividend of $1.50/share gives the stock a current yield of almost 1.90%, up from the 1.67% in 2012 when the stock was added to the Dow 30.
Payout Ratio: This comes in very handy for UnitedHealth's investors. The trailing payout ratio stands at a paltry 27% based on the new dividend of $1.50/share and EPS of $5.45/share. While the payout ratio has gone up from 17% two years ago to 27% now, investors will appreciate companies that are willing to share more of what they make as long as it looks sustainable. In this case, it looks sustainable with plenty of room for more increases.
Dividend Growth Rate: While UnitedHealth has paid dividends since 1990, the company has gotten into the habit of steadily increasing dividends only since 2010/2011. Since then, the dividend growth has been impressive as shown in the chart below with each of the increases being at least 30%.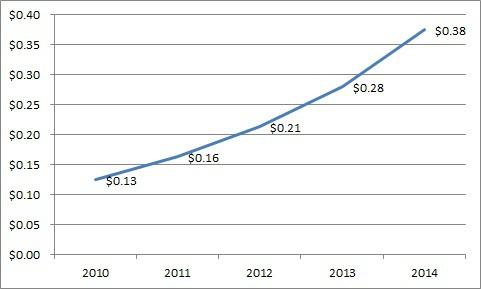 (Source: Yahoo Finance)
Extrapolation: Needless to say, not even a company as impressive as UnitedHealth can sustain a 30% dividend growth rate forever. The table below assumes a dividend growth rate of 10%/yr for the first 5 years and 7%/yr for the next 5 years. The yield on cost will still more than double for the patient investor.
The assumed dividend growth rates are rather conservative considering the low payout ratio and expected earnings growth rate of almost 9%/year but it is safer to err on the side of caution.

(Source: Current price and dividend data from Yahoo Finance)
Forward Looking Analysis:
As mentioned above, UnitedHealth Group's earnings are expected to grow at 9%/yr for the next five years. If this holds true, the EPS will be around $8.40 in 5 years.
Even if UnitedHealth maintains the current lowly 27% payout, investors will be looking at an annual dividend of $2.20/share. This represents almost 50% increase from the current dividend level. A 50% increase in yield on cost in 5 years is not a bad deal.
Plus, it will be hasty to assume there are no growth prospects. Despite concerns over the impact of the healthcare law, UnitedHealth's earnings have come in above estimates in each of the past 4 quarters. Also, the company has renewed its buyback plans for 2014.
22 analysts on Yahoo Finance have an average price target of $85, about 7% from the current price. Morningstar has a fair value of $79, which is the current level and might be interpreted as having less of a downside from here.
Conclusion: So, where do you stand on this healthcare giant? Are you a happy shareholder or waiting for the right entry point? Or do you believe Obamacare will have a lasting impact on all these companies? Please share your thoughts below.
Disclosure: I have no positions in any stocks mentioned, and no plans to initiate any positions within the next 72 hours.
Business relationship disclosure: The article was written by Tradevestor's analyst. Tradevestor is not receiving compensation for it (other than from Seeking Alpha). Tradevestor has no business relationship with any company whose stock is mentioned in this article.