After eight consecutive quarters of negative comps dating back to Q4 of 2011, we comp positive this quarter, up nearly 1%. - CEO, Big Lots Q1 Earnings Call
If you owned BIG on Friday you benefited from a 13% price movement, but it's just the beginning.
I started covering Big Lots (NYSE: BIG) in Q3 of last year. The company seemed unglued in a way. Then in the fourth quarter the CEO made the following announcement:
As we look to 2014, the business will be engaged in rolling out [a] furniture financing program to a majority of our stores. We have tested this concept for six months now and have consistently experienced high single to low double-digit increases in furniture sales at the store level.
Q4 vs Q1: Industry focus
Let's step back and review what was going on in Q4. Large-box retailers were experiencing same store declines in volume and that lack of demand has followed them into Q1. Wal-Mart (NYSE: WMT) reported Q1 same-store sales of -0.1%, and Target (NYSE: TGT) reported Q1 same-store sales of -0.3%. The truth is Target was in trouble well before the data-breach.
Wal-Mart's response to this unwanted trend was swift -- a new CEO took over in February, followed by an acceleration of the small format expansion program and an organic food offering. The company plans on using supercenters as distribution centers which should improve ROA for the entire organization. Target is still looking for a new CEO, but at least the search is on. And, who knows how long it will be before the company can recover from data breach lawsuits and perceptions.
With these events in mind Big Lots is slightly ahead of the game. David Campisi, the new CEO, opened the earnings call with these remarks:
It has been one year almost to the day since my first earnings call as CEO of Big Lots. I am very proud of the progress and accomplishments that have been achieved over the past 12 months...
And he has every reason to be proud. For the past two years comp store sales growth has declined 2.7%, but this quarter put a stop to that trend. While the increase in comp store sales is modest, it is a triumph.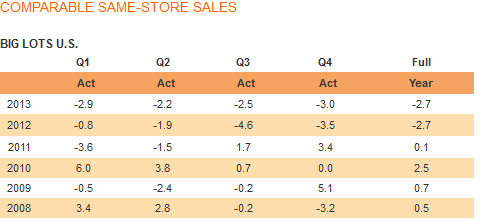 Source: Big Lots
As the company focuses on creating the ideal buying experience, for a customer they refer to as "Jennifer", it is continuing to refine its business model. Suddenly, Big Lots has a coherent plan of action that's resonating with customers.
Food, Furniture & Financing
Food is a common strategy across the discount retail sector. 15 years ago food was something you purchased at the grocery store, now you can buy groceries at the dollar store. While it's traditionally a low margin item for retailers, it increases customer transactions -- people consume food and come back for more. Maybe they'll purchase something else when they do.
Furniture is not a common strategy, but it is a big ticket item, and it's only purchased once a year at best. Put food and furniture together and you have a place where Jennifer can shop for food every week and when she's ready to make the high margin furniture purchase she'll remember the dinette set on display in the entrance.
Not only can Jennifer buy that dinette, but Big Lots will help to finance the cost. Still, what if Jennifer, like many discount retail shoppers, has bad credit. Big Lots has a solution to that as well. Much like Rent-a-Center, Aaron's Rent or Conn's (NASDAQ: CONN), Big Lots is offering a rent-to-own program. That said, only Conn's is a retailer that offers a rent-to-own program. That is, the business model is based on selling -- not renting -- furniture and electronics. Lets take a look at how Conn's is performing.
Conn's reported record net income on comp sales growth of 35% last year and recently reported Q1 same store sales of 15.2%. The increase, according to the company, was driven by an increase in furniture and mattress sales, which grew 65%. Their strategy is simple, provide in-house financing to customers for big ticket items.
Conn's operates 80 retail locations in Arizona, Colorado, Louisiana, New Mexico, Oklahoma, Tennessee and Texas, and specializes in furniture and consumer electronics. Big Lots is rolling out its financing program to more than 1,400 stores in 48 states. And, the financing program at Big Lots will not only be for furniture, but for other big ticket items such as lawn and garden, patio furniture, gazebos, gas grills and even swimming pools.
As a result of these initiatives net sales at Big Lots increased 1.1% over last year and comp sales increased 0.9%. Income from continuing operations was $28.6 million or $0.50 per diluted share.
Key Takeaway: I'm excited about this company, but it's hard to nail down a price target. The business model is being redefined and even though it's a proven business model it's unclear how long it will take for the market to trust earnings. One thing is certain -- price follows consistent earnings, and if this new financing strategy works it will boost same-store sales for the entire chain. I believe this is the beginning of a 2-3 year growth trend for Big Lots.
Disclosure: I have no positions in any stocks mentioned, and no plans to initiate any positions within the next 72 hours. I wrote this article myself, and it expresses my own opinions. I am not receiving compensation for it (other than from Seeking Alpha). I have no business relationship with any company whose stock is mentioned in this article.