RadioShack Corp. (NYSE:RSH) continues to polarize investors. Some say the company is heading straight for bankruptcy with little other options, while others see an investment opportunity that could lead investors to multiply their capital. So, what's it going to be?
If Best Buy's (NYSE:BBY) turnaround in 2013 has shown one thing, it was that consumer electronics retailers can rebound strongly if they adapt their business model. Closing unprofitable stores, revamping existing ones, optimizing the product assortment and adopting a rigorous cost savings program are all instrumental in putting the company on the track to higher profitability.
Industry dynamics require significant cost controls
Intense e-commerce competition, especially in the field of popular electronics products, has led to lower overall industry profitability over the last few years. With increasing competition from online retailers with significant cost advantages, such as Amazon (NASDAQ:AMZN), smaller competitors in the electronics retail business certainly are under a lot of pressure to squeeze margins. Retailers like RadioShack need to rigorously control the cost side of their business in order to enhance their margin profile and deliver value for shareholders.
RadioShack's restructuring plan shot down
And RadioShack certainly aims to deliver: In March 2014, RadioShack announced that it intended to close up to 1,100 stores in order to radically improve the company's cost structure. Unfortunately for RadioShack, its lenders ultimately shot down the restructuring proposal, requiring the electronics retailer to back off its ambitious downsizing plan. While RadioShack's lending agreements only allow the company to close 200 stores per year and 600 over the loan life, RadioShack is now forced to hold on to underperforming stores. Unless, that is, RadioShack and its lenders come up with a revised plan that would allow the electronics retailer to restructure its debt.
Strategic alternatives
Obviously, RadioShack's lenders found the downsizing plan too aggressive, as RadioShack's restructuring proposal would have eliminated a substantial portion (up to 1,100) of its store base in the United States. RadioShack currently operates 4,000 stores in the U.S., and has more than 900 dealer franchises. With lenders, out of their own interest, preventing a large-scale restructuring, RadioShack has a couple of other options: Snatching up an acquisition offer, tapping shareholders or, worst case, filing for bankruptcy.
Generally, I think an acquisition offer is unlikely, mainly because a potential acquirer would face the same restructuring limitations which prevented RadioShack from following through with its own restructuring plan in the first place. An equity offering to shore up the company's finances would certainly be an option, although the company would likely have to offer a substantial discount to the current market price in order to lure investors to participate. The result would certainly be a lot of short-term selling pressure, depending on the discount to market price offered to investors.
The third option would be to file for bankruptcy, which clearly is a worst-case scenario, and would mean shareholders would get wiped out. However, I don't believe RadioShack will face this destiny. Shareholders are more likely to step up their investment and participate in a secondary equity offering, as opposed to doing nothing and letting the company fail. With little other options available to the company and its shareholders, the pressure certainly is on management to deliver a convincing plan to restructure its finance and its operations.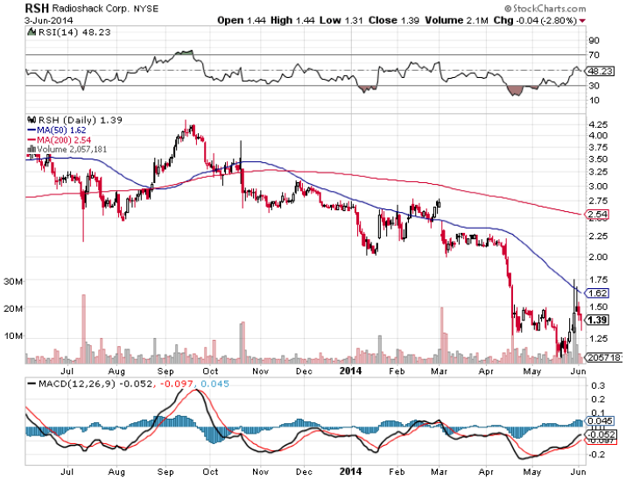 (Source: StockCharts.com)
Final assessment
For the time being, RadioShack faces an extreme amount of uncertainty. Shares of RadioShack have lost approximately 70% of their value over the last two years, and 63% over the last twelve months. If anything, the market has only become more pessimistic with respect to the electronics retailer: RadioShack lost 45% of its market capitalization since the beginning of the year, and recent news about the need for a serious restructuring haven't done the shares any good.
Add to that, Fitch Ratings recently cut its long-term issuer default rating for RadioShack to "CC" from "CCC". With investors completely surrendering to pessimism and negativity, RadioShack might be an interesting investment for experienced contrarian investors who want to bet that management can come up with an alternative restructuring plan for both its operations and its finances.
Speculative, contrarian Buy for experienced investors who can deal with high levels of short-term volatility.
Disclosure: I am long BBY. I wrote this article myself, and it expresses my own opinions. I am not receiving compensation for it (other than from Seeking Alpha). I have no business relationship with any company whose stock is mentioned in this article.