With the World Cup just over a week away, hordes of revelers are about to descend upon Brazil. The party is about to get started, but Brazilian farmers may be more excited about rain than incoming soccer fans. After a drought in Brazil and a devastating fungus known as rust swept Central American ravaging the coffee crop, there are concerns that the coffee supply will not keep up with international demand this year, causing a spike in prices. On Tuesday some of those fears were realized as J. M. Smucker Co. (NYSE:SJM) announced it's raising the price of its packaged coffee products sold through the Folgers and Dunkin' Donuts (NASDAQ:DNKN) brands by an average of 9%. Fear not Dunkin Donuts regulars, the price hike only applies to packaged products sold in grocery stores, not the cup you get each morning from a Dunkin' Donuts location.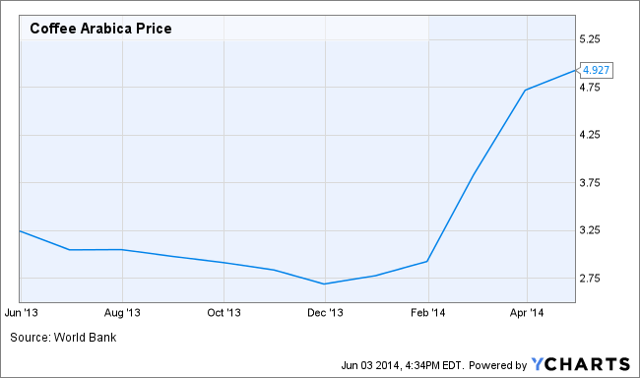 Coffee Arabica Price data by YCharts
Brazil has been the largest supplier of coffee in the world for the past 150 years. Typically the largest company in South America and the 5th most populous country in the world provides about one third of the global coffee supply. Brazil usually produces between 50 and 55 million bags of coffee weighing 60 kilograms each. Because of the drought this year Brazil's coffee industry association, ABIC, cut its national production estimates to as low as 47 million bags. The coffee production outlook doesn't look much better in Central America either as the coffee rust fungus may destroy up to 40% of the crop there.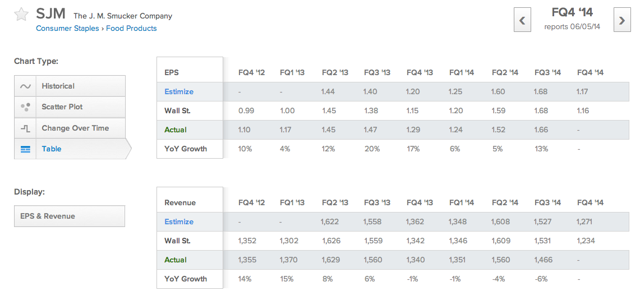 The J. M. Smucker company sells a variety of food products in addition to coffee including jams and jellies, peanut butter, ice cream toppings, beverages, baking mixes, and others. So making inferences about the effect of rising coffee prices on the company's overall fundamentals can be tricky.
With all other things being equal, raising the price of end coffee products sold should result in a higher gross margin, the key question is, how will Smuckers's sales be affected? The question is a matter of the price elasticity of demand for coffee. The price elasticity of demand for a good is the % change in quantity demanded over the % change in price of that good.
Common economic wisdom holds that the most important factor in determining if consumers will spend more money overall (display inelastic demand) with a price hike is a lack of viable substitute goods. Coffee drinkers tend to get characterized as fiends, but it could be true that with a 9% hike in the price of coffee would result in more than 10% of J. M. Smucker's consumers satisfying their java demand by switching to other brands, or an entirely separate caffeinated commodity like tea. This would result in lower quarterly revenue for J. M. Smucker if their other food categories performed exactly as expected.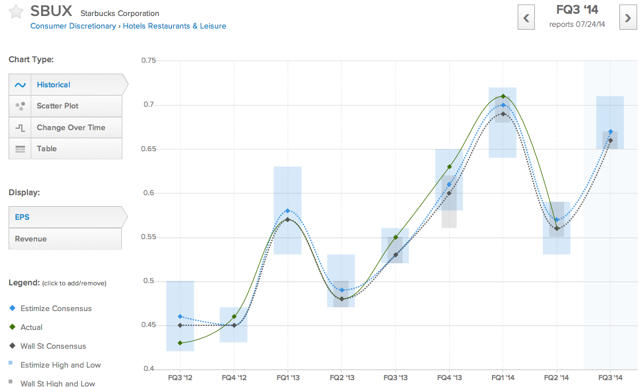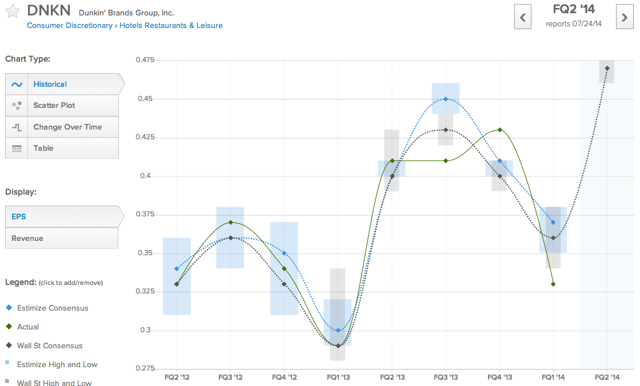 On the other hand, coffee shop chains like Starbucks (NASDAQ:SBUX) and Dunkin' Brands will probably be less willing to change their consumer coffee prices because of an increase in the cost of the coffee commodity. In their most recent quarterly earnings releases Starbucks and Dunkin' Donuts reported year over year EPS gains of 17% and 14% respectively. The fundamentals at both of the companies are performing very well right now and all coffee shop chains benefit from the higher margins consumers are willing to pay for coffee, a relatively inexpensive beverage.
Dunkin' Donuts, Starbucks, and a few other smaller players are in a coffee war though, and raising prices 9-10% at the counter could be a kiss of death. Coffee buyers tend to be loyal and habitual customers that purchase their cup of joe from the same spot before work each morning, or once every week on either Mondays or Fridays. Bumping up the price of daily coffee runs by 25c per cup could be enough of a change to get customers curious about giving the other coffee shop chain a shot. And that's the last thing in the world Dunkin' Donuts and Starbucks want to deal with right now, so it's more likely that will suck up the higher cost of arabica coffee and take a hit in their profit margins and EPS, with all other things equal.
Disclosure: None