On Monday, the Environmental Protection Agency announced the latest step in the Obama Administration's fight against climate change: a proposed plan to cut carbon dioxide emissions from existing power plants by 30% from 2005 levels by 2030. The proposal establishes individual reduction targets for each state, but gives state leaders flexibility in developing their own guidelines.
According to the EPA, the plan's implementation would lead to $7.3--$8.8 billion in annual compliance costs and $55--$93 billion in public health benefits by 2030. The US Chamber of Commerce argues that the proposed regulation would negatively impact the economy by an average $50 billion yearly until 2030.
No matter what the economic impact of the plan ultimately ends up being, it's clear that the utilities sector will be spending large amounts of cash on capital expenditures as they upgrade existing infrastructure. Companies that have invested in capex, possess large amounts of cash, and operate efficiently are best positioned to incur the least damage from the regulation than their peers.
A screen of US utilities companies immediately reveals that Wisconsin Energy (NYSE:WEC) satisfies the last criterion: the electric company has more profitability than the industry average as indicated on the basis of three trailing twelve-month (TTM) profitability margins. Wisconsin Energy's TTM gross margin stands at 30.02% vs. industry average at 24.77%; its TTM operating margin is 22.06% vs. industry average at 15.68%; and TTM pretax margin stands at 19.77% vs. industry average at 11.03%.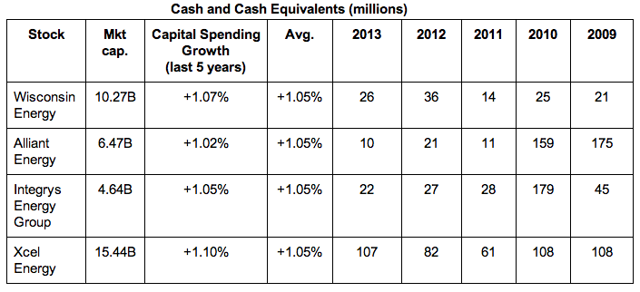 Click here for interactive analysis from Kapitall.
Having a higher gross margin than the industry average shows that Wisconsin Energy is able to keep more money from each dollar it makes in sales than its average peer. As a result, the company has more money to take care of its expenses and obligations. Similarly, Wisconsin Energy's higher operating margin indicates that the company earns more for each dollar in revenue, and its higher pretax margin means that's more profitable.
Click here for the full, Interactive chart.
Wisconsin Energy has also increased its annual operating cash flow consecutively since 2010. Direct competitors Alliant Energy (NYSE:LNT), Integrys Energy Group (NYSE:TEG), and Xcel Energy (NYSE:XEL) - all three operate plants in Wisconsin - have not. At the end of 2013, Wisconsin Energy reported $1.23 billion in operating cash flow. In the first quarter of 2014, the company's operating cash flow was $385.1 million, a 16.59% increase from a year earlier.
Alliant Energy ended 2013 with $731 million in operating cash flow and reported $293.6 million in the first quarter; Integrys Energy had $555 million in operating cash flow last year, and its first-quarter operating cash flow was $263 million. Xcel Energy's operating cash flow totaled $2.58 billion in 2013 and stood at $593 million in the first quarter.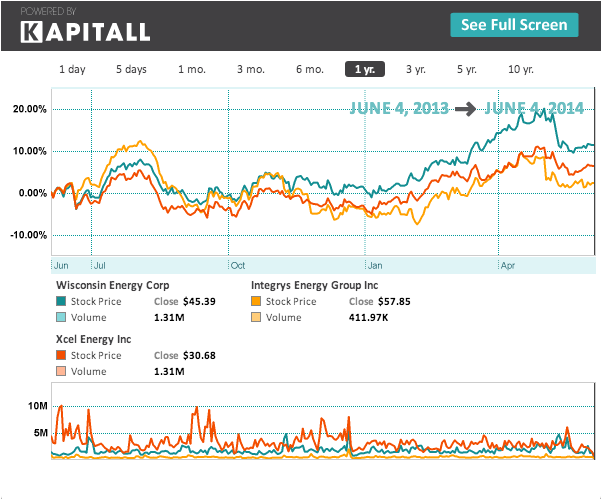 Click here for the full, interactive chart.
Of Wisconsin Energy's twenty-seven plants, five are coal-powered, three rely on natural gas, one uses oil and natural gas, and the remaining eighteen are renewable (biomass, hydroelectric, and wind). Yet, coal is responsible for a majority of energy generated by the company. Wisconsin Energy has added air quality controls to two of its coal-powered facilities: the Pleasant Prairie Power Plant and units 5-8 of the Oak Creek Power Plant. The company's capital spending has grown by 1.07% over the last five years vs. an industry average of 1.05%. Of the aforementioned competitors, only Xcel Energy has recorded more growth, increasing capital spending by 1.10%.
However, both plants' selective catalytic reduction systems reduce nitrogen oxide and sulfur dioxide emissions rather than carbon emissions, which are the target of the EPA's proposed regulation. The Oak Creek Power Plant's expansion units, on the other hand, feature "state-of-the-art air quality controls" that Wisconsin Energy claims makes them some of the cleanest and most efficient coal-powered plants in the country.
Disclosure: I have no positions in any stocks mentioned, and no plans to initiate any positions within the next 72 hours.
Business relationship disclosure: Kapitall is a team of analysts. This article was written by Mary-Lynn Cesar, one of our writers. We did not receive compensation for this article (other than from Seeking Alpha), and we have no business relationship with any company whose stock is mentioned in this article.