The Hartford Financial Services Group (NYSE:HIG) remains an undervalued property and casualty insurance business. After Hartford Financial Services strategically repositioned itself to focusing on its property and casualty, group benefits and mutual funds businesses in 2012, Hartford Financial Services has consistently grown stronger. I think Hartford Financial Services is also an interesting, alternative insurance investment for investors who would naturally gravitate to industry leader American International Group (NYSE:AIG) or other property and casualty rivals, such as The Allstate Corp. (NYSE:ALL).
Many insurance companies were largely avoided by investors after the financial crisis swept over the United States and, as a result, many insurance businesses still trade at a sizable discount to their respective book values - a key valuation metric for financial firms such as commercial and investment banks and, of course, property and casualty businesses such as Hartford Financial Services.
Sequential combined ratio improvements
Hartford Financial Services' first-quarter results have been solid. The insurance company reported a property and casualty commercial segment combined ratio of 91.2 vs. 93.7 in the fourth quarter of 2013 and 94.0 in the prior-year quarter. Combined ratios are an important key performance metric in the insurance business, which considers both operating expenses and payments for claims. A combined ratio of more than 100 highlights that the insurance business has produced an underwriting loss, paying out more than $1 in operating expenses and claims than it has received for every $1 in premiums. Since insurance companies make their money based on what they charge in premiums and what they have to pay out as a result, combined ratios and the development of such are extremely closely watched in the analyst community.
Not only did Hartford Financial Services achieve an underwriting profit in the first quarter of 2014, but the insurance company also decreased its combined ratios three quarters in a row: Hartford Financial Services has improved its commercial combined ratio from 98.4 in the second quarter of 2013 to 98.1 in the third quarter, 93.7 in the fourth quarter and 91.2 in the most recent quarter, underscoring efficient insurance operations and commercial insurance pricing discipline.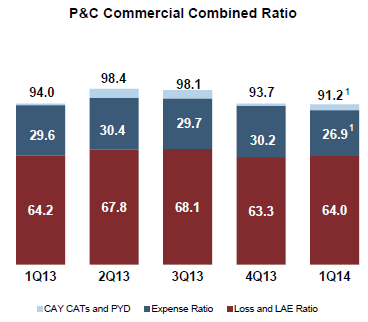 (Source: The Hartford Financial Services Group Investor Presentation, April 29, 2014)
Strong momentum in small commercial business unit
Hartford Financial Services reported written commercial premiums of $1,669 million in the most recent quarter, which compares against $1,463 million in the fourth quarter of 2013: An increase of 14%, driven by strong growth in its small commercial unit, where written premiums increased 21% quarter-over-quarter. Small business insurance solutions are the prime driver of value for Hartford Financial Services, and the business segment should continue to experience momentum as the economy picks up momentum.
Core earnings receiving a substantial boost
Momentum in property and casualty written premiums and a 50% increase in Group Benefits earnings drove Hartford Financial Services' core earnings higher by 23% y-o-y to $564 million. Core earnings per diluted share actually rose 27% to $1.18 vs. $0.93 in the prior-year period. In addition, Hartford Financial Services achieved a meaningful turnaround in net income profitability: A net loss of $241 million in Q1 2013 compares against net income of $495 million in the most recent quarter. These are respectable results in a business where price competition is usually extremely fierce.
Final assessment
As a result of strong operating business performance, Hartford Financial Services could increase its book value per share by 2% quarter-over-quarter to $40.17. With shares of Hartford Financial Services now trading at $34.65, the insurance business still trades at an approximately 14% discount to Hartford Financial Services' book value per share, excluding accumulated other comprehensive income.
In addition, Hartford Financial Services consistently repurchases its own shares; in the first quarter of 2014, the insurance company bought back 8.8 million shares for a total of $300 million, and ongoing share repurchases can be expected. Buying back shares at below book value is accretive and will help book value growth just about as much as increasing core earnings from its insurance operations. Strong Buy.
Disclosure: I am long AIG. I wrote this article myself, and it expresses my own opinions. I am not receiving compensation for it (other than from Seeking Alpha). I have no business relationship with any company whose stock is mentioned in this article.