High-yield portfolios can be constructed using Dividend Aristocrats or ETFs that have low correlations with each other. This article walks readers through the process of building a well-diversified portfolio from an array of ETFs that are global in scope. This analysis is a rather mechanical process that circumvents the need to analyze and select individual stocks.
ETF Rankings: The first step in putting together a "high-yield" portfolio is to select a group of ETFs that include asset classes from a global perspective. The following list of ETFs were selected as they cover all the essential asset classes required for broad diversification. The asset classes covered are: U.S. Equities, U.S. Bonds and Treasuries, Developed International Markets, Emerging Markets, Commodities, U.S. REITs, International REITs, Precious Metals, and International Bonds. Investors can easily add additional asset classes when ETFs covering those asset classes are available or are required for further diversification.
The following table ranks the ETFs based on two performance metrics plus a semi-variance volatility calculation. While this list permits one to put together a portfolio covering many asset classes, it is not unusual to find many of these ETFs are highly correlated. Highly correlated ETFs do not serve the investor all that well if they are truly interested in constructing a well-diversified portfolio. Diversification is not the number of securities in a portfolio. Instead it is how those securities are correlated with each other.
This list of ETF are run through something called Cluster Weighting Momentum (CWM) analysis and the resulting screen-shot is too large to show in this article. However, the CWM ETFs are listed in the second screen-shot.
Cluster Weighting Momentum Analysis: Here are the ETFs that received the highest ranking within each screened cluster. A correlation factor of 0.5 was used as a breaking point for this analysis. In other words, we are looking for high ranking ETFs that have a correlation of 0.5 or lower. The iShares 1-3 Year Treasury Bond (NYSEARCA:SHY) is included as it is the cutoff ETF. Securities under-performing SHY are sold out of the portfolio as a risk reducing action. SHY data is included in the following table as a reference or comparison to the recommended ETFs even though no assets are invested in SHY at this time.
[[

RWX]] - SPDR Dow Jones International Real Estate ETF is one of the critical funds used to populate the International REITs asset class.
IDV - iShares International Select Dividend ETF is one of several dividend-oriented ETFs in the list of investment options.
VNQ - Vanguard REIT Index ETF is the fund of choice for Domestic REITs. Note its high ranking above, although its recent performance has declined relative to its six-months' performance. Examine the Absolute Acceleration column.
JNK - SPDR Barclays High Yield Bond ETF is the top performer from Cluster #4.
TLT - iShares 20+ Year Treasury Bond is a relatively low volatile Treasury that provides a respectable yield.
PCY - PowerShares Emerging Markets Sovereign Debt Portfolio ETF is really an asset class of its own, but is included in International Bonds in an effort to simplify the number of asset classes.
VWO - Vanguard Emerging Markets ETF is the fund of choice for Emerging Markets. Only a few weeks ago, it was under-performing SHY and was not a part of the portfolio at that time.
Since we are also looking for yield in this portfolio, the PowerShares DB Agriculture (NYSEARCA:DBA), a commodity, was dropped from inclusion, as its yield is zero. That leaves us with the seven ETFs identified above.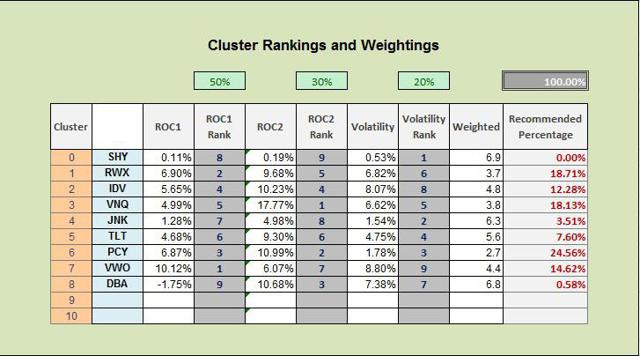 Portfolio Percentages: For a portfolio of approximately $450,000, the recommended shares were rounded to the nearest 100. The resulting percentage of the total portfolio nearly matches the percentage recommendations (column #10 above) that emerge from the CWM analysis.
The resulting portfolio generates a respectable yield of 3.9% from seven ETFs that include hundreds of stocks. These ETFs were not "cherry picked" for their high yield, but selected based on performance ranking and low correlations. The relatively high yield is an added bonus.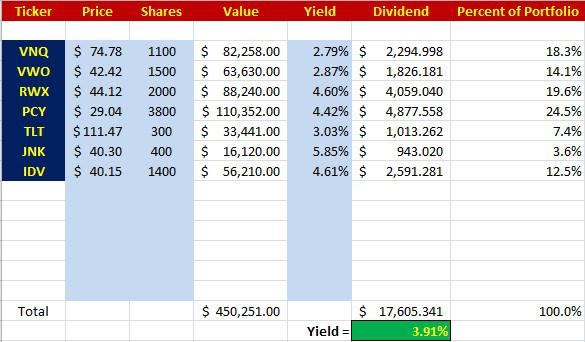 Disclosure: I am long VNQ, VWO, IDV, TLT, JNK, PCY, RWX. I wrote this article myself, and it expresses my own opinions. I am not receiving compensation for it (other than from Seeking Alpha). I have no business relationship with any company whose stock is mentioned in this article.