When I recommended buying Johnson & Johnson (NYSE:JNJ) on the 18th of March, it was trading at $92.81. This article can be found here: Johnson & Johnson will soon yield over 3%.
Since then, it has gone up even further, reaching a new 52-week high of $102.60. At the time of writing, JNJ is trading at $102.46. As I predicted, the dividend has been increased by $0.04, or 9.4%. However, the increase in price per share has caused the dividend to drop back down to 2.73% (2.62% on a TTM basis). There hasn't been a single point in time over the past 5 years where the dividend yield was this low, as can be seen in the next graph.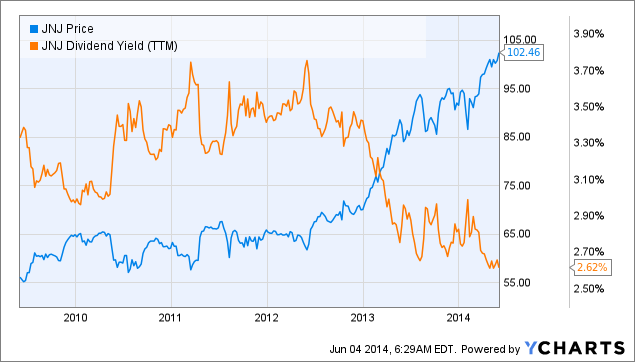 JNJ data by YCharts
Johnson & Johnson's 5-year average price to earnings ratio stands at 16.7. At this moment, JNJ is trading for 17.4 times this year's expected earnings. The stock would need to drop to $92.18 before its forward P/E ratio would reach 16.7. The forward price to earnings ratio hasn't been higher at any point over the past 5 years than it currently is.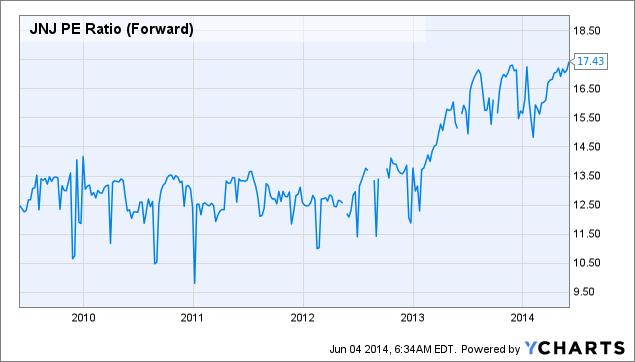 JNJ PE Ratio (Forward) data by YCharts
The price to sales ratio shows a similar pattern. According to Morningstar, JNJ's average price to sales ratio over the past 5 years has been 3.0. At the moment, Johnson & Johnson has a market cap of $289.87 billion, which is 4.06 times last year's revenue and 3.87 times the average estimate for this year's revenue, which stands at $74.88 billion.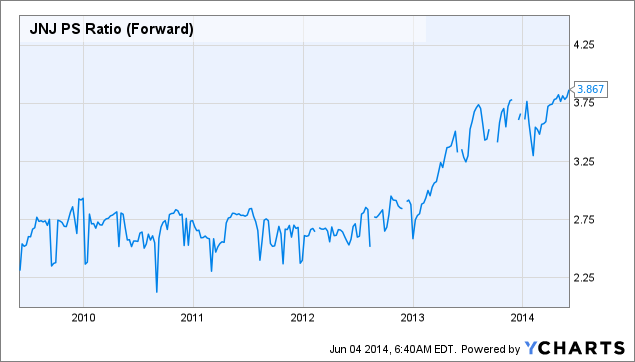 JNJ PS Ratio (Forward) data by YCharts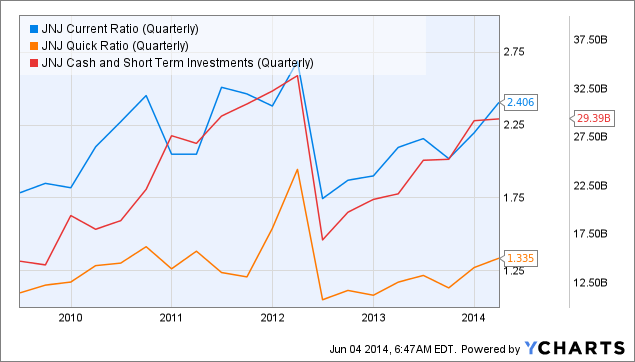 JNJ Current Ratio (Quarterly) data by YCharts
JNJ's balance sheet looks very good. The current ratio hasn't gone below 1.75 over the past 5 years, and the quick ratio currently stands at a very respectable 1.335. Johnson & Johnson's $29.4 billion in cash and short-term investments represents over 10% of its current market cap.
JNJ is a dividend aristocrat, meaning it has increased its dividend every year over the past 25 years. Considering JNJ's strong financial position and the fact analysts expect earnings per share to go up even further to $6.34 next year, I'm convinced Johnson & Johnson will continue to reward its investors with increasing dividends. However, at the moment these future dividends are extremely expensive. There hasn't been a single point in time over the past 5 years where the forward price to earnings and price to sales ratios were higher. The dividend yield is at a 5-year low.
I'd love to own Johnson & Johnson as it's a great company, but not at any price. I'd love to hear your thoughts on JNJ, so please feel free to comment.
Disclaimer: I am not a registered investment advisor and do not provide specific investment advice. The information contained herein is for informational purposes only. Nothing in this article should be taken as a solicitation to purchase or sell securities. Before buying or selling any stock you should do your own research and reach your own conclusion. It is up to investors to make the correct decision after necessary research. Investing includes risks, including loss of principal.
Disclosure: I have no positions in any stocks mentioned, and no plans to initiate any positions within the next 72 hours. I wrote this article myself, and it expresses my own opinions. I am not receiving compensation for it (other than from Seeking Alpha). I have no business relationship with any company whose stock is mentioned in this article.