Bank of America (NYSE:BAC) shares have been beaten down in the past few months but have seemed to stabilize at the $15 mark. With the stress test disaster behind it and the new capital plan resubmitted, shareholders are once again looking at the actual business fundamentals (imagine that). To that end, BAC recently presented at a banking conference regarding its global banking business and I must say, there are some real catalysts for material growth in the segment. With the tongue-in-cheek title aside, in this article, we'll highlight a few to see if they can move the needle in terms of revenue growth for the consolidated company.
To begin, a point that I think a lot of investors miss is the truly world class nature of BAC's investment banking business following the Merrill Lynch acquisition. This slide from the presentation linked above shows that not only is BAC a large player in the investment banking business, it is the largest.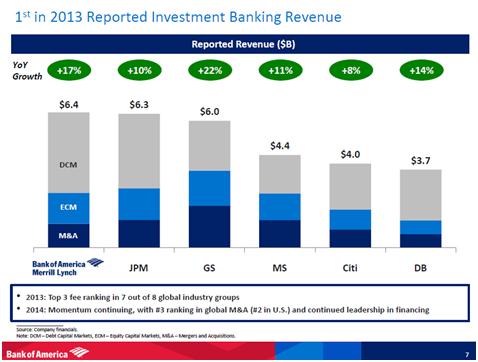 BAC produced more investment banking revenue than the two large investment banks left on Wall Street, Goldman Sachs (NYSE:GS) and Morgan Stanley (NYSE:MS). And as you can see, the industry is perking up with YoY revenue growth figures in the high teens across BAC's peer group. Best positioned to take advantage of this is BAC and we can see that in the results shown above.
Next, BAC highlighted the downbeat nature of the international business in general, showing in particular the weak M&A environment (center chart) and the fact that the investment banking fee pool internationally hasn't even reached back to 2007 levels while the US market has been quite strong (right chart).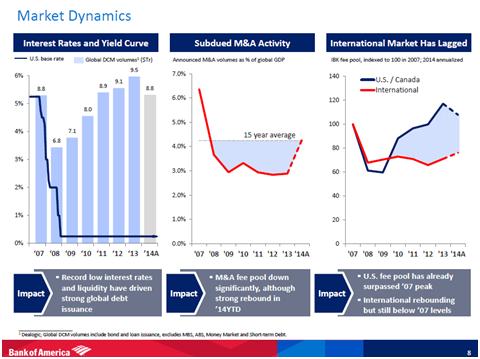 This plays into the first point I made about the investment banking revenue horizon improving significantly; BAC is poised to reap enormous revenue gains from even an average M&A environment and with ML's global business, if the international investment banking business continues to rebound, BAC stands to gain billions in revenue. These are important factors to consider when examining BAC's global banking business; this unit is firing on all cylinders in a weak environment so just imagine what a favorable environment would look like.
Just have a look at the slide below depicting BAC's share of >$5B M&A deals over the past few years and you can see the impact ML has had on the company.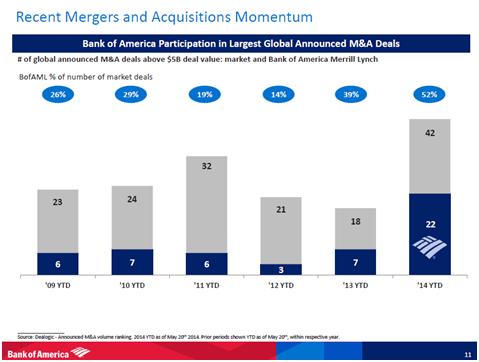 BAC has had a piece in 52% of the global M&A deals over $5 billion thus far in 2014, or, on a nominal basis, roughly the same amount of deals it had in the past four years combined. There is no doubt the M&A business is flying and BAC is taking full advantage, pulling in enormous fees in the process.
There are also other advantages to BAC cementing its place as the premier global investment bank. For instance, there are cross-sell opportunities. When BAC gets its foot in the door on the M&A side, it has the opportunity to build a relationship with the client with its many other products. In a business where it's all about recurring revenue streams, M&A fees can open the door to much more revenue down the road as the bank cross-sells its clients into other BAC products and services.
One example of this is when BAC is providing M&A advisory services, it is closing financing deals at the same time. In other words, not only does BAC get the fees from its advisory services, it makes some money by financing the deal as well. And when you factor in all of the other services a behemoth like BAC has to offer, you get referrals from one part of the business to the other, generating further cross-sell opportunities. The point is that BAC's laundry list of services means it has nearly endless opportunities to up-sell its customers into more and more products and services through its investment banking operation.
The great news for shareholders is that BAC is taking full advantage of this business that returns more than 1.5% on assets by investing further in it every quarter.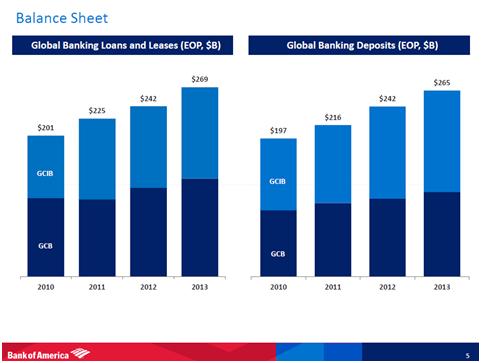 The global banking operation has seen its earning assets and deposits increase in lockstep roughly 35% in the past four years alone. BAC management knows this is the horse to back and is doing so in a big way. I sincerely hope BAC continues to load up on the global banking business as its revenue growth and high margins boost BAC's consolidated results.
When I have mentioned in past articles that BAC's investment banking operation is world class, I've been scoffed at. However, this data proves that BAC is indeed the premier franchise in the investment banking industry in this country. Further, BAC is well positioned to take full advantage of an industry rebound in international investment banking fees and M&A activity. The bottom line is this segment will prove to be a major driver of revenue and profit growth for BAC and investors should pay close attention to results from this crown jewel of the company.
Disclosure: I am long BAC. I wrote this article myself, and it expresses my own opinions. I am not receiving compensation for it (other than from Seeking Alpha). I have no business relationship with any company whose stock is mentioned in this article.