Most of the time, it is just as important to identify stocks within your portfolio that are set to underperform, as it is to find the next home run idea. We have posted several lists of "companies to avoid," which are based on important criteria developed by The Applied Finance Group (AFG). Back-tests have proven that the measures we use, which include valuation, management's ability to create wealth, and earnings quality, help to identify stocks that will underperform their sectors on a consistent basis over time.
AFG's Earnings Quality variable is a proven indicator of companies that are more likely to have negative earnings surprises, and therefore underperform due to high amounts of accruals. With the majority of firms under pressure to meet sales expectations in the current economic environment, it is very important to watch out for those companies that may be trying to pad their sales numbers in various ways, ie. Channel-stuffing (sending excess inventory to stores that will not be able to sell their products).

Because high EQ score companies (bad Earnings Quality) are more likely to have negative earnings surprises, you will probably want to avoid these firms. Our back-tests indicate that the EQ variable works especially well when coupled with AFG's valuation model (see charts below).
We have put this variable to work for you, screening the S&P500 to identify the firms with the worst Earnings Quality (EQ) score that also rank poorly according to AFG's default valuation ranking. The Chart Below displays the firms we have come up with, along with their EQ and valuation signals.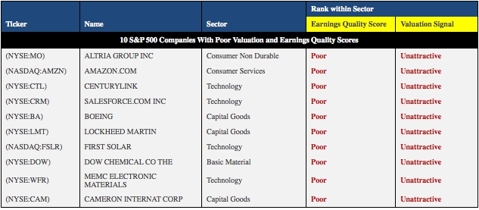 Below is a look at how well the Earnings Quality variable works when you split top half vs. bottom half in each sector/style as well as how effective it is when coupled with AFG's valuation variable.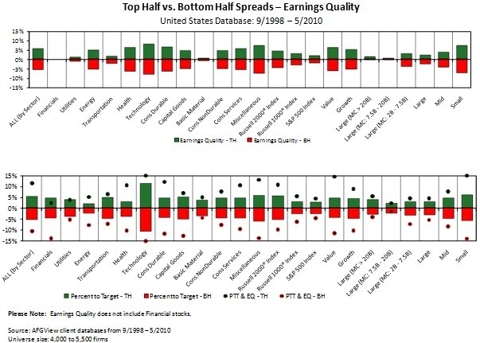 Below is a brief description of how we measure accruals and tag every company in our database with an EQ Score.
Earnings Quality: Accruals
•An accrual is the difference between Cash Flow and Net Income.
•Net Income = Cash Flow + Accruals
•Low Accrual companies outperform high accrual companies
Two ways to approach accruals:
1. Cash Flow Statement
•Difference between Net Income and Cash Flow
2. Balance Sheet
•Change in Net Operating Assets from Period t-1 to t
•Net Operating Asset equals Total Assets Less Cash, Less Non-Debt Liabilities (excl. Minority Interest)
-Our studies show that the Balance Sheet approach is superior to the Cash Flow Statement approach.
-We found the Balance Sheet approach is also easier to expand to international companies.
A brief description of some other AFG's insights:
AFG's Valuation Metric – Measures the percent to target (deviation between a stock's current trading price and its AFG current default target price). To derive the intrinsic value of a firm, AFG uses its proprietary Valuation Model (modified discounted cash flow model).
Economic Margin - A corporate performance measurement that addresses the gaps in GAAP, eliminating distortions caused by accounting policies to measure what a company is truly earning above or below their cost of capital.
Management Quality – Assesses management's ability to make wealth creating decisions.
AFG's Value Universe - Companies in the AFG universe, which have MV/IC at the bottom 50% of the universe and have EPS estimates.
Disclosure: None