Investors Are Focused On Revenue
It's no secret that IBM's (NYSE:IBM) revenue has been declining for the past two years. From its peak, IBM has seen its revenue decline by over 7%. This would be a cause for concern if management had not explicitly stated that IBM is attempting to exit declining business segments and replace them with new higher margin business. It is also worth mentioning that exchange rates have played a role in decreasing revenue. Existing revenue streams can be depleted much quicker than new ones can be created. When dealing with a company that generates close to $100 Billion in sales, it will obviously take some time to generate a meaningful amount of new revenue. Some investors seem to think that IBM can create billions of dollars in sales overnight, and this type of thinking has led to concerns regarding company's revenue. Revenue may decrease when making changes to the sales mix, but these should not be misconstrued as a permanent decline.
This is not the first time IBM has redefined its business and it will likely not be the last. IBM has a long history of selling portions of its business that no longer meet the company's goals. Comparing IBM's innovations to the list of products it currently sells should show that IBM innovates and exits. I'm not going to discuss whether or not IBM's offerings will be able to generate revenue because this topic has been covered extensively by others. I will simply say that I believe that future revenue growth is likely due to the company's history, its strong research and development efforts, and the amount of money the company has been spending on acquisitions. Investors should take solace in the fact that IBM has successfully transformed itself in the past.
A closer look at IBM's income statement reveals quite a bit about the company. Claims of financial engineering have dogged IBM over the past few quarters. This is because EPS has increased over the past couple of years, while revenue and net income have been on a decline. Many seem to believe that IBM's income is declining in-line with its revenue and the company is using share buybacks to create better looking EPS numbers. While the EPS improvements are largely due to repurchases, the graphs below demonstrate that net income, which is unaffected by buybacks, has been faring better than revenue.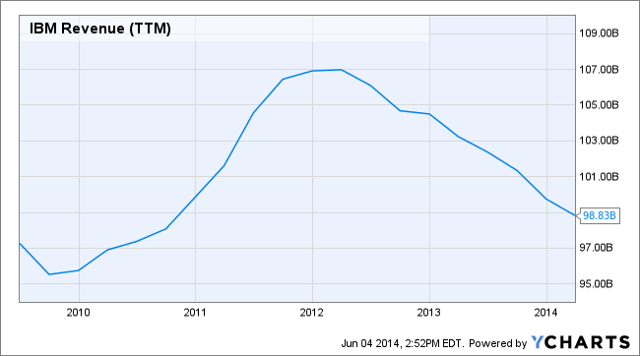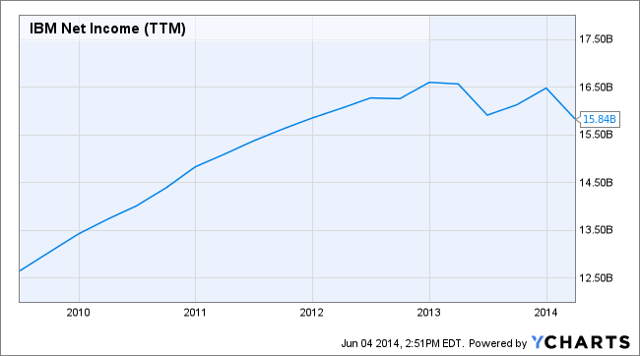 Investors Should Be Paying More Attention To IBM's Debt
IBM's generous capital returns were a factor behind my investment in the company, but I still find myself wondering whether IBM is doing too much of a good thing. As shown below, IBM has done a great job of reducing its share count while increasing its dividend. However, a cursory glance at IBM's statement of cash flows reveals that the company spends far more on buybacks and dividends than it generates in free cash flow. In 2013, IBM repurchased $13.86 Billion in stock and paid $4.06 Billion in dividends with only $12.5 Billion in free cash flow. IBM returned $5.92 Billion more to shareholders than it generated in free cash flow. Paying out more than 100% of FCF requires surplus cash or the issuance of debt. Having little of the former, IBM has become increasingly reliant on the latter. Unsurprisingly, this borrowing has had detrimental effects on the company's balance sheet.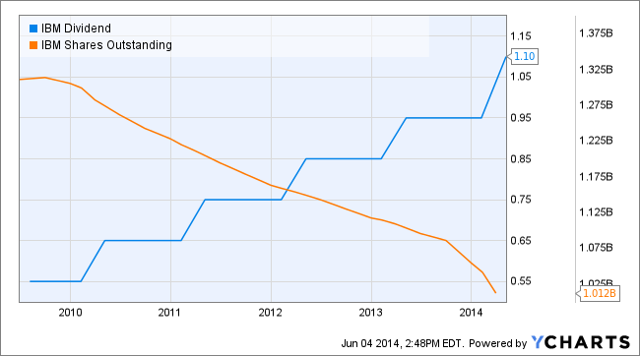 It is important to note that there are other areas where IBM needs to use its free cash flow. In mature industries, companies can pay out a very high percentage of their free cash flow because little money is needed to grow the business. Unfortunately for IBM, technology requires continuous improvements. Staying in front of the proverbial eight ball can involve a significant amount of acquisitions. In 2013, IBM spent $3.06 Billion on acquisitions, which is comparable to amounts spent in the past. After subtracting the $297 Million generated from divestitures during the year, IBM still requires roughly $2.76 Billion in cash for acquisitions. When combining this $2.76 Billion with the $5.92 deficit calculated earlier, it becomes apparent why IBM had to borrow $8.77 Billion in 2013.
It is easy to see the effect of buybacks when looking at IBM's balance sheet. IBM has a large amount of total liabilities, though it is worth noting that $28.3 Billion of its debt is used to support its financing business. IBM's price to book is 11.5 and its debt to equity is 4.54. In this case, the high P/B and debt to equity are not indicative of a troubled stock, but rather they are the result of the way accounting treats stock buybacks. When stock is repurchased for an amount greater than book value, book value declines. As a result, when companies consistently repurchase large amounts of shares, book value becomes almost meaningless due to the distortive effects of buybacks. It is because of this distortion that IBM's debt load seems crippling on a debt to equity basis.
Due to the impact that buybacks have on book value, I use the debt to free cash flow ratio when attempting to evaluate IBM's financial condition. IBM currently has a debt to free cash flow ratio of 8.46. This doesn't have me jumping for joy, but the company's debt load is much more reasonable than its debt to equity ratio would suggest. I should also mention that management considers IBM's total debt to be $44 Billion and its non-financing debt to be $15.7 Billion. When evaluating IBM's debt using these numbers, it seems far more manageable. However, for conservatism's sake, I use the amount of total liabilities found on the balance sheet when making calculations. Also, keep in mind that free cash flow is currently at a multi-year low and the company expects to grow free cash flow in 2014. Future increases in net income should translate to higher free cash flow, which would make IBM's debt load more manageable.
Conclusion
With my investment in IBM, I am not worried about yearly changes in revenue. Given the company's long history and its commitment to research and acquisitions, I feel that future revenue growth is quite likely. The pessimism surrounding the company's top line looks to me like a case of investors expecting too much too soon. If IBM can make meaningful improvements to its margins, future revenue growth should lead to impressive levels of net income. I am, however, concerned with how IBM's balance sheet will look by the time revenue and income begin to improve. Personally, I continue to hold my shares because I think that these improvements will be seen in the next year or two, but other shareholders may reach a different conclusion.
Disclosure: I am long IBM. I wrote this article myself, and it expresses my own opinions. I am not receiving compensation for it (other than from Seeking Alpha). I have no business relationship with any company whose stock is mentioned in this article.