By Steven Carroll
Among the mega-caps, Royal Bank of Canada (NYSE:RY) wins the prize - trading on about 2.1 times forward 12 month book value. Its local peer, Canadian Imperial Bank of Commerce (NYSE:CM) trades at 2x.
Wells Fargo (NYSE:WFC) is a comparative favorite among the U.S. firms, trading at 1.6x book with a limited capital markets footprint, crisis free (so far) and exposure to the rebound in U.S. housing.
At the other end of the spectrum lie the firms who've been in the press for all the wrong reasons - Citigroup (NYSE:C) and Bank of America (NYSE:BAC) trade at 0.7x book. JPMorgan Chase (NYSE:JPM) is not quite out of the doghouse at 0.9x book.
The latter three are also hovering under the dark cloud of increased regulatory scrutiny, regulatory investigations and the need to hold forever increasing amounts of capital against their risk assets. As a result, trying to figure out mid-cycle earnings potential and the cyclical vs. structural debate for FICC businesses can send one to distraction.

Is the market right?
Or are we extrapolating recent trends too far into the future? Are we not rewarding Citibank, Bank of America Merrill Lynch and JP Morgan for their strong global footprint and brand, while paying too high a price for Wells Fargo and the safety and security of the Canadians (despite some legitimate concerns about a Canadian real estate bubble)?
No doubt time frame is a factor. There's no obvious catalyst to recovery for the investment banks - Citi failed its Fed CCAR test (Comprehensive Capital Analysis and Review) and generates a negligible 1.0% ROA (explaining the need for buckets of leverage).

ROE no better
From an ROE perspective, the trend is equally apparent. In this cycle, last year's (2013) ROE of 9.9% is the cyclical high, compared with 26.5% in 2006. With the regulatory boot on Citi's throat, that ratio isn't likely to surge anytime soon. However, as Citi's capital adequacy levels stabilize, and the company starts paying meaningful dividends (presumed to commence next year with the next CCAR test) one wonders if 0.7 times book value isn't a little too harsh. To put it in earnings terms, the StarMine IV model calculates that Citi is trading at an implied 10 year CAGR of 4.1%, compared to an industry average expectation of 5.3%.
Different banks have responded to the crisis in different ways - the Deutsche Bank co-CEO, like Goldman Sachs, has doubled down on capital markets. The logic presumably is in line with Lloyd Blankfein's comments on May 16 that referred to Goldman's mix of capital markets businesses: "I think it is vanity to say something that has worked is not going to work from this moment forward."
Those hastily beating a retreat from global investment banking, such as Barclays CEO Antony Jenkins, will hope he's not cutting 7,000 staff right at the bottom of the cycle.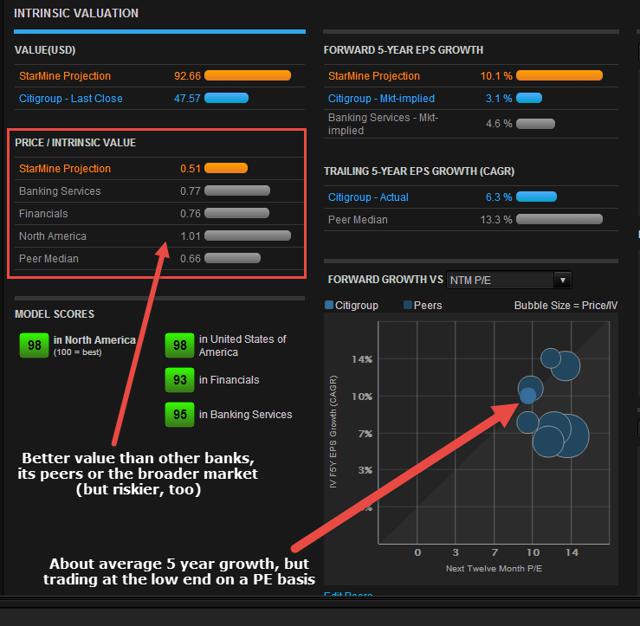 Opening the wallet
If Blankfein is right, then Citi and its inexpensive peers look like a good play. If there's one thing for sure in financial markets, there'll be more go-go years, more "new new" things and many more bubbles. Certainly none of that is reflected in current investment bank valuations.
Disclosure: I have no positions in any stocks mentioned, and no plans to initiate any positions within the next 72 hours.
Business relationship disclosure: Alpha Now at Thomson Reuters is a team of expert analysts that are constantly looking at the financial landscape in order to keep you up to date on the latest movements. This article was written by Steven Carroll, independent commentator and analyst. We did not receive compensation for this article, and we have no business relationship with any company whose stock is mentioned in this article.