In a prior article, I detailed why and how I would begin performing one hour of preliminary research on potential investments with an emphasis on reasons not to invest before delving any further into the idea. In this article, I will organize my findings on GNC Holdings (NYSE:GNC).
Competitive Position
GNC has a global network of several thousand physical stores and also sells through its website, but is diversified through franchise and wholesale business that makes up 27% of revenue and 41% of EBIT. I am highly skeptical of retail businesses as it is a very tough industry, but GNC seems to have a strong competitive position. It has:
A strong brand evidenced by the company's franchising success and $720M book value of the brand equity
Significant scale: "Our network of domestic retail locations is approximately ten times larger than the next largest United States specialty retailer of nutritional supplements." (Source: GNC 2013 10-K)
A loyal customer base: "Our large customer base includes approximately 8.3 million active Gold Card members in the United States and Canada who account for over 75% of company-owned retail sales and spend approximately two times more than other GNC customers." (Also from the above 10-K)
Nevertheless, the business is not immune to competition. This can be seen in the company's promotional strategy during this past holiday season and the rise of Vitamin Shoppe (NYSE:VSI) and natural/organic grocers like Sprouts Farmers Market (NASDAQ:SFM) and Natural Grocers (NYSE:NGVC) that are nearly as much vitamin/supplement retailers as grocers. There is also the threat of e-commerce. GNC has and continues to invest aggressively in e-commerce infrastructure but may lose some customers preferring Amazon and other sites as the e-commerce continues to penetrate. I think the business has a narrow moat but it is by no means impenetrable.
Industry Prospects
The vitamin & supplement industry has been growing and will continue to do so. Obesity, health awareness, and healthcare costs are all increasing. From Sprouts 2013 10-K:
According to the Nutrition Business Journal, vitamin and supplement sales grew at a CAGR of 5.8% from 1997 to 2012, reaching a total market size of $32 billion in the United States. The Nutrition Business Journal forecasts this market will accelerate growth to a CAGR of 7.1% from 2013 to 2020.
GNC has had a few bad quarters lately, but the headwinds seem temporary. Severe weather hurt just about everyone in retail, but seems to have had a magnified impact on GNC because not only did the weather cause store closings and reduce traffic, but it also delayed workout activity which is seasonal to some extent. Further, these issues are already in the rear-view mirror. The weather has calmed, comps improved by several hundred basis points in March from January-February, and the company's full year guidance assumes further improvement in comps.
I am a strong believer and currently fully invested in the trends in healthcare and nutrition through Express Scripts (NASDAQ:ESRX) and The Fresh Market (NASDAQ:TFM). I believe that GNC will benefit just as much if not more from these trends as both are relevant to its business.
Timeliness
I am increasing concerned with buying stocks at relative lows as a form of protection in case the rest of my thesis does not bake out.
GNC's weak Q4 '13 and Q1 '14 have caused shares to decline significantly. The stock is now below its 50 and 200 day moving averages, but above its 20 day moving average after a very good day today. The stock is also attractively positioned in its 52 week range:


(Source: FinViz.com)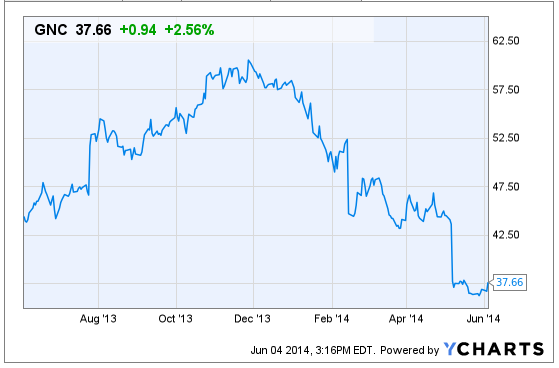 The stock seems exceptionally timely. If you're going to buy, now is probably the time to do it.
Performance & Valuation
Since December 2010, revenue and operating cash flow have grown at CAGRs of 13.4% and 21.4% respectively and in the last twelve months, 7% and 8% respectively. The company has reduced its share count through share repurchases significantly, leading to even greater growth in FCF/share. FCF/share has grown from 95 cents in June 2011 to $2.27 now for a cumulative gain of 138% in 2.75 years or 37% annually. Calculating ROIC as EBIT over net working capital plus PP&E, the company's ROIC is a ridiculously impressive 52%. There are significant intangibles on the balance sheet, however. If I include intangibles, goodwill, and brand equity, ROIC drops to a still impressive 19%. The company also pays a small dividend with a yield of 1.7% currently.
I don't think the company will do anything close to 37% FCF/share growth going forward, but 10-20% seems reasonable. Value Line estimates 14.5% EPS growth and the analyst consensus is 14.3%. I think that seems about right.
The stock currently trades for:
13.4x trailing cash flow
16.7x trailing free cash flow (which is likely a bit understated due to growth capex)
12.3x FY2014 earnings guidance
7.0x trailing EBITDA
If the company does indeed grow earnings, CF, and FCF on a per share basis greater than 15% annually along with the 1.7% dividend, the stock is very cheap. At 10-12% growth the stock is probably fairly valued at this price.
Debt
The company has a pretty substantial debt load at $1.173B. Net Debt/EBITDA is 2.3x and Net Debt/FCF is 5.5x. Above 2.5x is generally where I get very concerned, but because GNC is a retailer with high fixed costs and substantial additional commitments in the form of operating leases ($550M at FYE2013), things can get very bad very quickly via operating deleverage and I would prefer to see the company using less financial leverage. The company has okay credit ratings.
Conclusion
GNC is a high ROIC, high growth business that seems overly discounted as a result of temporary headwinds. Below moving averages and near its 52 week low, the stock seems quite timely and it also seems attractively priced fundamentally. The company will benefit from growing healthcare costs and vitamin and supplement market growth. My only major concerns are the company's large debt load and some weaknesses in the company's competitive position. I will likely pursue this idea further but am not too eager to invest because I have several other attractive ideas on my plate that I like just a bit more.
Disclosure: I am long ESRX, TFM. I wrote this article myself, and it expresses my own opinions. I am not receiving compensation for it (other than from Seeking Alpha). I have no business relationship with any company whose stock is mentioned in this article.