At the start of 2010, investors in energy stocks had plenty of reasons for optimism. Global economic growth appeared reliable enough to sustain a modicum of stability in oil commodity pricing. Analysts anticipated that natural gas prices would climb off 2009 lows, aiding the integrated oil and gas majors. What's more, these giant integrated oil and gas corporations sported historically attractive price-to-earnings ratios. And even the slightest hiccup in the Middle East — from the Israeli-Palestinian conflict to Iran's nuclear ambitions — favored Energy ETF consideration.
Well… at least that's how one might have assessed prospects for the energy sector at the start of the year. Then the world threw a few Matt Latos curve balls.
China began to slow its growth through tighter bank reserve requirements, causing many to question the dynamic country's energy needs. BP's infamous oil spill lasted 5x as long and caused 10x the damage as many might have guessed at its onset, leading to massive penalties and lost revenue. Meanwhile, the Obama Administration instituted an offshore drilling moratorium, creating fear of taxing restrictions for all drillers in the future. Add cap-n-trade policy goals for the White House and… suddenly… Energy ETF investing looks less and less desirable.
Year-to-date, 7 of the 10 primary economic sector ETFs have risen above a long-term 200-day moving average. The 3 that have yet to do so? SPDR Select Energy (NYSEARCA:XLE), SPDR Select Healthcare (NYSEARCA:XLV) and SPDR Select Financials (NYSEARCA:XLF). (Note: In previous commentary, I've addressed the adverse impact of government intervention on these 3 under-performing segments of the U.S. economy.)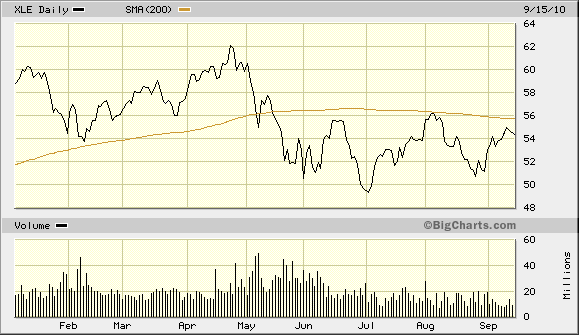 Is the glass three-quarters empty, then? Or is it one-quarter full?
A more optimistic believer could make a case for the reality that global oil demand is indeed growing. Supply isn't exactly readily available either. So unless there's a true double-dip in developed countries, supply-demand favors rising oil prices. And… we're at the higher end of the trading range at $77 per barrel right now.
Also, since oil is priced in U.S. dollars, further devaluation acts as a tailwind for oil explorers/producers/storage/transporters/refiners. In fact, if the Dollar Index holds below a 200-day average, I wouldn't be surprised to see oil-related ETFs outperform over the next 3-6 months.
Nevertheless, broad-based energy ETFs have more than a few hurdles. Most of the energy ETFs are stuck in the lowest quartile of relative strength (bottom 25%).
Energy ETFs Relative Strength Ranking On 9/15/2010
RS % Rank
Rydex S&P Equal Weight Energy (NYSE:RYE)
19.2
SPDR Oil/Gas Production (NYSEARCA:XOP)
19.1
Vanguard Energy (NYSEARCA:VDE)
18.3
SPDR Select Energy (XLE)
18.2
iShares DJ Energy (NYSEARCA:IYE)
17.6
iShares S&P Global Energy (NYSEARCA:IXC)
16.8
Oil Services HOLDRs (NYSEARCA:OIH)
15.4
iShares DJ Oil and Gas Explor/Production (BATS:IEO)
12.3
S&P 500 SPDR Trust (NYSEARCA:SPY)
38.4
PowerShares Nasdaq 100 (QQQQ)
64.5
Vanguard Emerging Markets (NYSEARCA:VWO)
84.9
Disclosure: Gary Gordon, MS, CFP is the president of Pacific Park Financial, Inc., a Registered Investment Adviser with the SEC. Gary Gordon, Pacific Park Financial, Inc, and/or its clients may hold positions in the ETFs, mutual funds, and/or any investment asset mentioned above. The commentary does not constitute individualized investment advice. The opinions offered herein are not personalized recommendations to buy, sell or hold securities. At times, issuers of exchange-traded products compensate Pacific Park Financial, Inc. or its subsidiaries for advertising at the ETF Expert web site. ETF Expert content is created independently of any advertising relationships.