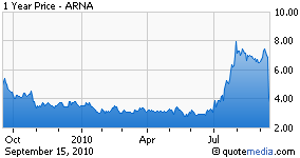 I'd like to think that my specialty is collecting and interpreting data on biotech stocks. In the case of Arena Pharmaceuticals (NASDAQ:ARNA), the data is collected and largely interpreted – all with a nice little bow on it. So rather than try to provide a thorough and unbiased analysis – which would be nearly impossible given the mountain of data – I will just insist that you read it for yourself. If you're making a play on this stock, long or short, you have to do this due diligence. Instead I'll provide a few selected comments and describe how I think this will go and how I intend to play it.
Gekkowire has provided an excellent analysis, given the difficulties, and I suggest you give that a look here.
Overall, I was more worried by the market reaction to the briefing documents than by the documents themselves. I was pleased in general with the quality of the briefing documents. I think, for the most part, everything fell in line with what was expected – but I want to reiterate for the most part. On a few occasions, there were a few serious 'what?' moments on my end inspired by both Arena and the FDA
Anyways, let's go point by point with the easy issues first:
Efficacy:
This is more or less what we all expected. The efficacy hits one of the two guidance end points according to the FDA draft guidance on obesity medications. It's borderline, we knew this, but it's statistically significant weight loss with twice as many patients on the drug reporting >5% loss.
I am a little frustrated, however, with the tone of the author with respect to efficacy in the first section. What's the point of including the "by a slim margin" comment? I'm sure the panelists can see that the margin is slim; how is this even necessary? The author almost sounds mad when talking about the efficacy issue. And besides, it's the FDA guidelines that they hit, if you didn't like it why set the guidelines as such?
Valvulopathy:
This one wasn't necessarily perfect but not outside of what was expected. It appears that the FDA has decided the data supports ruling out a 55% increase in valvulopathy where it requested ruling out a 50% increase (a value the FDA admits was "arbitrary").
It's nice to have the uncertainty resolved here, regardless if it's technically a miss. It's important to note that this doesn't mean there is a 55% increase, there may actually be no increase, but we can only rule out a greater than 55% increase. This should be completely resolved when the BLOOM-DM data is released or in post-market observation.
Psychiatric AEs:
This didn't seem to have anything particular out of the ordinary for me. A higher rate of perceptual or dissociative-related AEs but this was largely things like dizziness, fatigue, paresthias, etc. The more serious conditions seem completely in line with what I would hope is acceptable. FDA quote: "[…] there was no imbalance between treatment groups in depression-related adverse events". Suicidality also looks fine. Two attempts, one in the treatment arm, one in the placebo after crossover. No particular troubling increases in ideation or other suicide related issues.
Attention, memory, cognitive disorders:
So this could be an issue as activation of the 5HT2A receptors can be correlated with these sorts of events. It appears that any sort of cognitive impairment was rare and not particularly severe. I'm not worried about this either.
Neoplasms:
Now here is the issue that has appeared to send the market into a tizzy – or at least what the news outlets have pointed to most often.
Apparently, in the female rat tests of 7 fold increase in treatment (on a circulating mg/kg basis) there was on observation of increased malignant mammary neoplasms. Arena says it's rat specific and the FDA says that they can't prove that because Arena didn't dose mice, monkeys, or people as high as the rats. While the tumors probably are specific to the rats, I agree with the FDA's statement that Arena didn't properly prove that it was, indeed, species specific.
What frustrates me most about this is that the rat tumors never should have been an issue. Run a mouse study at 20x therapeutic dose and close the book on this one. But unfortunately, Arena never took the opportunity to go ahead and prove their assertion. This is a huge failure on the part of Arena. Not properly running the tests to support your conclusion – which they are probably absolutely right on – now means a potential delay in approval and your drug now being tainted with a media-friendly tidbit like 'potential breast cancer'. This is a mistake that will cost the company and stockholders in one way or another and it never should have happened.
And on the FDA side, why wasn't this an issue earlier on? The FDA had the opportunity to review this pre-clinical data during the investigation new drug (NYSE:IND) application and Arena got the go ahead then. Why make it an issue now when you have 7,000+ human patients free and clear of the mentioned neoplasms?
Given that this is potentially a big issue, I think there's a lot of potential upside here and the market may have been a little unfair with this data. The bottom line is that the neoplasms were not observed in humans over two years in over 7,000 patients. This makes potential post-market observation or a concurrently run mouse/monkey study to rule out the neoplasms a very real possibility.
I do want to make the statement that I'm not real comfortable with making a claim about how the panelists will interpret this data. I have read quite a few pieces of information from seemingly informed sources that range from a 'Good, I'll keep in mind when I'm treating obesity in rats' to 'this is completely unacceptable given marginal efficacy'. It appears that quite a few drugs make it over this hurdle just fine but each case has a different set of benefits and risks.
Lack of Lor-Phen Data:
I think this is a huge win for Arena. If it is approved the Lor-Phen blockbuster $40+ pps scenario becomes a real possibility. And furthermore, Arena could always go back to the drawing board with a Lor-Phen combo trial. The FDA could still decide to do whatever they want with this particular issue, however, so just because it wasn't mentioned here doesn't mean it won't come up on the PDUFA date.
Summary
Lorqess still is an efficacious drug according to FDA guidelines and hasn't demonstrated any severe safety issues (suicidality, valvulopathy, cancer, etc.). The management, however, appears to have done a sloppy job of statistically ruling out the all of the potential severe safety issues. This is a tremendously hard call. I could see scenarios where this could easily go in favor of Arena but I could also see how the 'marginal benefits not worth the risk' mentality could win out. I'm going to say this is basically a coin-flip – as much as I hate the phrase – between a positive 'go ahead' vote and a 'just do the damn studies to prove this one, ok?' negative vote.
As far as my positions go, I'm at an average buy in of $5.32 which is now hovering below $4.00. As I don't see an outright rejection recommendation being possible, I don't think we go lower than $2.00 on a negative vote. On a positive panel vote I think we go north of $10. Given that my upside from here may be as much as 150% and my downside appears to be only 50% it seems like a pretty obvious decision for me to stay in.
And, for what it's worth, a rundown of the panel members, how they voted in the Qnexa panel (if they voted), and my estimation of how they will vote according to this article. It actually looks pretty promising.
Felner
Goldfine, Yes —> Yes
Weide, No —> Yes (borderline)
Thomas, No —> No
Kaul, Yes —> Yes
Coffin, Yes —> Yes
Connolly
Douglas
Gardner
Henderson, Yes —> Yes
Segal
Flegal, No —> No
Gregg
Proschan, Yes —> Yes
Disclosure: Author long ARNA