Let me start out by being absolutely clear about talk of a Johnson & Johnson (NYSE:JNJ) bubble. Nonsense, plain and simple. Having dealt with that issue, I will now take the time to justify my position on the subject and then proceed to foretell where we can expect share prices to be in the near and mid-term future.
True Dividend Aristocrats are currently represented by 54 companies of the S&P 500 that have consistently raised their dividends each of the past 25 years or longer. The solid, reliable, long-term track record through multiple business cycles and crises makes these highly sought-after companies by dividend income equity investors.
Making the Case for Yield-based Valuation:
The weighted average dividend yield for this exclusive club is 2.10%, based on the SPDR Dividend ETF (NYSEARCA:SDY), which seeks to duplicate the performance of the top 50 of the 54 Dividend Aristocrats. Johnson's yield is currently 2.80%. In theory, the prime force driving investors in all of these Aristocrats is the safe, reliable income stream. The mathematical relationship Y = D/P (where Y is yield, D is dividend distribution, P is share price) defines the reciprocal relationship under which the company sets the Dividend distribution and the market bids share Price up or down to arrive at the consensus Yield in competition with the entire class of dividend income equities after allowing for risk.
All Aristocrats should trade at very close to the same yield, allowing adjustment for how close they are to their next expected dividend hike, how secure the dividend remains (a few Aristocrats drop out each year, and a few new ones join the club), the steepness of their dividend CAGR curve, and such factors directly related to "equalizing" comparative dividends as set by the companies. Any significant departure from the average yield of the group is due to perception of superior or inferior attributes of these factors, or else due to temporary market inefficiencies that essentially create an arbitrage-like situation with an opportunity to buy a yield on the cheap or short sell one that has gotten ahead of itself.
The use of YDP charts can help make evaluation of these circumstances simpler and clearer and put the entire yield valuation into historical context based on the trends these charts reveal. For those not familiar yet with YDP charts, I refer you to my introductory article on YDP chart analysis and its precursor article with several YDP chart interpretation examples. The correlation between share price and dividend distribution, interacting as investors adjust changes in value (price) to match changes in distributions with a focus on a constant yield rate, establishes effective yield as the central measure of value for dividend income equities.
Evaluating Johnson & Johnson's value:
The Johnson YDP chart reveals the following important points:
It confirms J&J historically led with dividend distributions, and the market lagged behind in bidding up share price to maintain the same constant yield. The steadily rising yield distributions, share prices and yield rates up until 2006 tell a story of Y=D/P struggling to come into equilibrium, striving to achieve the mathematic parity, but with a persistent response time lag.
A relationship closer to stable equilibrium for Y=D/P emerges beginning in 2006, with the yield rate curve flattening as share prices rise quickly in response to each dividend hike.
From 2007 until late 2008, the generally plateauing yield rate around 2.50% reflects the equilibrium relationship settling in and defining Johnson as being valued based predominately as a dividend income asset.
The price shock of the October 2008 financial crisis caused prices to drop sharply while dividends continued to increase, creating a yield bubble (and reciprocal undervaluation of price) during the following market instability and continuing along with the company's sluggish valuation recovery though mid-2012.
Thereafter, 2012 marked the renewed marketplace confidence in Johnson's shares and a sharp price recovery which drove yield rates back down.
Yield rates have been quickly flattening throughout 2013 and in 2014, as dividend and share price movements again are settling towards YDP reciprocal equilibrium.
However, equilibrium has not yet been reached. The current 2.80 yield rate is still declining and is above both the pre-2008 crisis equilibrium rate, which was settling around 2.50, as well as above the Aristocrat peer group average of 2.10.
The 52-year track record of consecutive increases is better than the average for the peer group. Cash payout ratio consistently below 50% also represents a better-than-peer average safety in the dividend as well as in the dividend growth.
These better-than-peer performance metrics suggest the final equilibrium yield rate for J&J should be at or below the peer group average 2.10% yield rate. I suggest 2.0% is a reasonable and realistic expectation.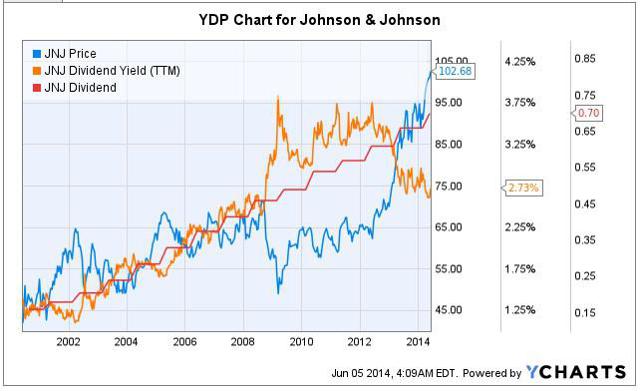 The evaluation of yield rate trends and their correlation to share price and dividend distributions allow us to take the observed trends toward predicted stabilized yield rates and calculate a fair value share price for the company units as a dividend income equity asset. The current $2.80 annual distribution at a 2.0% annual yield rate equates to a fair value share price of $140.00. This is 36.53% above current market price trading at $102.68. Even the peer average 2.10% yield rate converts the $2.80 annual dividend to a fair value of $133.33, 29.85% beyond current price. A simple return to the pre-crisis 2.50% yield rate would deliver a fair value calculation of $112.00.
Given that Johnson & Johnson is at its very least an attractive dividend income equity investment, and that its value for its yield as such an asset reflects a conservative minimum basis for valuation, it is abundantly clear those who call current price a bubble are wrong. The $112.00 to $140 pricing valuation for income yield at the present dividend distribution demonstrates 9% to 36%+ upside potential right now, before the next dividend increase anticipated for next May 2015.
Given its 52 years of Aristocrat performance through every type of market condition and both macro and micro economic tides for the company, the income stream valuation method using YDP analysis is the most conservative valuation reasonable for these shares. Any time that share price lags such valuation methodology, shares are a strong buy and should be accumulated vigorously. Now is such a time. $133.33 should be targeted as a minimum valuation for the remainder of this year.
Few headwinds which would impair current fair value are imaginable at this time from either macro or micro economic factors. Only two even suggest themselves as possible. First, a change in tax policy making dividends less attractive to hold. Second, serious inflationary pressure or steepening of competitive yield curves that shift the competitive yield for assets in the income-generating class.
Share prices may ebb and swell, but the fair value remains at least 29% above current market and shall continue to do so, regardless of near-term macro and micro factors.
Covered Options as a way to target an entry basis price now at below current market retail price:
Given the very large and asymmetric upside potential for these currently undervalued shares, my usual yield boost strategy suggestions are not recommended at this time on these shares. However, Options can be still be used to establish an entry at below current market (and therefore attractive for this already undervalued ticker).
The 226-day, 1/17/2015 Put options offer several opportunities. The $140 Jan Put @ $38.30 premium bid offers the chance to capture the full present fair value, while establishing an effective entry basis of $140.00 - $38.30 = $101.70. This is $0.98 below current market price, a 1% discount. If the shares should continue to rise and achieve the $140.00 or greater full value pricing for an income equity by 1/17/2015, you will have missed the purchase of the shares, as the contract expires un-presented. You do still pocket the absolute $38.30 premium in that case, an absolute yield on your net 101.70 covering cash of 37.66% (annualized return rate of 60.82%). Note that there is currently no Open Interest on this particular option, and thus, it may not be available to trade now.
The first significant open interest is the 1/17/2015 $130.00 Put bid at $28.45 premium. This creates an effective net entry basis of $101.55, a $1.13 discount from current market. If it expires un-exercised, your premium received is an absolute yield on covering cash of 28.02%, annualized rate of 42.25%.
This option strategy leaves you exposed to the downside market risk in the shares, while limiting your upside to the Strike price profit. However, if you accept my thesis that dividend income yield rate is a conservative basis for value pricing of these shares, your worst case is that you are presented the stock at about 1% below the cost to buy it on today's open market, and the thesis that they are an excellent value hold for eventually achieving full fair value remains with your shares. You will, of course, see that fair value rising with the likely continuing pattern of annual dividend hikes that is so well established for this Dividend Aristocrat. Any such long-term hold strategy still leaves you with a high-quality dividend income equity paying you a yield considerably superior to that peer group average.
Investors focused on long-term value realization and finding a 2.80% current yield attractive for a portion of their current income portfolio needs can simply not go wrong with Johnson & Johnson.

(Source: schwab.com)
I hope you will have an interest in my recent series and current new series, where I detail the use of covered option writing to boost yields on quality dividend income equities. Simply click on the bold link labeled FOLLOW above the title at the top of this article to get an email notice of my new articles when they are published. You will need to be sure that in your account SETTINGS/EMAIL ALERTS/DAILY EMAILS that you have checked the AUTHOR ALERTS box. Click here for a link to the index of my past and future articles.
I am not a licensed securities dealer or advisor. The views here are solely my own and should not be considered or used for investment advice. As always, individuals should determine the suitability for their own situation and perform their own due diligence before making any investment.
Disclosure: I have no positions in any stocks mentioned, and no plans to initiate any positions within the next 72 hours. I wrote this article myself, and it expresses my own opinions. I am not receiving compensation for it (other than from Seeking Alpha). I have no business relationship with any company whose stock is mentioned in this article.