It is time for another update on housing. Yesterday Cramer pontificated about how housing is about to stabilize, I will present an alternative viewpoint. In early August I wrote that the housing market in general was headed downwards in terms of volume and price. My reasoning for this was based on pending home sales and a few other factors. Let's check back with the facts and figure out whether or not my prediction was on the mark.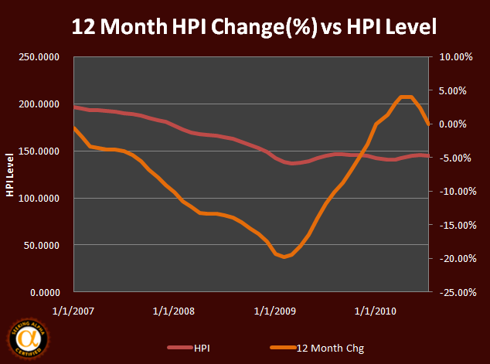 CoreLogic provides analytics, information and statistics for the housing market, among other things. On Tuesday, they released information in reference to their home price index (HPI). First of all, we can see from the HPI that prices remained flat in July with transactional volume decreasing across the board. Year on year there were no gains. The June 2010 measurements showed a gain of 2.4% yoy, so we can take this as a negative shift. Home prices fell in 36 states in July, which was almost twice the number in May and the highest since last November according to the CoreLogic release. The HPI has also trended downward basically nonstop since the beginning of 2007. Look for HPI to decrease in the coming months even further.
In August the NAR reported that while home sales fell, the prices actually rose. This was reported as a positive indicator by the markets, but unfortunately it was from a source with some skin in the game. At that point, many analysts questioned the ability of prices to rise while home sales were falling and inventories were increasing. Of course, there wasn't a good answer to that question and now we see that one month anomaly falling to pieces. NAR chief economist Lawrence Yun said then that,
Given the rock-bottom mortgage interest rates and historically high housing affordability conditions, the pace of a sales recovery could pick up quickly, provided the economy consistently adds jobs.
Wait a minute, did he just say that something is dependent on the economy consistently adding jobs? Well, of course the picture would get better if the unemployment rate went down and jobs were added at a pace that outdid the population increase each month; unfortunately, that isn't exactly what has been happening recently. The job market, if you haven't heard, is actually in pretty bad shape. Many are expecting unemployment to linger above 9% for the rest of next year, and Mr. Lawrence Yun is saying the housing market will recover quickly… if people start getting jobs.
What if people don't start getting jobs? That is the loaded gun we are staring down the barrel of at the moment. The buyer tax credit is long gone, home builder confidence is tanking and existing sales have recently plummeted. Inventories are soaring as foreclosures hit the streets now that banks are through taking what they can from the lame duck government-backed mortgage modification program. How many houses does this comprise? Morgan Stanley says the number of houses that are vacant or in the foreclosure process is close to 8 million homes.
To give some perspective to that number, there were four million homes listed with brokers in July, and at the sales pace reported then, it would take over twelve months for those homes to sell. Another 3.8 million homes are apparently ripe for the buying, as 5% of homeowners say they would put their houses on the market if there were a movement upwards, according to a survey by Zillow. Imagine what will happen to prices when the number of houses looking for occupants is tripled or quadrupled as a result of foreclosures and vacancies hitting the market and anxious sellers looking to unload before rock bottom. The only direction that housing can go over the medium term is down. The following table shows some of the NAHB figures released recently, month on month from June to July.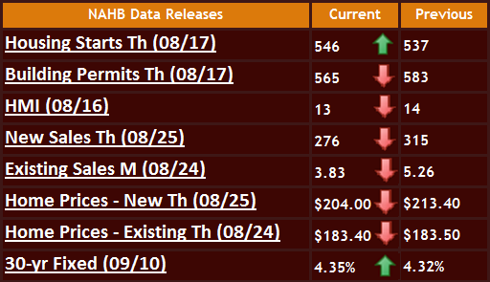 So, as this doomsday scenario comes into focus it would naturally follow that transaction volume would decrease as buyers become aware of another potential decrease in home prices. As a result, what you have is a hesitant buyer's market that expects prices to dip even further. This will take the wind out of any housing stimulus because people believe there is a better deal down the road. Trulia.com reports that sellers have cut about $29 billion off their home equity in order to attract buyers, but the response has been bated at best.
Why would someone buy a home a few months after an $8,000 tax credit expired? Those people already purchased homes or decided to postpone the purchase further down the road. The fact of the matter is that the tax credit only postponed the inevitable and created a longer, drawn out decline in housing prices. Now, the government should let the market go (read: hit bottom) so that some semblance of stability can comfort consumers and homebuyers enough that the worst is over. Providing another economic stimulus is not the answer.
Disclosure: No positions