The recent launch of BlackBerry's (NASDAQ:BBRY) Z3 device in Indonesia has brought the spotlight back to its handset division and sales of this device. What must be realized is this release is only in its infancy and has not even officially been rolled out in any other market yet. So the fate of the company is not completely dependent on this initial release as it is only a small part of the turnaround plan. Rather than the sales numbers of this Indonesian release, I would be more interested in seeing the progress of which this device is being rolled out to other markets.
The Z3 does serve as a nice reminder of how BlackBerry continues to round out its handset portfolio and has come a long way since the initial BB10 release early last year. Moreover, the company has made the move to make its software platform-agnostic, therefore increasing the exposure and acceptance in the mobile and enterprise market. Some analysts choose to judge BlackBerry's future based on its past performance. In this article I intend to do something similar but in my own way and also talk about the present and future. Most importantly, I want to point out how this company has changed and/or improved in the past year and how they have strategically positioned themselves in several markets.
BlackBerry Messenger (BBM)
When BB10 devices launched last year, its native messaging application was still only available for BlackBerry devices. The plan to make this app available for iOS and Android was met with skepticism as it was one of the reasons people bought BlackBerry devices. At that point its value was only seen as contributing to handset sales but it generated no revenue independently, nor was there any plan laid out for monetizing it. Since that time there have been several changes and some big news announced, as highlighted below with a quick recap:
Over the past few months we have seen the introduction of BBM Stickers in the BBM Shop and a monetization plan for BBM. This means that only one of at least four potential revenue streams has been implemented so far. Any growth in the user base only increases its potential, and it will be interesting to get the updated figures in the next conference call.
Former President of SAP's Mobile Services business, John Sims, was appointed the president of Global Enterprise Services at BlackBerry last December. In February of this year the BBM division was rolled into BlackBerry Enterprise Solutions, and it has been groomed into a more enterprise facing application. This was a great move. News had already broken that at least 85% of BlackBerry Enterprise Server enabled organizations running BlackBerry smartphones are using BBM. It makes sense to evolve past the consumer side where BBM faced intense competition from the likes of WhatsApp, Facebook Messenger, Skype, WeChat, Line, and Kik. In the enterprise space the only dominant instant messenger seems to be Microsoft Lync. Even I use this messenger at my workplace.
Keeping with this mindset, BlackBerry announced an enterprise suite of BBM with BBM Protected being its first solution. BBM Protected is aimed to bring regulated industries the most secure and reliable real-time mobile messaging in the industry. It is expected to launch this summer and is available to enterprise customers through a monthly per-user fee, allowing for monthly recurring revenue. This announcement has made BlackBerry's EMM solution even more attractive. What's more is BlackBerry will offer a desktop version in eBBM and offer video chat, making it more competitive against MS Lync.
Handsets -- BlackBerry 10 devices
The BlackBerry Z10 and Q10 smartphones were introduced at a premium price compared to its competitors. This combined with a poor marketing strategy, a slow global rollout, a "for-sale sign" on the company, and the announcement of massive layoffs resulted in disastrous sales. Since then it seems BlackBerry has learned a few things. First, it cannot demand the same premium price like a few years ago. Consequently, it has lowered its prices significantly. Second, poor carrier relations have had a huge negative impact on sales. So, BlackBerry sought out an alternative in the form of an e-commerce solution where it can sell its BB10 devices directly to the customer. Next, its Q5 phone that was aimed at emerging markets was essentially a failure. This physical keyboard device was again sold at a premium price and was not a true entry-level phone. Perhaps the reason all of these devices were so expensive was really because the cost to manufacture them was so high. The price tag would have been the only way to maintain strong margins. Although, higher margins on phones and very low sales may not beat lower margins and very high sales.
One of the best moves BlackBerry made was partnering up with Foxconn to have them design and build new BB10 phones. Since the announcement of the five-year strategic partnership we have already seen an entry-level touchscreen phone produced and launched in just four months. The latest earnings report showed legacy BlackBerry devices outsold BB10 handsets. As the majority of these legacy devices are physical keyboard devices, the company has chosen to make this style of phone a focus. Plans for a new physical keyboard phone aimed at enterprises were released. The BlackBerry Classic, a Foxconn built phone aimed to be released this November, is a merger of the legacy BlackBerry device with the new BB10.
BlackBerry is still trying to please its consumers as well, with plans for a high-end physical keyboard device. This phone, codenamed the Windermere Q30, will feature a patented touch sensitive QWERTY keyboard and shows proof that BlackBerry is continuing to innovate. The touch sensitive keyboard will allow users to perform gestures on the physical keyboard to get similar functionality as a virtual keyboard. This would allow the user to perform shortcuts like swiping left on the keyboard to delete a word. Combined with a larger screen, a higher resolution camera, more powerful battery, and a touch sensitive keyboard the Q30 decreases the gap between a full touch screen device and a physical keyboard one. BlackBerry will still face stiff competition from Apple, Samsung, and even Microsoft in the high-end smartphone space. However, perhaps the innovative keyboard of the Q30 will differentiate the product enough to attract a new wave of customers and those wanting to upgrade their Q10s, Q5s, or legacy BB devices. Those BlackBerry customers that purchased a BB10 device at the launch should be out of their contracts around the beginning of 2015 and will be looking for an upgrade.
The table I have created below shows a high-level look at BlackBerry's handset portfolio (note that the expensive Porsche designs and Gold Q10 have been omitted). Although this table contains two phones that have not yet been released, we can see the portfolio includes phones in several price levels and can attract the customers in these levels. From analyzing the table we see BlackBerry does not have a BB10 device for the low-end price range. Perhaps BlackBerry will work with Foxconn to produce inexpensive physical keyboard phones for emerging markets, like they did with the Z3. But the now stale Z10 and Q10 models have shifted into the mid-range since their initial launch. This price point was neglected by BlackBerry for a long time and may have contributed to their declining sales.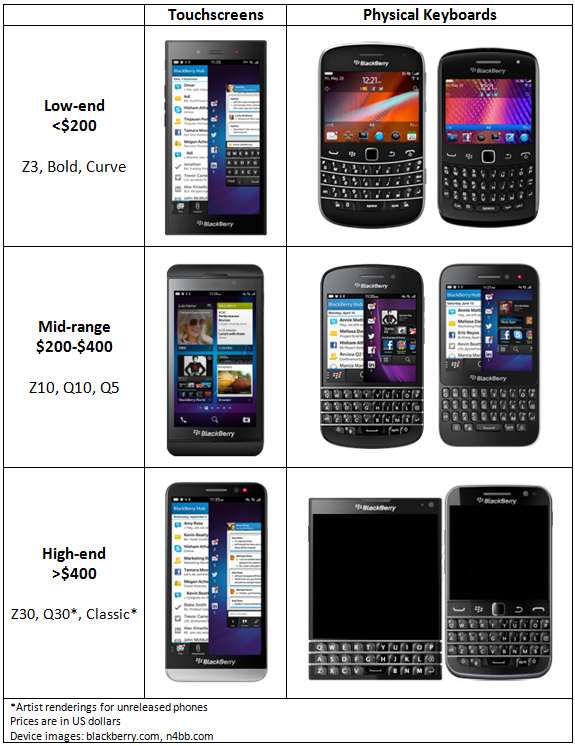 Even with this decent portfolio of devices what has not changed much in the past half year has been the marketing strategy. With the exception of the new Z3 device, the remaining phones will probably receive the continued lack of marketing for most of this year. Most of the marketing budget is probably reserved for the enterprise market, and rightfully so. Enterprises can comprise the bulk of handset sales since they purchase in high volumes. After securing an enterprise customer it is much easier to advertise the BB10 devices directly to them. Combine this direct customer contact with competitively priced handsets like the Classic and LTE version of the Z3 and BlackBerry can yield some great sales. When the time is right and everything is aligned BlackBerry may come back to the consumer space with a solid marketing strategy and a much stronger position.
Enterprise
Since the introduction of John Chen as CEO the company has transitioned to an operating unit organizational structure consisting of the handset business, enterprise services, QNX embedded business, and messaging. Based on the company's broad product portfolio and areas of differentiation BlackBerry decided to focus on serving enterprise customers. The partnership with Foxconn has allowed BlackBerry to focus on its leadership in security and enterprise mobility management. Over the past few months there have been updates to their BES10 software but not much else has changed yet in terms of their enterprise software offerings.
One of Mr. Chen's greatest tasks was trying to change the market's perception of BlackBerry. After a short time on the job he sent a letter to Enterprise customers letting them know that the company is here to stay and the customer's investments with BlackBerry are secure. In an interview with CNBC Mr. Chen said that "With a global enterprise customer base exceeding 80,000, we have three times the number of customers compared to Good, AirWatch and MobileIron combined." Competitor Good's Christy Wyatt had claimed customers were calling them because BlackBerry can't manage other devices. John Chen's rebuttal was, "BlackBerry has provided multi-platform OS management for nearly 2 years now, so let's put that to rest. Good Technology may talk about 5,000 customers but with 30,000 new BES10 servers installed in the past year alone, I'd argue that we're the ones getting the calls from customers."
The market's perception of BlackBerry surely has changed and we've been seeing the company fight back against the negative remarks from their competitors. This perception shift and recognition for BES10 being the most cost effective multi-platform EMM solution has contributed to the 33,000+ BES10 server installations.
Again with trying to cover all the bases, the company announced plans to release BES12 which offers backward and future compatibility and unifies BES10 and BES5 onto one platform. Its multi-platform solution has extended support to Windows Phones 8 in addition to iOS, Android, and Blackberry 10.
Moreover, the company opened up their BlackBerry 10 OS to AirWatch, Citrix, IBM, and SAP in an attempt to provide "customers with maximum choice in how they will meet the full array of the employee mobility needs." This move can only benefit BlackBerry in the form of handset sales. Seeing BlackBerry devices in the workplace can help to advertise the phones, and those BlackBerry loyalists out there may no longer be forced to use other devices as work phones.
QNX Embedded Systems and Cloud
Prior to this year's Consumer Electronics Show news of QNX only seemed to be related to running a car's infotainment system. Later it was rumored that Ford was considering switching from Microsoft to QNX to power its SYNC technology. The proven reliability and lower cost of QNX seemed to be very attractive to several car manufacturers but QNX has much more to offer. Over-the-air software updates to car systems have several benefits including cost reduction, higher success rate, faster updates, and customer satisfaction. Ford Motors, for example, would deliver updates in the form of a USB drive that customers need to plug in and carry out a few steps to update the system. QNX could not only power Ford's SYNC system but also assist in delivering these updates through their cloud services. A partnership with a big American company like Ford would be a big win for BlackBerry. A move like this would help with the negative image BlackBerry experiences in America.
The QNX Software System's new Cloud business shall see success through strategic partnerships and targeting niche markets. For example, the investment in NantHealth for integrated end-to-end healthcare solutions should give BlackBerry a competitive edge over its competition in the healthcare field. Drawing on BlackBerry's expertise in delivering secure end-to-end solutions and NantHealth's Clinical Operating System platform could push both companies to leading this area of the market. Further, the use of eBBM and new devices "cater[ed] to professions in the healthcare industry" may become the standard in this highly regulated medical field.
Click to enlarge image.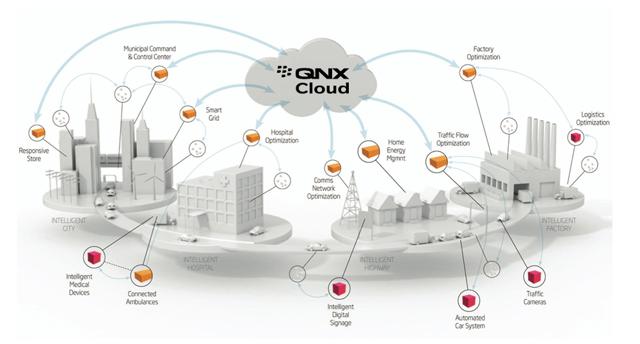 Source: BerryFlow.com.
With QNX being "literally everywhere" BlackBerry has finally leveraged its QNX and BES technology to help businesses derive value from the Internet of Things through Project Ion. This recently announced project is still in its early stages with not much information revealed yet. Several months ago the value of QNX to BlackBerry was not as apparent but now its massive potential is obvious.
Conclusion
It was only late last year that several analysts predicted that BlackBerry would have to eventually file for bankruptcy. They claimed the only way this outcome could be avoided was if it was sold for parts or if another large company came and purchased BlackBerry. Over half a year since then and BlackBerry is still here, and in a much better position in terms of its products and service offerings. Some may call it a rehashing of old news but this article was necessary to show how much BlackBerry has evolved compared to last year. It would be foolish and narrow-minded to now judge the company only on its handset sales because the company is so much more than that.
With trying to cover several bases BlackBerry has entered several markets and each has its own competition. However, John Chen's execution has simply been poetry in motion. As each month passes BlackBerry seems to grow stronger in terms of its innovative products and services. We should see the financial picture improve very soon as well. Through its current operations BlackBerry is likely to reach profitability near the beginning of next year. And its current investments and strategic partnerships will help push the stock much higher in the future beyond that.
Disclosure: I am long BBRY. I wrote this article myself, and it expresses my own opinions. I am not receiving compensation for it (other than from Seeking Alpha). I have no business relationship with any company whose stock is mentioned in this article.