Buoyed by notable levels of cash being paid back to shareholders recently, investing in dividend stocks is fully back in vogue. One dividend-focused ETF that has been left behind lately, however, is the PowerShares KBW High Dividend Yield Financial Portfolio ETF (NASDAQ:KBWD). This ETF that focused on high-yielding financial stocks has lagged virtually every index it can be compared to over the last couple of years.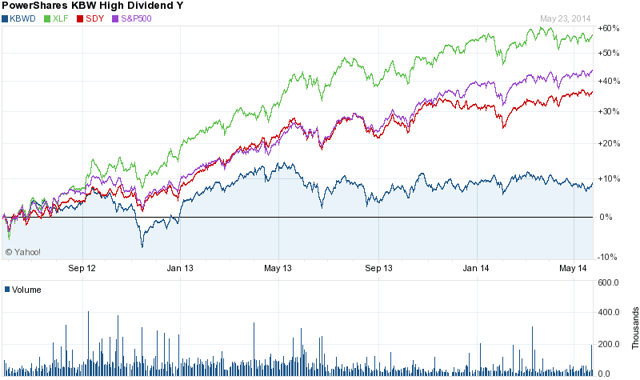 Whether you choose to measure it against the S&P 500 (NYSEARCA:SPY), the broader financial sector (NYSEARCA:XLF) or the S&P dividend index (NYSEARCA:SDY), KBWD has fallen significantly behind most indices. This lag could be attributed to a large dose of mortgage and REIT securities in the portfolio (such as Annaly Capital (NYSE:NLY) and American Capital Agency (NASDAQ:AGNC)) or a broader flight to quality that's seen the 10-year treasury yield dip to 2.5% once again, after hitting 3.0% in the second half of 2013.
As a contrarian, this presents a potential opportunity to jump on board when things look bleak. The securities within the ETF have been trailing the indices for well over a year, so we have to examine the evidence to see if this looks like a longer period of prolonged underperformance or if this is truly a value opportunity.
I fall on the side that this is a value play, and here are a few of the factors that I feel suggest that now would be a good time to buy.
Small caps have trailed the broad market significantly over the last 6 months
Small caps enjoyed a sustained period of outperformance over the last two years, but the tables have turned over the last six months. The S&P 500 has returned almost 6%, whereas the small cap index (NYSEARCA:SLY) has dropped 2%.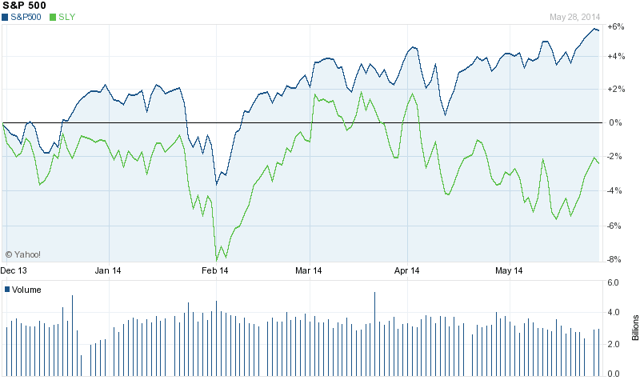 Given this pullback, small caps look to be more reasonably valued now than they were then, and that could help pull the KBWD out of the doldrums.
Many mortgage REIT-heavy funds by nature tend to lean towards small caps, and KBWD is no exception. The PowerShares ETF currently sports a P/E ratio of just 12, which compares favorably to the SPDR S&P 600 Small Cap ETF's 20, the Vanguard REIT Index ETF's (NYSEARCA:VNQ) 38 or the Financial Select Sector SPDR ETF's 14 (source for all ratios: Yahoo). Granted, you have to take ETF P/E ratios with a grain of salt due to trading within the portfolio, but currently, it suggests a portfolio that's undervalued.
Interest rates continue to remain at record lows
Financial companies, including mortgage lenders, banks and real estate developers, are highly interest-rate sensitive. These types of businesses tend to suffer when interest rates are on the rise, so it has been no doubt beneficial that current interest rates have stubbornly refused to budge off of their current low levels.
The Vanguard REIT Index ETF has performed almost inversely to the 10-year Treasury Note rate recently, and the Financial Select Sector SPDR ETF has demonstrated similar performance, although to a lesser degree (most notably during the last three interest rate spikes in June 2013, September 2013 and December 2013). You'll want to exercise caution if interest rates start rising steadily, but as long as interest rates remain low, the securities within this portfolio should benefit.
The portfolio appears cheap according to several valuation metrics
I already touched on how KBWD measures up to several indices on the P/E front, but it compares favorably on others as well. Consider how KBWD measures up on other metrics.

KBWD comes in below its comparable indices on virtually all of the primary valuation metrics. It's cheaper than the S&P 500, although that's probably not the best comparison. Depending on how you want to categorize the ETF - as a small cap, as a financial or as a REIT - it still looks pretty cheap. With the exception of the price/cash flow comparison to the Financial Select Sector SPDR ETF, KBWD looks relatively inexpensive almost across the board.
It's not indicative of an imminent move up, but the valuation should provide some level of comfort.
Conclusion
KBWD, in its current state, is largely a play on mortgage REITs, so it should probably not be considered a broadly diversified financial ETF. Nevertheless, the juiciest yields in the sector come from there. As such, this ETF should be pondered with consideration to the risks and interest-rate sensitivity related to REITs.
But indications are that now could be a good time to get on board. Plus, the 7.5% yield should allow for some downside cushion in the event that interest rates begin to rise or the market corrects.
Disclosure: I have no positions in any stocks mentioned, and no plans to initiate any positions within the next 72 hours. I wrote this article myself, and it expresses my own opinions. I am not receiving compensation for it (other than from Seeking Alpha). I have no business relationship with any company whose stock is mentioned in this article.