They did it! They did it! Officials at the ECB agreed unanimously that their prior policy approaches have been ineffective. Okay, that's not what they really said verbatim or even non-verbatim. But, man, was it ever implied in the cornucopia of policy moves it made at its latest meeting.
Of course, just about every talking head we heard (and then put on mute) was lauding ECB President Draghi's leadership and the ECB's assertive actions, which included:
Cutting the main refinancing rate by 10 basis points to 0.15%
Cutting the marginal lending facility rate by 35 bps to 0.40%
Cutting the deposit facility rate to -0.1% from 0.00%, which effectively means banks will now have to pay the ECB to park reserves there
Introducing a new round of targeted long-term refinancing operations (LTROs) in an effort to improve bank lending to the euro area non-financial sector; and
Suspending sterilization of its bond purchases under the Securities Markets Program to boost liquidity
But, wait, there's more. The ECB also announced that it is intensifying its preparatory work for the potential implementation of an asset-backed securities purchase program.
One and Done
Remember, the ECB has a single mandate: price stability. Let's go to the charts then to see just how "successful" it has been in its multi-year, easy-policy effort to maintain price stability.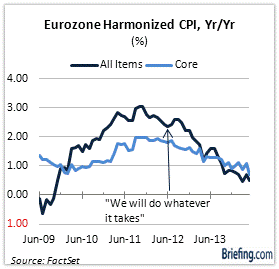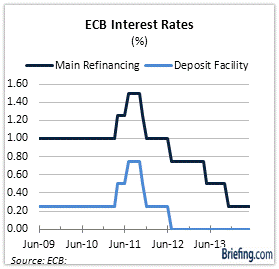 Notice anything in particular about the charts? That's right. Inflation has continued to come down in spite of whatever the ECB has thought it would take with its lending rates to keep that from happening.
If at first you don't succeed at the zero bound, though, I guess you go where no major central bank has gone before: to the negative bound.
If banks want to park their reserves at the ECB, they will now have to pay the ECB to do so. It is the ECB's thinking, however, that the negative rate will motivate banks to lend that money, never mind that the banks have the flexibility just to hold that cash in their vaults, invest in higher-yielding securities like longer-dated US Treasuries, or to lower the rates they offer their own depositors to offset their ECB deposit charge.
Also, the ECB doesn't seem concerned like the Federal Reserve is, that a negative deposit rate could potentially upset the smooth, and important, functioning of the money market. Why should it be, when the ECB confidently maintains that it can still do more, like cutting rates further or embarking on an asset-backed securities purchase program, to meet its mandate?
Some Tough Opponents
One thing that is certainly clear about the ECB is that it is trying to do something to turn the disinflation tide in the eurozone. It has talked a good game and it has put together what it feels is a pretty good game plan to accomplish that.
Some game plans, though, just don't work out as well as they are envisioned. Some opponents are simply tougher than you think. Any coach of the Super Bowl XLVIII Denver Broncos can tell you that.
For the ECB, the toughest opponents it faces are the structural issues in the eurozone that have crimped aggregate demand, the esoteric forces of the foreign exchange market that have kept the euro strong in the face of weak growth and low rates, and the competitive forces of globalization that have curtailed pricing power.
To be sure, the ECB would like a weaker euro to help its cause, just as Japan would like a weaker yen... China would like a weaker yuan... and the US would tacitly support a weaker greenback to bolster export growth and to thwart disinflation. When everyone is chasing the same thing, though, it can become a race to the bottom that undermines the very thing everyone is chasing.
We digress.
What It All Means
The ECB has a single mandate to meet, and it hasn't been met yet after several years of doing whatever it takes. As the world learned today, the ECB believes it will take a lot more, since it fired not one, but five policy bullets at its latest policy meeting. The sixth bullet of asset purchases remains chambered, yet ECB President Draghi made it clear that the ECB still has its finger on that policy trigger.
Asset purchases certainly haven't been the silver bullet for the Federal Reserve, which is why it remains a stretch to think they will be for the ECB.
There is a prevailing view that the ECB action should be greeted with cheers and relief. Our enthusiasm was limited to the sound of one hand clapping. The other hand stayed behind our back, because the inflation target the ECB is chasing is still missing, despite an aggressive policy search for some time now.
Given the inflation trend in the eurozone, the ECB had already talked itself into a corner and had no choice but to do something. The realization that it hasn't shirked from offering further policy support has been effective in lifting the animal spirits of the stock market, even if all of the policy support the ECB has provided so far hasn't been effective in lifting inflation.
In the end, all the ECB really did was confirm that its prior policy efforts have been ineffective and that the latest round of stimulus was fired more from a position of weakness than a position of strength.
Faced with fiscal headwinds, excess capacity, and relatively weak demand, it appears at this juncture that the ECB is pushing on the same string the Fed is.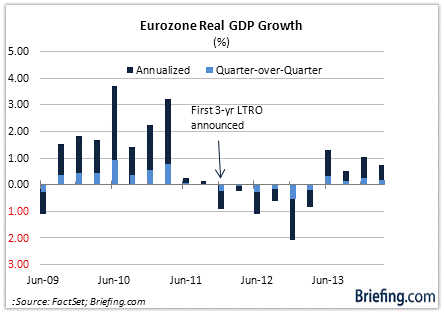 Disclosure: I have no positions in any stocks mentioned, and no plans to initiate any positions within the next 72 hours. I wrote this article myself, and it expresses my own opinions. I am not receiving compensation for it. I have no business relationship with any company whose stock is mentioned in this article.