By Todd Shriber & Tom Lydon
There are plenty of broader market U.S. exchange traded funds with "small-cap" in their names, but different small-cap ETFs track different indices. That can mean, you guessed it, differing returns for different investors.
The Russell 2000 is the gold standard of small-cap indices, and serves as the underlying index for the iShares Russell 2000 ETF (NYSEARCA:IWM). With $23.1 billion in assets under management, IWM is the largest U.S. small-cap ETF.
However, the Russell 2000 and IWM face competition from a credible challenger: The S&P Small Cap 600. That index is benchmark for the iShares Core S&P Small-Cap ETF (NYSEARCA:IJR) and the SPDR S&P 600 Small Cap ETF (NYSEARCA:SLY), which have $13.8 billion in combined assets under management. Reports Tom Lauricella for the Wall Street Journal:
Since its launch, the S&P 600 has beaten the Russell 2000 in 12 of 19 years. The S&P benchmark is ahead for the five-, three- and one-year periods through the end of May, including leading by 20.2% to 16.8% over the latest 12 months.
Academics and index providers can debate which approach is better - the Russell 2000 or the S&P Small Cap 600 - and each has its merits. For example, a case can be made that the Russell 2000's deeper bench is a more accurate, less biased gauge. On the other hand, the S&P Small Cap 600 has advantages of its own, including the exclusion of unprofitable companies, according to the Journal.
Recent weakness in small-caps has highlighted the importance of studying index differences. Over the past three months, IWM is down 3.9%, while IJR and SLY are lower by 1.8%. The Vanguard Small Cap ETF (NYSEARCA:VB), which tracks the CRSP US Small Cap Index, is off 1% over the same time. With almost 1,460 holdings, VB has more than twice the holdings that IJR does, but the Vanguard fund is still holds far fewer stocks than does IWM.
Recently, several of the top-performing small-cap ETFs have not been cap-weighted funds. Rather, some of the more durable small-cap funds have been dividend or low-volatility plays.
For example, the WisdomTree SmallCap Dividend ETF (NYSEARCA:DES) is higher by 1% over the past 90 days. The nearly 680 companies in DES are pulled from the WisdomTree Dividend Index after the 300 largest market value firms are removed. The WisdomTree Dividend Index is the underlying index for the WisdomTree Total Dividend ETF (NYSEARCA:DTD).
The WisdomTree SmallCap Dividend Index has a dividend yield of almost 3.3%. At a time when small-cap valuations are considered frothy, noteworthy is the 24.7 P/E ratio on DES, which while still above the S&P 500, is well below the P/E of almost 30 for IWM.
On Monday, Barron's highlighted a Credit Suisse study that showed that DES has the best fixed coverage ratio among U.S. dividend ETFs, as its constituent firms have cash flow amounting to 1.5 times obligations. Said another way, DES is a small-cap ETF, but its holdings should not be crimped to continue paying and growing dividends.
The WisdomTree U.S SmallCap Dividend Growth ETF (NASDAQ:DGRS) is flat over the past 90 days. DGRS tracks the WisdomTree U.S. SmallCap Dividend Growth Index, which yields 2.33%. The index is weighed by fundamental factors such as growth expectations, return on equity and return on assets, according to WisdomTree.
Although the advantages and drawbacks of low volatility are constantly debated, there is no debating that the PowerShares S&P SmallCap Low Volatility Portfolio ETF (NYSEARCA:XSLV) has also held steady among rival cap-weighted small-cap ETFs over the past few months.
XSLV, the small-cap answer to the popular PowerShares S&P 500 Low Volatility Portfolio ETF (NYSEARCA:SPLV), tracks the 120 stocks from the S&P Small Cap 600 Index with the lowest trailing 12-month volatility.
Critics often assail large-cap low volatility ETFs for being richly valued due to large weights to defensive sectors, but low volatility in the world of small-caps does not mean hefty allocations to utilities or healthcare stocks.
Rather, XSLV allocates 46.6% of its weight to financials, and even with its promise of reduced volatility, the ETF's valuation is below that of IWM.
iShares Core S&P Small-Cap ETF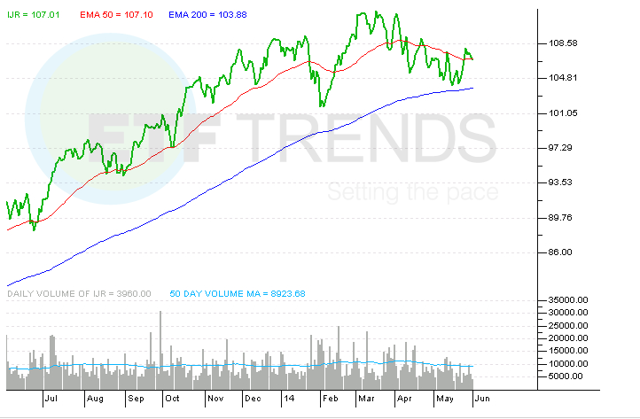 Tom Lydon's clients own shares of IWM.
Disclosure: I am long IWM. I wrote this article myself, and it expresses my own opinions. I am not receiving compensation for it. I have no business relationship with any company whose stock is mentioned in this article.