The dividend of Cisco (NASDAQ:CSCO) has tripled since 2011 when the company initiated a quarterly dividend plan. However, the dividend growth has decelerated as the most recent hike was only 12% announced in early 2014. In this article, I will illustrate my forecast analysis to provide readers some perspectives on Cisco's future cash flow and dividend trends.
To gauge Cisco's capacity for future dividend increases, I have projected the company's free cash flows from fiscal 2014 to fiscal 2016. My analysis started with consensus revenue estimates which predict the top line to grow by 4.8% CAGR from $47.0B in fiscal 2014 to $51.6B in fiscal 2016. It is noted that the company has been able to maintain a fairly steady operating cash flow margin which trended from 23% to 27% in the past 5 fiscal years. For my analysis, I assumed a flat 24.9% operating cash flow margin through 2016, which is consistent with its 5-year historical average. I believe this is a somewhat conservative assumption given that the consensus view expects about 300 bps EBITDA margin expansion in the coming 2 fiscal years. For capex, as the company has not announced any major spending plan, I assumed the figure to grow by 3.5% per annum and reach $1.3B by fiscal 2016. Based on these assumptions, free cash flow was projected to grow by 5.0% CAGR from $10.5B in fiscal 2014 to $11.6B in fiscal 2016 (see chart below).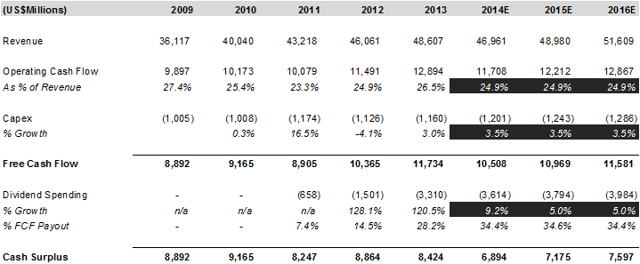 As Cisco is expected to pay out the same quarterly dividend of $0.19 per share in July 2014, total dividend would be $0.72 per share for fiscal 2014. Based on that and my calculated share count (discussed later), I estimated the annual dividend spending for fiscal 2014 to be $3.6B, which represents a year-over-year growth of 9.2% from prior fiscal year. Given my projected free cash flow CAGR of about 5% through fiscal 2016, the dividend spending growth has to come down to about 5% per annum in the coming 2 years in order to keep a steady free cash flow dividend payout ratio such that the dividend spending increase can be sustained over time. At 5% annual growth, I projected the dividend spending to reach $4.0B by fiscal 2016. In this scenario, Cisco would have about $6.8B to $7.6B excess free cash flow in each of the forecast years that can be spent on cash acquisitions and/or share buyback (see chart above).
Now we have an idea on the sustainable dividend spending level. My next analysis focuses on projecting a sustainable dividend per share growth level. As Cisco has bought back approximately $8.3B value of shares in the first 3 quarters of fiscal 2014, total share buyback for the year would be $9.8B if another $1.5B repurchase is made in fiscal Q4. For fiscal 2015 and 2016, I assumed 80% of my projected excess free cash flow is spent on share buyback and the remaining 20% is to account for dilution impact from equity issuance and minor cash acquisitions. As such, I estimated that total number of shares will reduce from 5.0B in fiscal 2014 to 4.6B in fiscal 2016 based on a buyback price that was assumed to increase by 7.5% per annum from $25. Given my annual dividend spending and share count projections, I forecasted that annual dividend per share will grow by 9.5% CAGR from $0.72 in fiscal 2014 to $0.86 in fiscal 2016. Compared with consensus diluted EPS estimates, my forecasts imply that earnings payout ratio will only increase slightly from 35% in fiscal 2014 to 37% in fiscal 2016, meaning that the ~9% dividend per share growth is within a sustainable range over the forecast period.

In summary, the following table shows a quarterly breakdown (based on calendar quarter) of my annual dividend per share forecasts (based on fiscal year).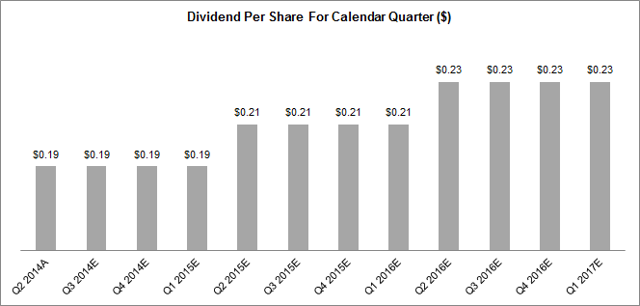 If management plans to pursue a sustainable dividend growth plan such that both free cash flow and earnings payout ratios will trend steadily, I expect the quarterly dividend to be raised by ~10% to $0.21 in April 2015 and ~9% to $0.23 in April 2016. As a note, based on forward annualized dividend of $0.76 and 12% cost of equity (the CAPM model would results in 11.3% based on 3% risk-free rate, 6% equity risk premium, and Cisco's 5-year beta of 1.38), the Gordon Growth Dividend Discount Model suggests that the current share price of ~$25 implies a dividend growth rate in a range of 8.5%-9.0%, which is in line with my forecast (see chart below).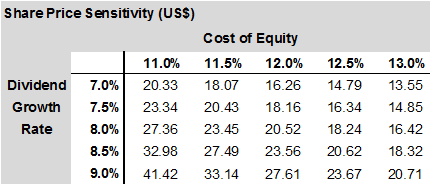 All charts are created by the author, and data used in the article and the charts is sourced from S&P Capital IQ, unless otherwise specified.
Disclosure: I am long CSCO. I wrote this article myself, and it expresses my own opinions. I am not receiving compensation for it (other than from Seeking Alpha). I have no business relationship with any company whose stock is mentioned in this article.