Thesis
Federal Signal (NYSE:FSS) is turning things around after a few years of operating at a net loss. With solid fundamentals and many opportunities for growth, it is likely that the company will continue to experience success, but it seems the market has already recognized this.
Company Overview
Federal Signal sells products that are designed to protect the people and environment of our world. The company, which has about 2,600 employees around the world, sells to customers in the municipal, industrial, commercial, and governmental markets. Operations are broken into three segments: Environmental Solutions, Safety and Security Systems, and Fire Rescue. The Environmental segment sells street sweepers, waterblasters, vacuum trucks, sewer cleaners, and hydro-excavators. The Safety and Security Systems that Federal Signal sells include lights and sirens, notification systems, and mining and electrical safety equipment. The last segment sells "high-reach aerial lift access platforms". The revenue breakdown is as follows (Source: Investor Presentation):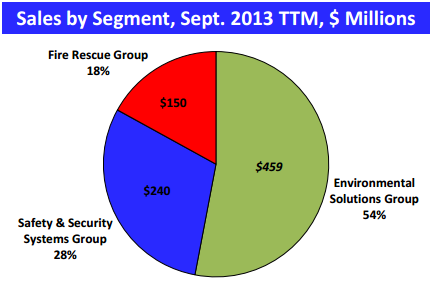 Competitive Position
One of the main reasons to love this company is the solid fundamentals and competitive positioning they have given themselves. Federal Signal operates in numerous related niches. This has allowed them to become a well respected market leader in a few markets. Each of the company's segments has a significant market share. According to the investor presentation, the Environmental segment makes up about 30%-50% of the markets they operate in within the US. The Safety segment has about a 30% US market share, and the Fire Rescue segment has about a 50% share in the aerial lift market, globally.
It helps that the company has a diversified product mix. Although all products revolve around the idea that the company's core competency is in personal and environmental protection technologies, the specific markets of the products can behave quite differently. This can be useful in the sense that when one random niche is having a tough year, it can be balanced out by the rest of the product mix.
For example, in Q1 2014, the company had an increase of 6% in operating income despite the fact that Fire Rescue operating income was down 214% and Safety/Security income was down 22%. This was balanced out by the 20% increase for the Environmental segment. This, of course, leads us to a question that I will address in the Risks section of this article: What are the chances of the Environmental segment suffering disappointing results and how will this affect the company?
But for now, I will shift my focus to yet another strength. And that is the sheer presence and applicability of Federal Signal products. Federal Signal has a number of products that can be used all around towns and cities in the world in numerous locations. There's indoor and outdoor warning systems, messaging systems, alarms, software systems, and more spread out across cities in the US. All of these can operate in a connected or separate fashion depending on customer needs.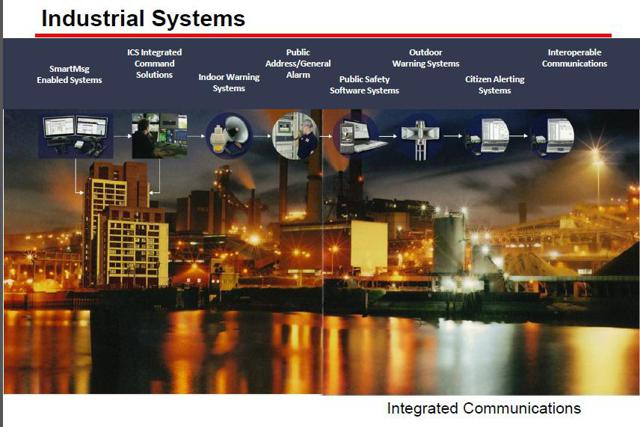 With this type of branding, Federal Signal is able to get their name out into the markets they serve and get recognition for their high quality products. If one town, for example, is happy with an outdoor warning system provided by Federal Signal, they may end up looking towards the companies' other products when it's time to make additional changes and improvements to the town's communication system. Also, the dealer networks around the world give Federal Signal at an advantage over competitors when it comes to vehicles. Customers are much more likely to buy if there is a dealer to demonstrate the abilities of each vehicle and give advice on the operation of it. In product lines where dealer networks can't be feasibly put to use, direct sales and distribution networks have seemed to work wonderfully for the company.
The economics of this industrial business give importance to the concept of having a growing backlog and growing orders. As indicated by the company's 2013 10-K, Federal Signal further diversifies its business by spreading the orders considerably evenly between US municipal and governmental customers (36% of 2013 orders), US commercial and industrial customers (28%), and non-US customers (36%). At the end of fiscal 2013, the company's backlog totaled $305.8 million and management predicted that this backlog was to be "substantially completed" in 2014. For this reason, it was an encouraging sign to see orders of $232 million for Q1 2014, a 21% increase over last year's. This also brought backlog to $338 million. Although it will be nice for the company to turn their backlog into revenue during 2014, it is also important that they maintain a sizeable backlog in case business takes a turn for the worse for a few months. The average backlog for each of the company's segments ranges from two months for Safety/Security to five months for Fire Rescue, with Environmental falling around three or four months. This also doesn't include the service and maintenance orders that will likely be made for at least a year into the future.
Now let's compare Federal Signal and a few other specialty vehicle manufacturers.
| | | | | | |
| --- | --- | --- | --- | --- | --- |
| | Federal Signal | Navistar (NYSE:NAV) | Oshkosh (NYSE:OSK) | Spartan Motors (NASDAQ:SPAR) | PACCAR (NASDAQ:PCAR) |
| Market Cap | 862.70M | 2.79B | 4.59B | 166.13M | 22.42B |
| EBITDA | 86.20M | -543.00M | 640M | 11.03M | 2.14B |
| Total Debt/Equity | 0.24 | N/A | 0.43 | 0.03 | 1.21 |
| ROA | 7.16% | -6.11% | 6.78% | 0.40% | 5.52% |
| ROE | 66.96% | N/A | 15.52% | -2.24% | 18.88% |
| Operating Margin | 8.43% | -7.65% | 7.26% | 0.31% | 9.91% |
When compared to these peers, Federal Signal seems somewhat small in terms of value and maybe slightly larger in terms of profitability. They really stand out, though, in terms of efficiency and financial health. Federal Signal is certainly reaping the benefits of their investments. With impressive margins and returns, Federal Signal is in the competitive position that it needs to be in. If things start to get tough in the industry, Federal Signal has much more room to work with than the competition.
Catalysts
There are a number of reasons to believe that Federal Signal will increase sales and earnings in the coming years. The first driver of growth I will address is the fact that the company can afford to fund internal and external expansion whenever needed. The financial health of Federal Signal puts it perfectly in place to do so. Already, the company is quickly approaching operating margin targets while decreasing leverage significantly.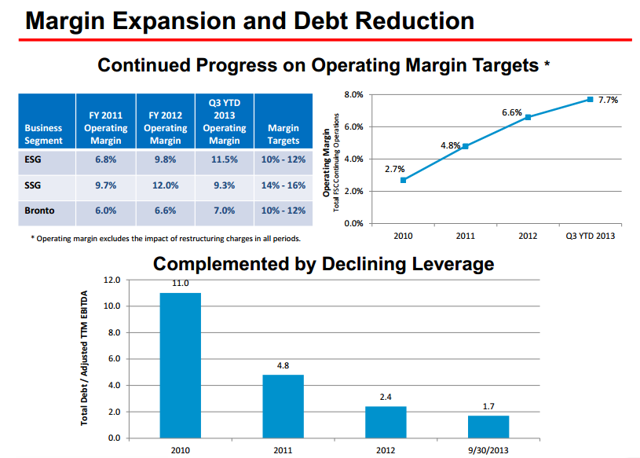 Also, the company just completed a refinancing stage in March of 2013 to strengthen their balance sheet and decrease interest expense. At the end of 2012, the interest rate was 12% for long-term borrowings. Since refinancing, this has fell to under 3%. 2013's interest expense was just $8.8 million, whereas it was more than $20 million in 2012. On top of this, cash flow has been increasing. In fiscal 2013, it totaled $80.3 million, a $31.1 million increase over 2012's. As Federal Signal continues to remain profitable and build up this pile of cash, they allow themselves to be able to afford numerous potential projects, whether it be an acquisition or an organic move. Thanks to the continued profitability, at the end of fiscal 2013, debt had also fallen to $92.1 million, a 42% decrease. With such a strong balance sheet accompanied by $103.6 million net availability for borrowings from a revolving credit facility, Federal Signal has the flexibility it needs to be able to invest in projects that will encourage growth.
There are a few specific areas of the business that have particularly exciting prospects. Vactor, a part of the Environmental segment, sells sewer cleaners and hydro-excavators. Hydro-excavators, in particular, are a product that has numerous useful applications, and it is likely that Vactor will be able to capture some growth in this relatively new market. To clean sewers, catch basins, and more around the world, governments and contractors look toward Vactor and their products to get the job done. Their state of the art vacuum trucks are in high demand for municipalities looking to keep their sewer systems clean and functioning at an effective level.
Jetstream, a waterblasting business, also has exciting opportunities for growth. The inventory of waterblasting equipment that the company has is one of the largest in North America, containing pump units, control guns, valves, hoses, etc. This inventory is always ready to be shipped out to customers whenever they are in need. The rapid delivery of their products is one of Jetstream's strengths. The company's products have a variety of applications including cutting through metal, cleaning pipes and tubes, concrete removal, and more. Although most of their work is currently done in North America, management at Federal Signal is looking forward to the moment when Jetstream starts breaking into markets in the Asia Pacific and Middle East. Also, the Safety/Security segment is largely based in North America right now. As time goes on and the business grows, Federal Signal should see exceptional profits starting to come from international sales as well. The previous idea that I expressed about branding and getting the products out to the public should help them initiate their moves into new markets.
Yet another catalyst is the anticipated growth of the Fire Rescue segment, which currently consists of only Bronto Skylift. As of right now, this company has about a 50% share of the global aerial lift market. This is defended by the fact that there are barriers to entry in this market. With fire brigades across the world being relied on to serve and protect their community, the certifications and qualifications required to sell these aerial lifts act as a deterrent for new companies looking to take some of the market share. As this international share continues to grow for Bronto, sales will increase. But this segment currently only makes up 18% of company revenues. A real difference maker would be for the company to break into two new areas. First of all, additional pushes into industrial applications of the lift devices would award higher margin sales for the company. Also, Bronto has plenty of room to grow considering that it is heavily based in Europe and hasn't broken as far into the North American market. As Bronto sets up more North American distribution channels, the company should see revenues increase significantly.
Overall, Federal Signal is poised for growth in terms of both the company itself and the industry it operates in. Aging infrastructure across the world increases demand for Federal Signal's products that can clean and maintain the quality of pipes, streets, sewer systems, and much more. With heavy investments in infrastructure expected to start soon, as I expressed in my last article, governments and contractors around the world will spend heavily to make sure that their investments don't go to waste and that the quality of the infrastructure is upheld. Also, the number of industrial applications for Federal Signal's products will continue to grow as the company breaks into new markets and acquires new customers. Management expects the sales in these industrial markets to increase margins. Also, the practicality of using some of these products continues to grow. With the crazy world we live in, cities and towns across the globe must continue to deal with natural and man made disasters. The Safety/Security segment of Federal Signal will provide all of the communication technologies needed to keep a population under control in times of high stress. The demand for warning and alert systems is continually rising in the dangerous world we live in. Especially in densely populated places such as schools, where it is critical that people are informed of any situation that could cause harm to them.
This Is A Turnaround Story
A few years back, things weren't looking all that great for Federal Signal. You might look at their free cash flow, profitability, and balance sheet and wonder how this could be. But just back in 2010, the company had a net loss for the year of $175 million. Clearly, Federal Signal had been brought down by a combination of the recession's effects along with a troubled balance sheet. The first game changing move the company made was selling FSTech to 3M (NYSE:MMM) for $110 million in 2012. FSTech is involved in the field of intelligent transportation. Its products are used in electronic tolling, law enforcement, parking control, and other innovative transportation solutions. But two years ago, management decided that the company didn't fit into Federal Signal's core competencies and operations. Selling the business to 3M allowed Federal Signal to use that capital in more profitable and effective ways. They would go on to use that money to invest in their businesses that are still alive today as well as to pay off debt. Also, this was the first step in transforming the company's balance sheet. For 3M, this move worked out perfectly, as it complemented their "motor vehicle systems and services". Overall, this state of the art technology would allow 3M to further improve their growing arsenal of transportation products, a benefit that would not have been as valuable at Federal Signal. This was yet another strong move by two strong companies, and much of the thesis I present in this article is still relevant today concerning an investment in 3M.
Since then, the company has continued to strengthen their financial condition and prospects for growth. The refinancing that I already briefly went over was a very effective move. Access to capital is much more realistic when you can borrow at 3% instead of 12%. With debt levels falling and the availability of capital rising, Federal Signal has put itself in a place for growth and success. This is reflected by the fact that operating income was up 37% to $70.6 million in 2013. Now that the company has a strong balance sheet and a portfolio of businesses that they are confident in and happy with, 2013 should just be the beginning of a prosperous period for the company and its shareholders. With the "new" Federal Signal that is around today, the company is much less likely to have to suffer through years of net losses again.
Risks
One of the first risks to address is the fact that the Environmental segment accounts for over 50% of the company's sales. This, though, isn't really as much of an issue as one might assume it is. First of all, the overall business prospects for this segment are quite optimistic, as I described in the Catalysts section. Aside from this idea, this segment is actually more diversified than it might seem to be. The company offers street sweepers, sewer cleaners, vacuum trucks, and hydro-excavators. These vehicles are fit into very niche markets that don't necessarily have that strong of a correlation. Additionally, these are the types of products that will have to be used no matter what. If spending has to be cut as a result of economic struggles, this doesn't mean that trash will start to pile up on the streets and the sewers will start to collapse on themselves. Infrastructure needs to be maintained in order for humans to survive and thrive. As a result, the performance of this segment is more dependent on microeconomic and competitive factors, and I have already explained why conditions are favorable for Federal Signal in this sense. Aside from the revenue reliance, the rest of the risks the company faces are the typical and universal ones based on macroeconomic conditions (decreased government and industrial spending, a struggling US economy, regulatory requirements, etc). Although these risks are serious ones, the predictability of them is severely limited, though. If they do come up, though, Federal Signal and competitors will suffer. Because of their healthy balance sheet and margins, though, Federal Signal is arguably the best prepared to take on these challenges.
Valuation
Here's a comparison of valuation metrics between Federal Signal and the previously used peer group:
| | | | | | |
| --- | --- | --- | --- | --- | --- |
| | Federal Signal | Navistar | Oshkosh | Spartan Motors | PACCAR |
| P/E | 14.81 (End of 2013) | N/A | 15.17 | N/A | 18.59 |
| P/S | 1.02 | 0.27 | 0.64 | 0.34 | 1.28 |
| P/B | 2.41 | N/A | 2.17 | 1 | 3.27 |
| EV/EBITDA | 11.17 | -11.93 | 7.92 | 13.45 | 13.23 |
Federal Signal appears to be somewhat undervalued based on these metrics. Although some of their ratios might be a bit higher than the other companies', this is well justified by the fact that Federal Signal is bringing in more profits at better margins, as shown by the previous comparison of these companies. Still, though, Federal Signal falls somewhere in the middle in terms of these metrics when not looking at it with a certain context, so a "value of cash flows" analysis could help to draw a more concrete conclusion. It is important to note, though, that the inconclusive comparison of metrics does not indicate that Federal Signal is fairly valued. Instead, it just emphasizes the balance sheet advantage that the company has. The comparability of such varying debt and profitability levels is quite low. Aside from this fact, it is still important to note that the ratios seen here would be considered low is just about any industry. Here are the assumptions for the DCF point of view, first the optimistic scenario:
A discount rate of 11%
For the next five years, I estimate that Federal Signal will grow earnings at a rate of 15% annually. This is not too conservative, but it isn't overly optimistic either. The company has actually been growing so fast that it went from a net loss of $175.7 million in 2010 up to a net income of $160 million in 2013. Also, according to Yahoo Finance, analysts predict that the growth rate for the next five years will be 15%.
After this, earnings will trail off to a growth rate of 3%.
With management recently stating that they expect 2014 EPS to come in at least $0.79, this leaves us with a fair value of $16.54, about 17% higher than the current mark. Now for the strongly conservative point of view:
Discount rate of 11%
If some of the risks that I addressed end up becoming an issue, Federal Signal could bounce around for a few years with losses and profits. Let's assume it would average out to about 5% for the next five years.
After this, earnings growth will level off to 2% thereafter.
This leaves us with a fair value of $10.14, 28% lower than the current price. As you can see, Federal Signal is trading right around fair value, assuming that things won't go neither wonderfully nor dismally for the company over the next few years. Overall, although Federal Signal is a great company with a bright future, I wouldn't say it's anything better than a hold right now.
Disclosure: I have no positions in any stocks mentioned, and no plans to initiate any positions within the next 72 hours. I wrote this article myself, and it expresses my own opinions. I am not receiving compensation for it (other than from Seeking Alpha). I have no business relationship with any company whose stock is mentioned in this article.