US and Canadian oil and gas producers have long coveted exports of liquefied natural gas (LNG) as a potential release valve for the domestic oversupply of natural gas, a product of the industry's aggressive drilling in the Marcellus Shale and other prolific unconventional resource plays.
Although surging output from US shale fields enabled the US to offset declining volumes from the Gulf of Mexico and overtake Russia as the world's leading producer of natural gas, upstream operators' drilling success hasn't necessarily translated into financial outperformance.
Robust production from prolific unconventional fields sent North American natural-gas prices spiraling lower, while the no-show winter of 2011-12 increased this oversupply and depressed prices even further in the first half of last year.
Prices have recovered somewhat in the new year, thanks to robust demand for heating during the frigid 2013-14 winter. However, the price of the commodity has merely recovered to historically depressed levels from ultra-depressed levels.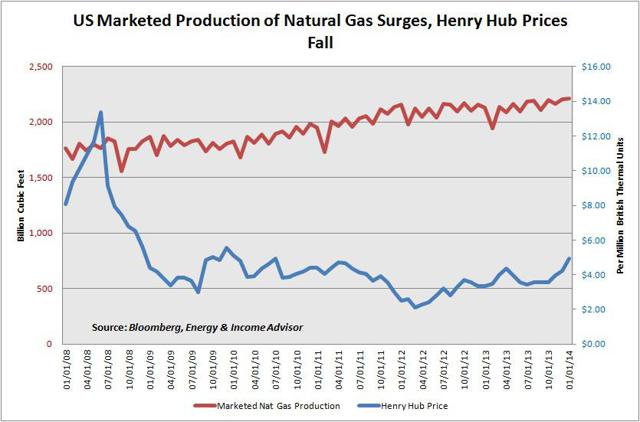 Meanwhile, producers continue to seek new demand outlets.
Pipeline exports of US natural gas to neighboring Mexico and Canada have surged, increasing at an average annual rate of about 10 percent over the past five years.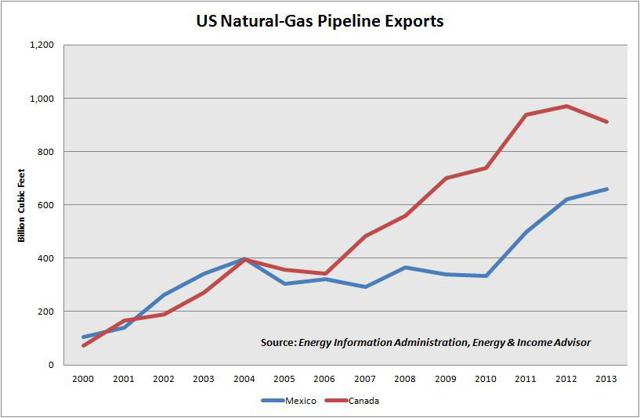 However, the volume of cross-border shipments last year represented only 5.2 percent of US natural-gas production. Accordingly, average price realizations on pipeline exports have largely tracked spot prices at the Henry Hub, the delivery point for futures contracts that trade on the New York Mercantile Exchange.
Looking for arbitrage opportunities, the US oil and gas industry pushed hard for the Dept of Energy to approve increased LNG exports via specialized tankers. A quick glance at the difference between Henry Hub prices and international prices underscores the appeal of US LNG exports to companies on either side of the trade.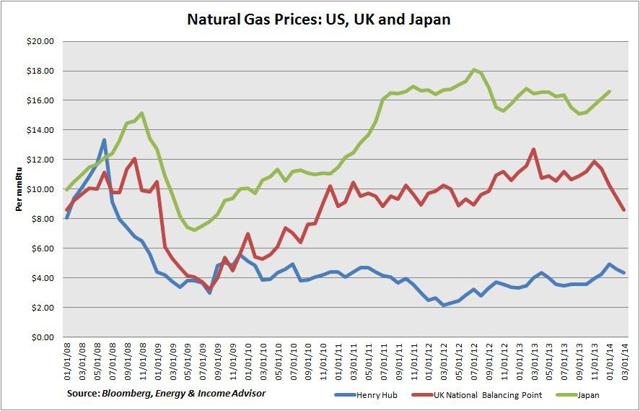 Whereas US natural-gas producers would benefit from the creation of a new demand outlet, European customers could diversify their supply base away from expensive pipeline gas delivered by Russia under oil-indexed contracts.
At the same time, robust demand growth in China, coupled with the closure of Japan's nuclear reactors after the Fukushima-Daiichi disaster, has intensified competition for LNG volumes in the spot market and elevated prices to levels that incentivized producers and traders to redirect cargoes from Europe to Asia.
Japan and South Korea, which account for the bulk of global LNG demand, have borne the brunt of rising prices.
Not only does a paucity of domestic energy resources force Japan and South Korea to rely on imports, but formidable geographic obstacles-the Pacific Ocean and North Korea, respectively-also prevent the nations from accessing the continental pipeline system.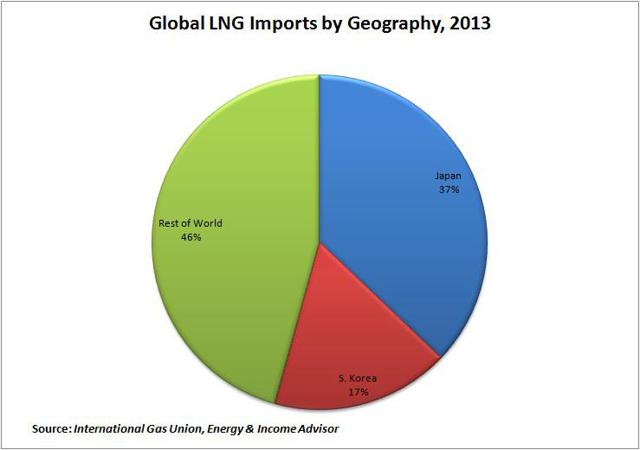 These higher energy costs act as a severe drag on Japan and South Korea's economies, which rely heavily on LNG to meet their heating and electricity needs.
Demand for lower-cost energy in part explains the appeal of Australian LNG volumes to customers in Asia and the profusion of export schemes; the nation's proximity to Japan, South Korea and other demand centers lowers shipping costs.
For example, in January 2014, Japan paid more than $17.00 per million British thermal units (mmBtu) for the majority of its LNG imported from the Middle East, compared to $14.98 per mmBtu for cargoes arriving from Australia.
At the current Henry Hub quote and after the widening of the Panama Canal (expected to be completed at the end of 2015), seaborne LNG imports from the US Gulf Coast could give Japan and South Korea a modicum of price relief-depending on the contract terms.
However, the belief that US LNG exports will provide Asian LNG buyers with a massive discount to prevailing prices appears misguided.
Our forecast calls for growing supplies of LNG to shrink the premium that the commodity commands in Asia to shrink to $2.00 per mmBtu from about $4.00 mmBtu (after liquefaction and transportation costs) toward the end of the decade.
Matt Schatzman, BG Group's (OTCQX:BRGYY) executive vice president of global energy marketing and shipping, addressed this misconception during the global energy giant's 2013 Capital Markets Day:
There is a myth in the market that Henry Hub price, US LNG exports provide a significantly discounted LNG supply source to Asia. In reality, this is not the case. Full-cycle costs of U.S. LNG exports delivered to Asian markets will have at least $6 to $7 per mmBtu premium to U.S. Henry Hub prices based on the cost to liquefy and ship the LNG to Asia and this is before seller margin is added.
Note that Schatzman's estimate reflects the terms of LNG supply contracts inked by Cheniere Energy Partners LP (NYSEMKT:CQP) for its Sabine Pass export terminal and assumes a liquefaction cost of $3.00 per mmBtu and a 15 percent premium to the Henry Hub price.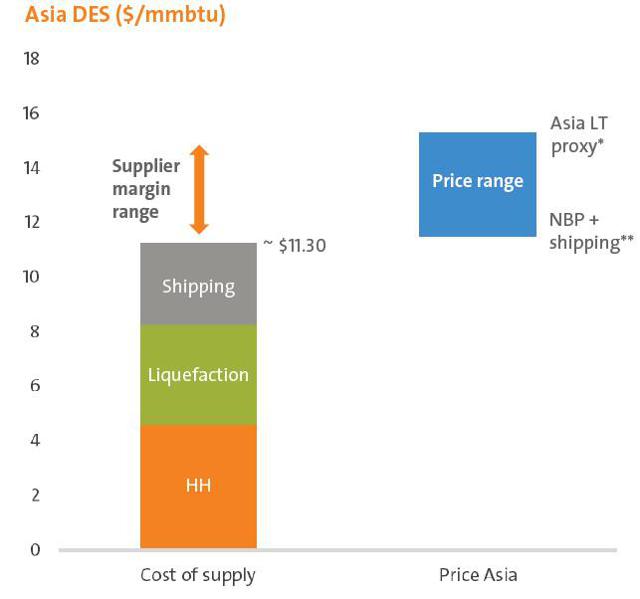 Source: BG Group
The contract terms inked by Freeport LNG reportedly involve a premium of $7.00 per mmBtu relative to pricing at the Henry Hub.
More important, supply agreements indexed to the Henry Hub would provide Asian buyers with a degree of insulation against future increases in international crude-oil prices.
LNG prices in Asia traditionally have traded at about one-sixth of the Japanese crude cocktail, or the monthly average price of a basket of imported crude oils.
Although these contracts usually include terms that provide buyers and sellers with a degree of protection against extreme upside or downside in oil prices, this arrangement in part exposes Japan, South Korea and other LNG purchasers in Asia to higher oil prices.
By inking long-term deals with US export projects, these countries trade oil-related price risk for exposure to North American natural-gas prices-a favorable exchange.
Despite the weather-related upsurge in natural-gas prices this winter, we expect US natural-gas prices to hover around $5.00 per mmBtu over the next several years, with occasional price spikes eventually tempered by output growth.
Access to US-produced LNG would also diversify these stranded Asian nations' supply base, reducing their exposure to unexpected supply interruptions.
Infrastructure outages and security-related disruptions are the most common disruptions; sabotaged pipelines interrupted shipments from Nigeria last year, contributing to the slight contraction in the global LNG market.
However, in summer 2010, Qatar famously extended maintenance on six of its liquefaction trains-a move that many market participants regarded as an attempt to boost price realizations during a period of weak demand.
The Domestic LNG Picture
Many prospective US liquefaction schemes involve the addition of export capacity to existing import-only facilities, reducing construction costs relative to projects in Australia and offshore East Africa.
BG Group has estimated the cost savings associated with these brown-field projects at as much as 50 percent; the liquefaction facility will be able to take advantage of existing land, tanks, process equipment, jetties and utilities.
However, a growing backlog of proposed LNG export projects and petrochemical capacity on the Gulf Coast could strain the labor market and lead to cost inflation later this decade.
And whereas the majority of existing LNG export facilities exploit a specific basin, US liquefaction sites would draw their volumes from a wide range of producers and basins, reducing exploration and development risks.
Investors often assume that the government remains the primary impediment to US producers and international consumers taking full advantage of the spread between domestic natural-gas prices and prevailing levels in international markets.
The Natural Gas Act (15 U.S.C. § 717b) stipulates that the Dept of Energy must evaluate applications to export natural gas from the US, with the decision hinging on whether the proposal is deemed to "not be consistent with the public interest."
LNG shipments to the 20 countries with which the US currently has free-trade agreements largely meet the rubric of being in the public interest. (This exemption, however, doesn't apply to Costa Rica and Israel.)
Within this coterie of trading partners, only South Korea imports significant volumes of seaborne natural gas. Chile and the Dominican Republic also operate LNG import terminals, while Singapore brought its first liquefaction facility onstream in 2013.
After a prudent period of study, the Obama administration in May 2013 ended the moratorium on approving LNG exports to countries with which the US doesn't have a free-trade agreement-a crucial component for most proposed terminals to move forward.
The 37 LNG export applications that the Dept of Energy has approved or is in the process of reviewing include a contemplated 38.56 billion cubic feet per day of capacity-equivalent to almost 55 percent of US natural-gas production and 90 percent of global LNG exports in 2013.
Our table includes only projects that the Dept of Energy has approved for LNG exports to nations with which the US doesn't have a free-trade agreement and those in the regulator's official order of precedence for reviewing applications.

The US Dept of Energy ostensibly will play a role in picking the winners by determining which projects ultimately secure permits for exports to nations with which the US lacks a free-trade agreement.
Thus far, the regulator has approved a total of 10.9 billion cubic feet per day (83.5 mmtpa) of export capacity for unrestricted shipments, a volume that would propel the US into the ranks of the top three LNG producers.
The agency will consider each application on an individual basis and weigh the cumulative effect of previous authorizations when granting approvals. Accordingly, the projects at the top of the review list stand the best chance of gaining approval.
Applying to the Dept of Energy for a permit to export LNG costs hundreds of dollars-one of the reasons for the profusion of proposed projects.
However, getting the go-ahead from the Federal Energy Regulatory Commission (FERC), which assesses the safety and environmental effects of proposed liquefaction capacity, can cost between $50 and $100 million.
Given these expenses, the list of would-be LNG exporters that have applied for FERC approval is considerably shorter and reflects a higher level of commitment than seeking an export permit.
Brown-field facilities that contemplate adding liquefaction capacity to existing import terminals face fewer impediments to securing FERC approval relative to green-field proposals in the Pacific Northwest, where environmental opposition is strong.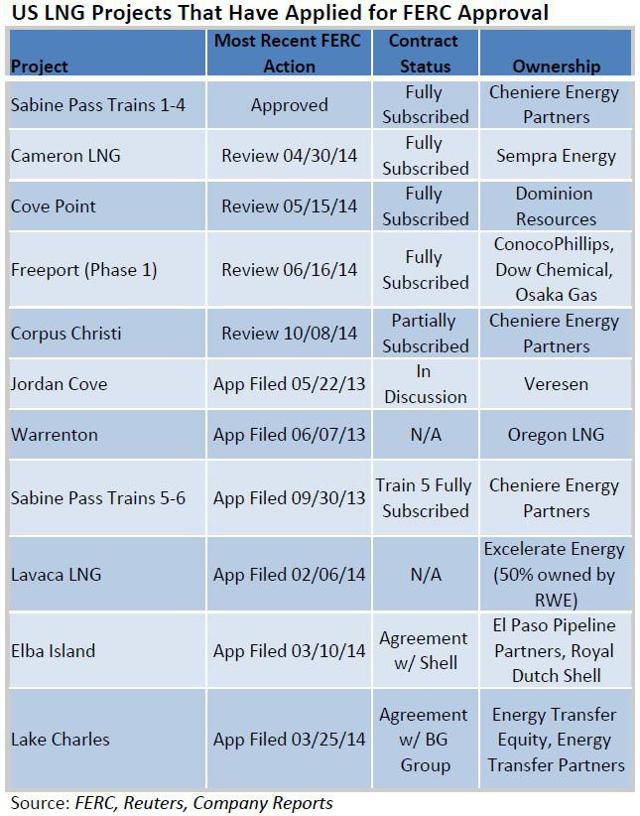 Nevertheless, the markets ultimately will dictate which projects move forward and which fall by the wayside.
Building natural-gas liquefaction and export facilities requires a significant capital investment, especially green-field developments; regardless of how many liquefaction facilities ultimately obtain FERC's approval for construction, the financial markets should favor projects that have secured long-term capacity reservation agreements from customers.
These onerous capital requirements traditionally have prevented overbuilding on the supply side within the global LNG market. And too many export terminals could spoil the party by driving up US natural-gas prices, killing the impetus for additional development.
The table below highlights the five US LNG export projects that have secured long-term supply agreements with potential customers; these commitments give these proposals pole position to actually move forward.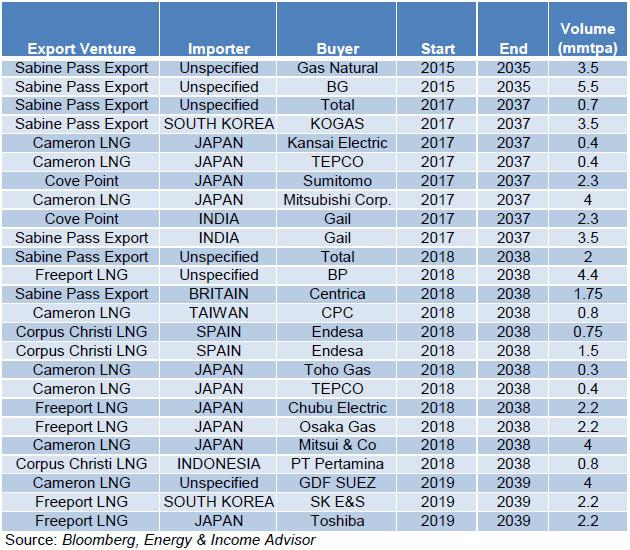 But even memoranda of understanding with prospective customers don't guarantee that these projects will come to fruition. Either side can pull out of the agreement before a final investment decision has been reached.
Given the expenses, uncertainties and extended timelines associated with building liquefaction infrastructure, our inclination is to steer clear of pure plays on LNG exports.
We prefer names that offer exposure to this trend but also stand to benefit from other upside drivers in the near term.
Learn more about our favorite play on US LNG exports.
Disclosure: I have no positions in any stocks mentioned, and no plans to initiate any positions within the next 72 hours. I wrote this article myself, and it expresses my own opinions. I am not receiving compensation for it (other than from Seeking Alpha). I have no business relationship with any company whose stock is mentioned in this article.
Editor's Note: This article discusses one or more securities that do not trade on a major U.S. exchange. Please be aware of the risks associated with these stocks.