The monetary policy of the Fed has resulted in the ubiquitous "hunt for yield". Interest rates are at historical lows, and generating income from a portfolio is a pipe dream for many. Retirees that rely on this passive income have been the most negatively affected by the dovish policies of the Fed. To counter this, some have resorted to lower-quality investment alternatives, which, as we have recently seen, can be quite problematic. Darden Restaurants (NYSE:DRI) provides an opportunity to achieve a satisfactory yield (4.4% yielding dividend) without much risk. In addition to the hefty yield, Darden is trading at a significantly undervalued level.
About Darden Restaurants
Darden Restaurants is the world's largest full-service restaurant company which owns and operates more than 2,100 restaurants that generate over $8.5 billion annually in sales. Darden's portfolio of brands include: Olive Garden, LongHorn Steakhouse, Bahama Breeze, Seasons 52, The Capital Grille, Eddie V's, and Yard House. As of late March, Darden agreed to sell the Red Lobster brand along with its corresponding real estate to Golden Gate Capital for $2.1 billion.

Source: Investor Presentation
Recent Acquisitions
The negative sentiment in Darden which has produced this irresistible investment opportunity is centered around the acquisition of RARE Hospitality for $1.4 billion at the height of the market in late 2007. In order to finance this acquisition, Darden had to take on a substantial amount of debt. This levered balance sheet was not ideal on the cusp of the Great Recession. Darden also shelled out $585 million in 2013 for Yard House, further expanding its balance sheet.
Most brands in Darden's portfolio experienced a contraction in same-restaurant sales due to the recession. The increased debt, coupled with slumping sales resulted in negative sentiment, eventually culminating in a reduction in credit rating by Standard and Poor's and Moody's. However, with the announcement of the sale of Red Lobster, Standard and Poor's put the debt on credit watch, with an increase likely.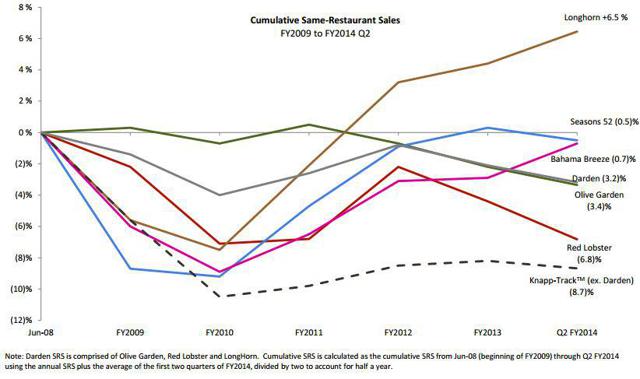 Source: Investor Presentation
Red Lobster Sale
On May 16th, Darden announced an agreement to sell its Red Lobster business to Golden Gate Capital for $2.1 billion in cash- $1.6 billion after-tax proceeds. This brand was Darden's worst-performing in its portfolio, and experienced a 6.8% contraction in same-restaurant sales from 2008 to today. With that being said, management was still able to net an amount in the upper range of its estimate for this business.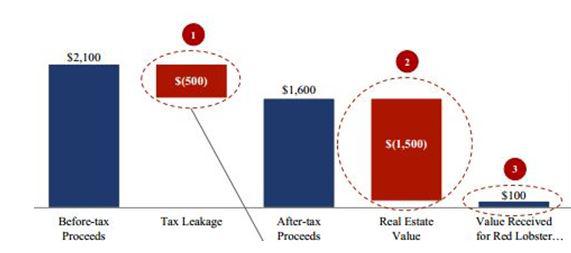 Source: Investor Presentation
As of the most recent quarterly report, Darden's total liabilities stood just north of $5 billion. Servicing this large debt level was of concern for investors. However, the Red Lobster sale should assuage nerves, as $1 billion will be used to reduce outstanding debt. This near-20% reduction in debt signals a new direction for the company - one in which creating a "lean" operation will be in the forefront.
Moreover, investors should rejoice, as the rest of the proceeds, approximately $500 million to $600 million, will be deployed for a new share repurchase program, signaling that management believes its shares are undervalued. Darden will also experience lower operational support costs, as Red Lobster was the least similar to its other brands.
Along with the likely strengthening credit rating, lower debt levels, decreased administrative costs, and reduced share count, Darden is maintaining its current quarterly dividend of $0.55 per share. It is evident that management is doing an excellent job creating value for shareholders.
Undervaluation with Competitors
Upon juxtaposing Darden's financial ratios with competitors, it is clear that there is significant upside from these levels. The most appropriate comparison companies I found based on size, growth rates, and business similarity were: Ruth's Hospitality Group (NASDAQ:RUTH), Cracker Barrel Old Store (NASDAQ:CBRL), The Cheesecake Factory (NASDAQ:CAKE), and BJ's Restaurants (NASDAQ:BJRI).
The most relevant metrics that I will delve into are the Price-to-Sales ratio (P/S), Price-to-Equity (P/E), Gross Margin, and Profit Margin. The first two ratios give an indication of relative value, while the Gross Margin and Profit Margin gives insight into management's effectiveness.
The value indicators, P/S and P/E, reveal a significant undervaluation as compared to its peer group. If it were to trade at the same multiple as The Cheescake Factory, Darden would experience more than 70% upside. The P/E ratio also hints at undervaluation, as Darden trades at the lowest level in the peer group. Compared to CAKE's P/E trading level again, Darden would have 36% upside. If compared to Cracker Barrel's level, it would still suggest an increase of 28%.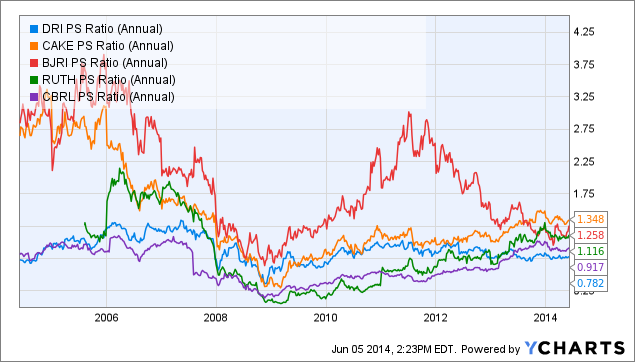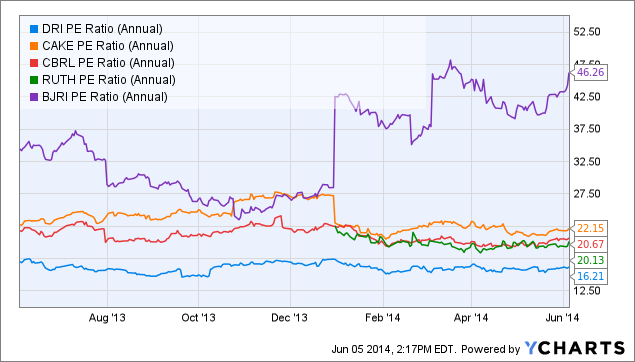 Now, as a critical reader, you're probably thinking to yourself that there is a reason for this undervaluation. In many occasions, the multiples that a company in the restaurant sector trade at are tethered to margins. So, it would be logical to think that Darden would thus just have lower margins, which would explain the discount to peers. However, after looking at the gross profit margin, it appears that this undervaluation is unfounded. Darden trades at the top range of the peer group in this regard.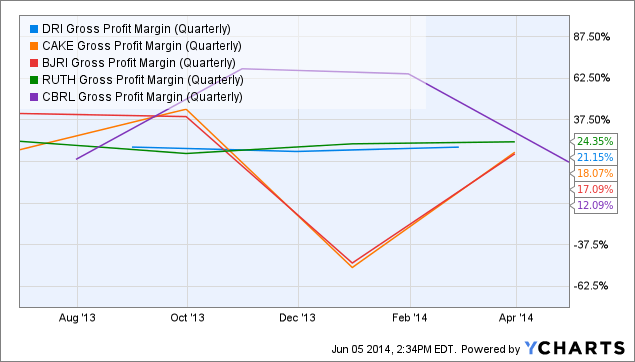 Another area of concern that a prudent investor may question is why gross margin is emphasized and not profit margin. To that objection, I opine that profit margins are important as well, but gross margins better indicates potential. Cost trimming is much easier to improve profit margins, but it is more difficult to expand gross margins, and profit margins ultimately flow from gross margins. Having said that, Darden trades in the middle of the peer group in regards to profit margin. Lower operational costs from the Red Lobster sale and synergies resulting from the Yard House acquisition should improve Darden's profit margin in the coming quarters nonetheless. Management has estimated $60 million in savings from these initiatives so far.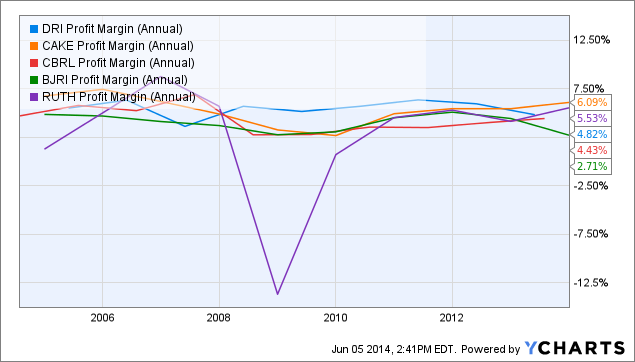 It is also judicious to note that trading at a discount to peers could be caused by a risky balance sheet. Fortunately for Darden investors, this is no longer the case, as management has reduced debt nearly 20% following the Red Lobster sale.
Operational Performance
Darden has outpaced many in the industry to grow its market share. The portfolio of Darden stores has increased 10.6% in same-restaurant sales over the past 10 years. This outperformance was driven by Olive Garden growing 22.7% over that time frame. In comparison, The Cheesecake Factory, which trades at a much higher multiple than Darden, only grew 4.5%.

Source: Investor Presentation
Sales growth has been increasing, and Darden experienced double-digit (11%) growth from 2012 to 2013 without Red Lobster. Yard House will also begin to be accrective in 2014, which will be a boon to the company. The industry as a whole should improve as signs of an improving U.S. economy are percolating. With plans in 2014 to add 75 new restaurants across the portfolio, revenue growth will be strong moving forward.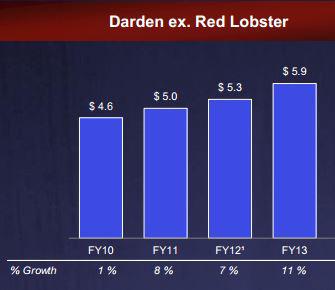 Source: Investor Presentation
Final Remarks
Darden Restaurants presents a unique buying opportunity for investors seeking the rare combination of a compelling yield, coupled with the likelihood of significant capital appreciation. The Red Lobster sale marked a watershed moment in which Darden is positioning itself well for the future. A combination of debt reduction, lower operational costs, an improving industry environment, accretive acquisitions, a new share repurchase agreement, and a robust yield makes it hard to ignore this burgeoning company. Lock in this yield and prepare for serious capital appreciation as well.
Disclosure: I have no positions in any stocks mentioned, but may initiate a long position in DRI over the next 72 hours. I wrote this article myself, and it expresses my own opinions. I am not receiving compensation for it (other than from Seeking Alpha). I have no business relationship with any company whose stock is mentioned in this article.