Kinder Morgan Inc. (NYSE:KMI) is a U.S.-based energy infrastructure operator. Through its subsidiaries, Kinder Morgan operates pipelines, processing and storage facilities, and terminals across the United States and also in Canada.
Kinder Morgan trades on the New York Stock Exchange under the ticker "KMI".
KMI is part of the S&P 500 index.
KMI currently trades around $34.00, and currently yields about 4.94%.
KMI is an American corporation, and therefore, pays its quarterly dividends in U.S. dollars. All the following figures are thus in U.S. dollars.
Notably, foreign investors will likely be subjected to withholding tax.
Dividend Calendar
KMI pays a quarterly dividend.
The dividends are generally declared in January, April, July and October, and are generally paid in February, May, August, and November.
Since 2012, KMI has been increasing its quarterly dividend almost every quarter. In that sense, the last increase in April 2014 was of 2.4% (from $0.41 per quarter to $0.42 per quarter).
Dividend History
KMI has a relatively short dividend history, having starting to pay a quarterly dividend in May 2011.
The evolution of the annualized dividend and of its growth over the last ten years is presented in the graph below.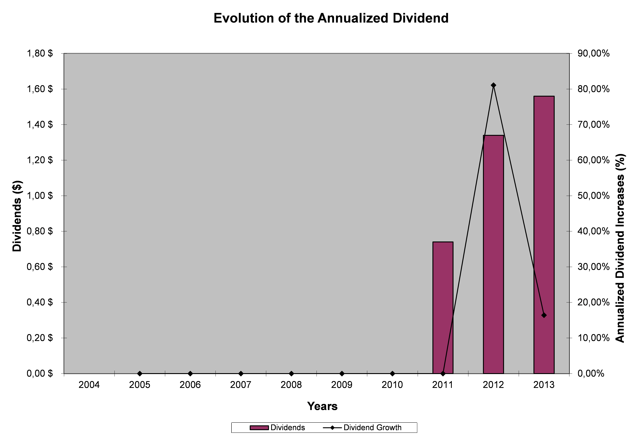 With only three years of dividend history, it is hard to find any pattern or trend in KMI's dividends and dividend increases. At this point, the most that we can say is that KMI started rather strongly, probably to reach a meaningful yield, and then slowed down a bit.
Though only time will tell how KMI's dividend will evolve, I believe that since KMI is ultimately an operator of pipelines and other energy infrastructure assets, the future dividend growth will tend to be in line with other players in that industry, something between 5% and 15% annually.
Dividend Analysis
In this section, I verify two important aspects of the dividend:
Is the current dividend safe?
Is the current dividend likely to grow?
Understandably, answering "No" to either one of these questions should mark the stock under consideration as being unsuitable for dividend investment purpose.
Is the current dividend safe?
To determine the safety of the dividend, I check the historical levels, the current level, and the evolution of the payout ratio with respect to the earnings and, when relevant, with respect to the free cash flow.
First, the evolution of the earnings, dividends, and payout ratios.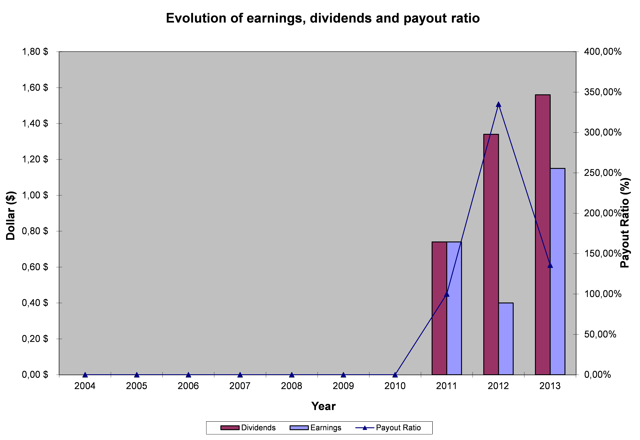 And now, the evolution of the free cash flow, dividends, and payout ratios.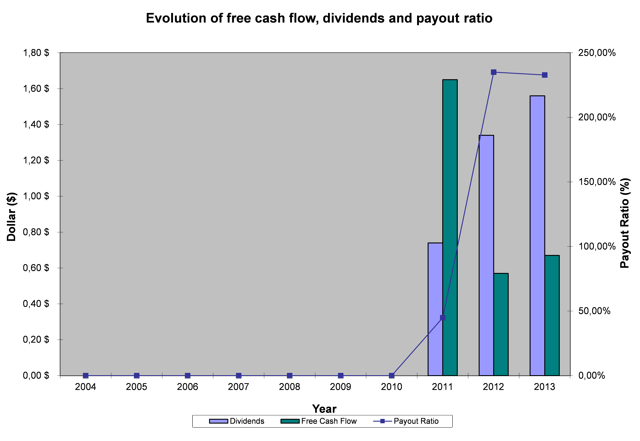 At first sight, both graphs are scary. In both cases, the payout ratio is above 100%. How in the world can that be sustainable?
The thing is, KMI is a different beast.
KMI owns interests in Kinder Morgan Energy Partners (NYSE:KMP) and El Paso Pipeline Partners (NYSE:EPB). Both KMP and EPB are master limited partnerships (MLPs).
Some of you may already know, MLPs are special corporate structures which don't pay taxes at the corporate level if they pay out most of their earnings.
Though I am certainly not an expert in MLPs, I know enough to understand that a payout ratio over 100% is not uncommon for such entities.
The main reason being that the earnings they present take into account non-cash items such as depreciation. Since MLPs tend to own large energy assets, the amount of depreciation by which they can reduce their earnings can be significant.
So, comparing the dividends to the earnings and/or to the free cash flow may not be the best measure of safety of KMI's dividend.
In the end, the dividend appears to be safe, but further analysis may be required.
Overall, I think the current dividend is safe.
Is the current dividend likely to grow?
Though the apparently unsustainable payout ratios could be a cause for concerns, I don't think that will affect the capacity of KMI to grow its dividend.
First, KMI didn't start paying a dividend three years ago only to cut it now.
Second, KMI owns interests in two of the largest pipeline and terminal operators, namely KMP and EPB. Due to their generally monopolistic business model, pipeline operators tend to generate stable and growing income, while having limited competition.
So, KMI's dividend is likely to continue to grow.
What remains to be seen is at what rate. The recent average dividend growth rate is not sustainable. However, KMI probably quickly increased its dividend to reach a reasonable level.
Overall, I think the current dividend is likely to grow in the foreseeable future.
Stock Valuation
Estimated Fair Values
To calculate a range of fair values, I calculate how much one share will return in cumulative dividends over the next 20 years, according to different scenarios, and adjusted for inflation.
The calculations are performed using the affiliated website Dividend Stock Valuation.
For KMI, I've used the following inputs:
Share price: $34.00
Dividend rate: $1.68
Dividend growth rate:

Optimistic scenario: 8.0%
Realistic scenario: 6.4%
Pessimistic scenario: 4.8%

Discount rate: 3.5%
The optimistic DGR generally corresponds to the 10-year average, while the realistic and pessimistic DGRs respectively correspond to 80% and 60% of the optimistic DGR.
In the present case, since KMI doesn't have 10 years of dividend history, I used 8% as an optimistic DGR.
According to the above values, the range of estimated fair values for KMI varies from $37.93 (pessimistic) to $51.87 (optimistic), with a realistic value of $44.24.
With a current share price around $34.00, KMI appears undervalued.
I've also calculated that the DGR would need to be only 3.63% over the next 20 years to justify the current price of $34.00. This DGR is very low. This is caused mainly by the relatively high yield of KMI. The higher the yield, the smaller the required growth.
Despite the high payout ratios, I can certainly see KMI maintain the DGR of 3.63% over the next 20 years.
At $34.00, I think KMI is undervalued as a dividend investment.
Estimated Cash Return
With the estimated cash return, I calculate how much cumulative dividends a fixed investment in the stock under consideration will return over a period of years.
Estimated cash return values allow one to compare dividend stocks with different yields and different growth rates.
For KMI, I've used the following inputs:
Initial investment: $1000
Current yield: 4.94%
Dividend growth rate:

Optimistic scenario: 8.0%
Realistic scenario: 6.4%
Pessimistic scenario: 4.8%
Notably, the DGRs are the same as the DGRs used for valuation.
I also compare the various estimated cash return values with the estimated cash return of a benchmark dividend stock having a yield of 3% and a dividend growth rate of 8% (e.g. Procter & Gamble or Johnson & Johnson).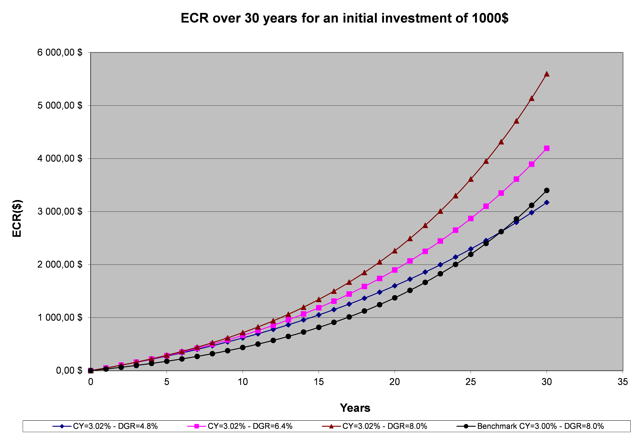 This graph shows the power of high initial yield.
If you look that the pessimistic scenario, the scenario with a DGR of 4.8%, you can see that it would take more than 25 years for an investment in the benchmark stock to outpay an investment in KMI.
If KMI manages to grow its dividend at a faster rate, it will outpay the benchmark stock by a wide margin.
With respect to cash return, I don't see much risk in KMI.
At the current price and yield, I think KMI would make a safe dividend investment.
Conclusion
With its high yield and reasonable dividend growth prospects, KMI is a great dividend stock candidate.
In fact, the sole negative point is the lack of meaningful dividend history. But even this negative point can be dismissed as KMI owns interests in KMP, an MLP with a long history of dividend growth.
In the end, I think KMI would make a good addition to a dividend portfolio.
Final recommendation: I think KMI is a buy at the current price.
Disclosure: I don't currently own shares of KMI, KMP or EPB. I don't intend to initiate a position in KMI, KMP or EPB within the next 72 hours.