A cardinal maxim of stock market forecasters is "a rising tide lifts all boats." This simply means that in order to have full confidence that a bull market is underway and likely to continue, a substantial majority of stocks should be moving higher. True, some sectors go in and out of favor. Nonetheless, if the economy is expanding, we should see a majority of companies increasing sales, profits, and therefore enjoying higher share prices.
Two simple market indicators that have been around for over a century are often used to measure the "breadth" of the rising tide.
the advance decline line, and
the high low index.
The former is just a running total of advances minus declines; the latter a running total of highs minus lows.
Compare these comprehensible technical guides with all the Johnny-come-lately mathematical discombobulations. Don't get intimidated by the formulas behind these indicators: remember what I teach my statistics students on day one: garbage in, garbage out.
Breadth indicators have been bullish for some time, even before the recent surge to new highs in major indexes. In the series below, the A/D line chart is first; the high low chart is second. The source of all the charts is Masterdata.com, with jpg conversion from the bmp files.
As they say at the Academy Awards, the envelope please!
Best Actor: The Standard and Poor's 500 ETF! (NYSEARCA:SPY) (applause, applause)...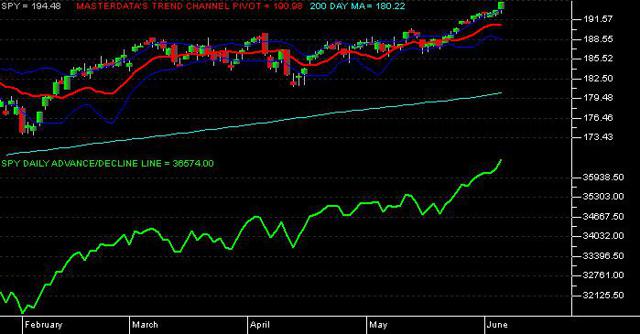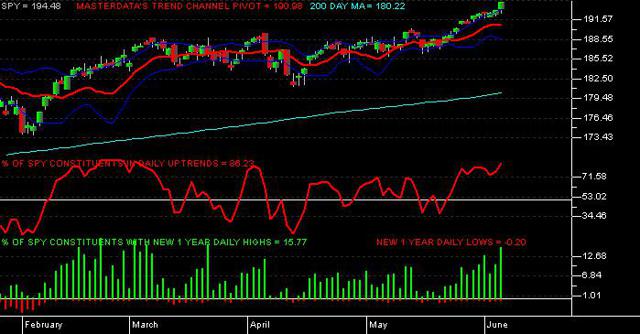 Well done! With these high Standards we won't be Poor for long. (Audible groans...)
Best Actor In A Supporting Role: The Dow Jones Transportation Index ETF (BATS:IYT). (A standing ovation from a huge crowd of Dow theorists)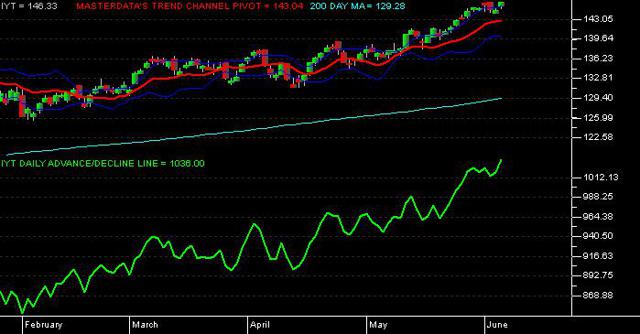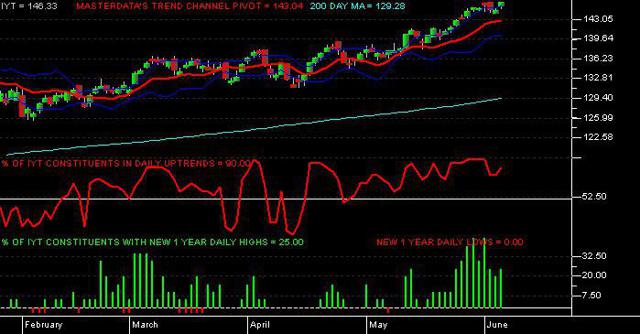 And finally, to close out the shortest Academy Award show ever, for Best Picture, the PowerShares QQQ Trust ETF (NASDAQ:QQQ). Congratulations to the tech stocks for being fashionably late to the party!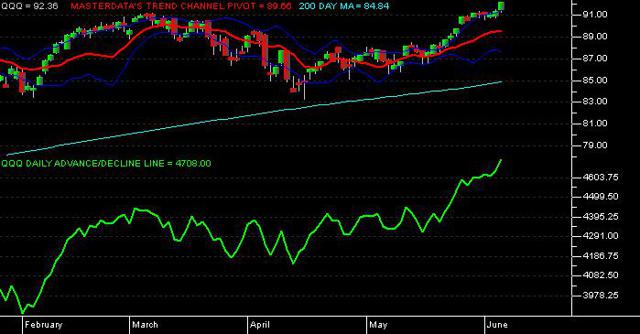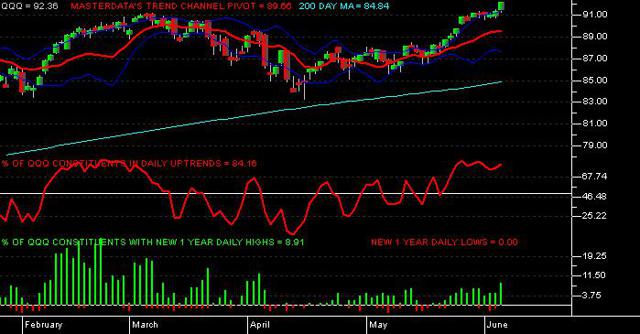 To abandon the Academy Award shtick and finish the article: it is true QQQ has room for improvement in its High/Low performance. But we are moving in the right direction and we should give this powerful Bull market the benefit of the doubt.
Disclosure: I am long XLK, XLE, IYT. I wrote this article myself, and it expresses my own opinions. I am not receiving compensation for it (other than from Seeking Alpha). I have no business relationship with any company whose stock is mentioned in this article. I am also short GLD.