The 25 day quiet period on underwriter research initiated with the May 22 IPO of Parsley Energy, Inc. (NYSE:PE) will expire on June 16, allowing the IPO underwriters to publish detailed favorable research reports on this growing oil and gas public company, starting June 17.
The publication of the many favorable detailed reports will likely lead to a temporary rise in the price of PE shares.
PE's Consistent Early Performance
PE's IPO priced at $18.50 per share, beating the expected price range of $15-$18 per share. Since a strong first-day return of 20%, PE has seen small but consistent gains; the stock closed at $25.16 per share on June 5th.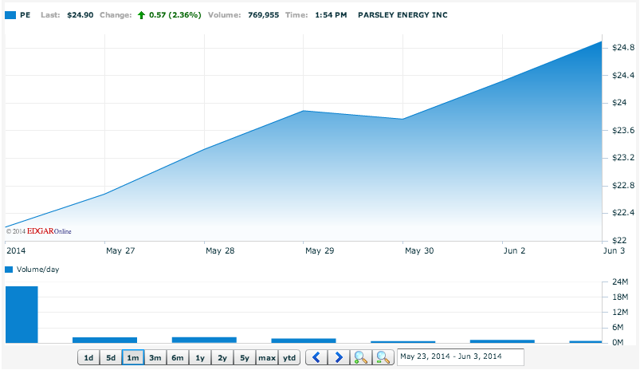 (Nasdaq.com)
Powerful Underwriters Will Attempt To Push Stock Higher
PE's IPO underwriters, including heavy weights Credit Suisse Securities (USA) LLC; Goldman, Sachs & Co; Global Hunter Securities, LLC; J.P. Morgan Securities LLC, Macquarie Capital Inc; Morgan Stanley & Co. LLC; Raymond James and Associates, Inc; RBC Capital Markets, LLC; Scotia Capital Markets; Simmons and Co. International; Stephens Inc; Tudor, Pickering, Holt & Co. Securities, Inc; and Wells Fargo Securities, LLC, will attempt to sustain and accelerate the PE's positive performance through the release of positive analyses of the stock beginning with the conclusion of the quiet period.
Evidence That Quiet Period Expirations Can Open Buying Opportunities
Three years of our firm's research, along with results published in the Journal of Finance (VOL. LVIII, NO. 1; 2003) have evidenced a correlation between the visibility and quantity of IPO underwriters and an increase in the price of shares at the conclusion of the quiet period.
Academic studies describe how an increase in share price typically emerges several days ahead of the quiet period expiration as experienced investors anticipate positive reports and begin to buy up shares, realizing that the underwriters will scarcely publish negative information about a recently underwritten firm. The early purchases generate the perception of rising demand, and cause share prices to rise before the expiration of the quiet period.
Daniel Bradley, PhD, CFA, from the University of South Florida, and colleagues note that analyst coverage is immediately initiated for 76% of firms at the quiet period expiration, nearly always with positive analysis. Abnormal (positive) returns increase significantly when initiated by more than one analyst.
PE Business Overview
PE is an independent oil and gas E&P seeking to acquire, develop, and exploit unconventional oil and gas reserves in the West Permian basin in West Texas; the firm's activities have primarily centered on the Wolfberry, Wolftoka, and Spraberry Trends in the Midland Basin. As of March 31, 2014 the firm had an average working interest of 59% in 457 gross producing wells, which it operates the vast majority of (approximately 99%). The firm operated an average of nine rigs over the year ended March 31, 2014 with a net average daily production that has risen 12,852 Boe/d in the month ended April 30, 2014.
PE plans to continue to develop its current acreage, having identified over 1,500 80- and 40- acre potential vertical drilling locations, nearly 2,000 20-acre potential vertical drilling locations, and nearly 1,700 potential horizontal drilling locations on its existing property.
These locations should last PE for some time; the firm's 2014 capital budget of approximately $409.0 million will provide for an estimated 164 gross vertical wells and 26 gross horizontal wells.
As of December 31, 2013, PE's estimated net proved reserves were composed of 54% oil and 23% natural gas.
Competition in the Permian Basin
PE competes with other E&P firms for limited quantities of acreage, personnel, and equipment. Other E&P firms operating in the Permian Basin include Anadarko Petroleum Corporation (NYSE:APC), Apache Corporation (NYSE:APA), Chevron Corporation (NYSE:CVX), ConocoPhillips (NYSE:COP), El Paso Corporation, and many others.
PE's larger competitors have access to significantly greater financial resources than PE, and will be better able to absorb market and regulatory fluctuations.
President, CEO, Chairman - One of America's Youngest Billionaires
President, CEO, and Chairman Bryan Sheffield - who became one of the youngest billionaires in the United States through PE's IPO - established PE in 2008.
He previously worked as an Operations Tech for Pioneer Natural Resources. Mr. Sheffield acquired the approximately 100 wells that he used to found PE from his grandfather, who retained the wells after his own company merged with another to form Pioneers; Mr. Sheffield's father has served as the Chairman and Pioneer of CEO since 1997.
Mr. Sheffield holds a Bachelor of Business Administration in Finance Degree from Southern Methodist University.
Conclusion - Buying Opportunity For Aggressive Investors
PE's solid performance on the market thus far comes as little surprise; the E&P is already profitable, and has a multi-year drilling inventory placed on some of the richest oil and gas territory in the United States.
Investors may also have taken confidence from the leadership of Mr. Sheffield, a legacy oil man who has taken advantage of his family connections and built far beyond them.
The upcoming quiet period expiration represents a prime opportunity for investors to buy into this promising E&P, particularly given the boost that could come from PE's powerful underwriters.
We invite readers wishing to join the discussion on IPO quiet period expirations to click the +FOLLOW button above the title of this article and follow @DRDInvestments on twitter.
Disclosure: The author is long PE. The author wrote this article themselves, and it expresses their own opinions. The author is not receiving compensation for it (other than from Seeking Alpha). The author has no business relationship with any company whose stock is mentioned in this article.
Additional disclosure: I am long PE.