After assessing a small regional bank's potential, I like to keep track of the ones I like but for the most part, very little will change over the short-term. Because of this, there is rarely any material information to provide insight on and interested investors can easily keep track of what's been happening by checking in on the following quarterly report or announcement. It's more fun for me to research a new idea but it has now been over a year since a few of my first reviews and so much has changed that I think we could all benefit from a check-up on some of them to see what I got right as well as if there's anything we can learn from what I got wrong.
With that said, this article will review Fidelity Southern Corporation (NASDAQ:LION).
Flashback
Before we get into details I'd like to point out that Fidelity Southern Corporation was listed by ZACKS.COM as a strong buy at the time of my prior article. This won't happen all of the time, but I'm proud to say I warned investors to stay away from the company and that it is now ranked by ZACKS.COM as a strong sell.
While I'd love to credit this to my Jedi bank skills, I just finished reviewing one of my worst calls and am now more interested in finding out what I did right and assessing the bank's potential now, one year later.
Prior warnings
To be honest, a lot of positive news was coming from Fidelity Southern last year but I didn't see enough growth potential or safety to warrant an investment. The bank's earnings were on the rise with the mortgage unit bringing in a lot of one time fees but the loan to deposit ratio was high (88%) and equity was leveraged a little more than I like to see from a bank still relying on TARP funding. In addition to this, nonperforming assets ($121.6 million or 4.8% of all assets) were improving but the balance was still high and the bank had only $33.9 million in allowances. Granted, some of the nonperforming loans were covered and a portion of nonperforming assets were in foreclosed real estate but, I prefer a little more coverage and have a hard time fully valuing reported earnings if I think more of them should have been saved for a rainy day.
As you can see on the graph below, I was looking pretty wrong before my thesis started to take hold.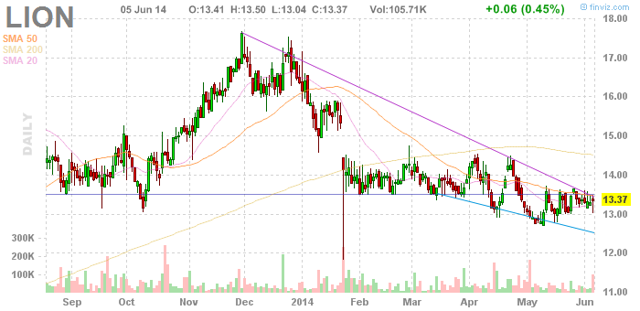 Where's LION at now?
A lot of progress has occurred at Fidelity Southern over the past year but there is still a lot of work to do. The TARP preferreds were repurchased but that required the selling of more common shares so any benefits that increased leverage could have brought will need to be found elsewhere. Leverage gets used so often that it's most of the time seen as a bad thing but there is a passage in Joel Greenblatt's popular book (You Can Be A Stock Market Genius) that highlights the benefits that it can yield in the form of higher returns. Before the payment of the preferred shares, common shareholders equity was leveraged 16.65Xs when it is now only at 10.56Xs. Again, this implies more safety and the repurchase helped the bank avoid a dividend hike up from the $3.2 million a year it was already costing but, was this better than getting a loan to cover some part of it? The bank has been aggressively lowering its non-deposit liabilities (down to $113 million from $274 million) to help cut interest expenses but, at current yields, the total debt outstanding is taxing earnings by only ~$1 million a year (pre-tax). Based on this, I'd rather have seen at least a partial amount of debt raised for the TARP preferreds to squeeze a little more out of what the bank's assets are yielding.
On top of less leverage, the wheels on the bank's mortgage revenues have fallen off.
1Q2013 - $17,795 million
2Q2013 - $20,158
3Q2013 - $17,809
4Q2013 - $10,798
1Q2014 - $10,587
Even with a steady amount of interest income, this fee collapse has brought net income down to $6 million in the first quarter of 2014 from its peak of $8.6 million in the 2nd quarter of 2013. AND, while that may not seem like a lot, remember that these numbers are after the preferred dividend payment in 2Q2013 (and lower common share count) and that the 1Q2014 amount includes a provision benefit in the amount of $2.45 million.
I hope we can agree that $2.45 million is a substantial amount of money for a bank that has a market cap of $280 million. Let's take a look at non-performing loans to see if it was warranted, and keep in mind, allowances at the same time last year only covered ~33% of all nonperforming assets.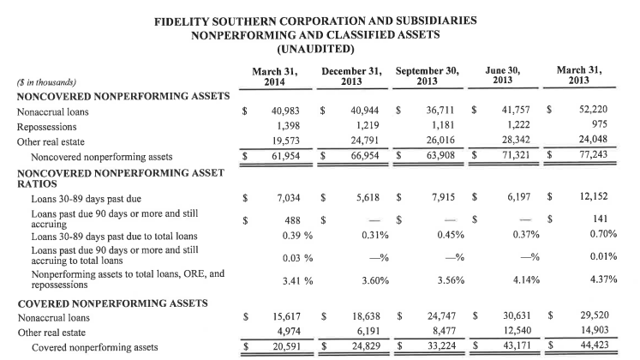 Graph from 1st quarter earnings release.
As you can see above, all line items making up nonperforming assets have improved and the noncovered nonaccrual loan portion is 80% covered, up from 65%. BUT, with 3.06% of all loans and 4.4% of all assets nonperforming, the benefit taken last quarter is still a little suspect. Management may feel confident with its current reserves but I am unaware of a reserve release taken that was this big even when nonperforming assets were at 2% and ALL of them were covered.
What could fall next?
In addition to the recovery helping out earnings, the bank has been able (like a lot of others) to boost non-interest bearing assets by a substantial amount.
1Q2013 - $385 million
1Q2014 - $525
This is a good thing, but after the "safety" brought from the above average refinance fees, I've been starting to question every one of my assumptions. Let's think about this, remembering that this isn't just a Fidelity Southern problem.
Interest rates are low and we have seen banks fighting margin compression by decreasing the rate paid on their interest bearing liabilities as well as by increasing their loan portfolios and/or interest bearing assets. This has held income steady but again, margins are compressing and if and when rates start to rise, I'm assuming the banks will see non-interest bearing deposits fall as customers start to invest in CD's or switch those accounts for ones that earn at least a little bit of interest. Again, I don't think this will occur with any sort of coordination but I don't want to be left holding onto shares of a company that has a very large amount of non-interest bearing liabilities (like Fidelity - 22% of all liabilities) that could potentially reset in combination with a high L/D ratio (like Fidelity - 92% including loans held for sale). This, I believe, is the next hurdle that banks will need to clear (though there are others) and I think that regional banks in particular will have a tougher time when they don't have other services (like mobile apps) to entice deposit holder's to keep funds in accounts that earn zero dollars.
Bottom Line
Shares are cheaper now, there are no TARP preferreds, asset quality is slowly improving and investors can now collect a dividend but the big picture puts me in the corner with ZACKS.COM this time around. There is a ton of work that has been done in lowering non-deposit funding but without another wave of a refinance-like boom coming, shares look more like they are in a defensive position and I prefer my back to be covered with a thicker coat of allowances.
Management could prove me wrong but only time will tell. I have been wrong on more than one or two occasions but I will not be losing any money for it this time.
More information about the bank can be found here.
Disclosure: I have no positions in any stocks mentioned, and no plans to initiate any positions within the next 72 hours. I wrote this article myself, and it expresses my own opinions. I am not receiving compensation for it (other than from Seeking Alpha). I have no business relationship with any company whose stock is mentioned in this article.