On May 18th, AT&T (NYSE:T) announced its agreement to buy DirecTV (DTV) for $95 per share in a stock and cash deal based on A&T's stock price as of the close of May 16th. (The release can be found here). DTV trades below this deal price and so investors who purchase DTV have potential upside if the deal proceeds.
There are three main risks to this trade:
The acquisition is blocked by the regulator; however, considering that the Time Warner/Comcast merger appears to be proceeding, this deal shouldn't meet much opposition. If that deal is blocked then this one too is at risk.
The NFL does not renew its contract with DTV then T will back out of the deal. The NFL though has been in partnership with DTV since 1994 and since "there isn't another serious contender", according to the Wall Street Journal, it appears that this is a not an issue.
T stock price drops significantly thus resulting in a lower total deal value for DTV shareholders.
It appears that T has timed this deal well. Time Warner/Comcast merger makes this deal doable and it appears unlikely that an NFL deal won't happen. The stock market has been strong and T has traded in the $30s since 2012.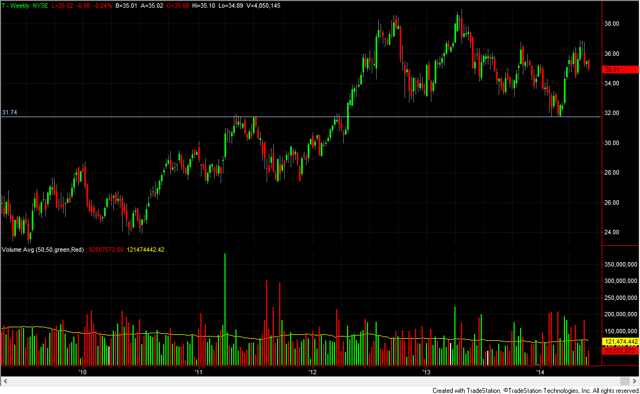 According to the deal:
The stock portion will be subject to a collar such that DIRECTV shareholders will receive 1.905 AT&T shares if AT&T stock price is below $34.90 at closing and 1.724 AT&T shares if AT&T stock price is above $38.58 at closing. If AT&T stock price at closing is between $34.90 and $38.58, DIRECTV shareholders will receive a number of shares between 1.724 and 1.905, equal to $66.50 in value.
Along with the shares, shareholders will receive $28.50 in cash. So if we buy DTV at around $83.30 (intraday price as of June 6th), and the acquisition goes through, but T drops below $29 (around 17% lower than the current price of around $35) then we end up losing some money.
Scenario 1 shown in table below outlines what the upside is if we only purchase DTV at $83.30 and hope that the deal goes through and T's stock price remains stable. For example, if the deal is approved and T remains at $35, then we make 14%.
For the T pessimists, there is Scenario 2a and 2b. In 2a, I assume we purchase both DTV stock and puts options on T with an exercise price of $30 and a Jan 15 expiration. The idea is that the deal outcome will be known soon and the stock will reprice closer to the deal value. In 2b, a longer dated put is used in case the deal outcome takes longer. In both 2a and 2b, 1.9 options are purchased for every share of DTV. The options protect an investor's downside. For example, if the deal is approved but T drops to $25, then under Scenario 1 we would lose 9% but under Scenario 2a and 2b, we would make 1% or breakeven, respectively. If T remains at $35 then we sacrifice a bit of the upside and only make 12% and 11%, respectively.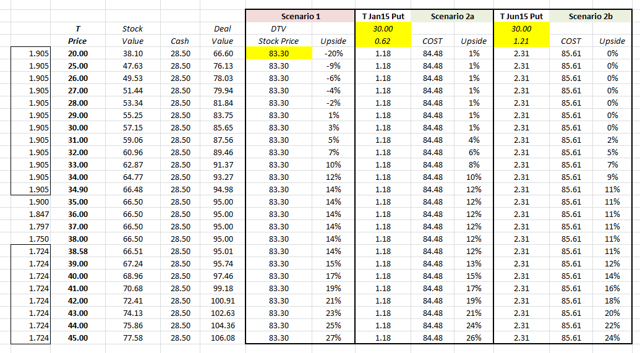 If the deal doesn't go through, then we can expect DTV to drop to the previous trading range of $72.28 - $80.77. That would result in a -3% to -13% loss. Of course, if the market was pricing in a deal for a while then the stock could drop further. From the chart it appears that the market started pricing in a deal in May (as price gapped up and volume increased) so the previous range is a potential area the stock could drop to if the deal fails.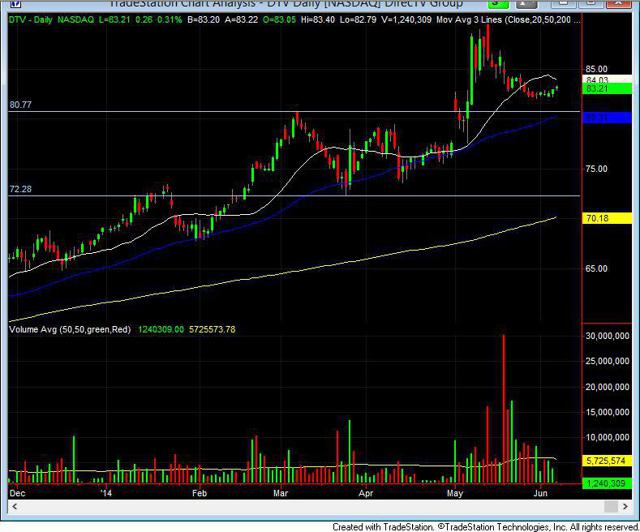 Since announcing the deal, T has dropped by about $1. Based on T's stock chart, it appears pretty reasonable to assume that T will remain in the thirties and a trade under any of the above scenarios looks interesting if you believe that the deal will go through. A third scenario could involve buying DTV Jan 15 puts which cost $3.46 (exercise price $80), that would provide around a -10% maximum loss if the deal fails but would limit the upside by several percentage points.
Investors interested in this trade should start off with asking themselves if they currently like DTV. If they do then the worst case scenario is that they remain long DTV which is currently trading at about 14x 2014E earnings while a quick double digit return under a deal scenario looks possible.
Please note that all the above calculations where based on intraday prices on June 6th 2014.
Disclosure: I have no positions in any stocks mentioned, but may initiate a long position in DTV over the next 72 hours. I wrote this article myself, and it expresses my own opinions. I am not receiving compensation for it (other than from Seeking Alpha). I have no business relationship with any company whose stock is mentioned in this article.