For many retail and apparel companies, the past couple of months have been very trying times. Several firms have fallen victim to the unseasonable weather or changing consumer tastes and have seen their stock prices tumble as a result.
A great example of this unfortunate trend is undoubtedly Quiksilver (NYSE:ZQK). This California-based firm, which is a designer and distributor of apparel and accessories for a variety of outdoor activities, has seen its stock fall by more than 60% so far in 2014, including a nearly 50% loss in the past month alone.
What Happened?
The culprit for this huge drop was ZQK's most recent earnings report in which the firm was expected to post a loss of three cents a share but lost 15 cents a share instead. This horrendous report, coupled with a poor outlook, sunk the stock and led to the bulk of the huge loss described above.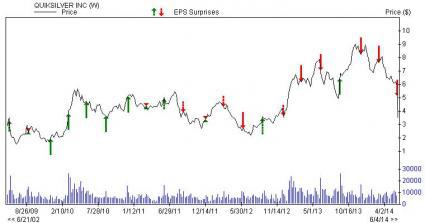 In fact, the company expects the poor sales trend to continue in the second half of the year and it now anticipates a delay in reaching its 'profit improvement plan' earnings goal to the end of 2017. While it should be noted that the company has made some progress on the margin front, the sales have been extremely weak for ZQK—including a 9% decline year-over-year—so it looks as if Quiksilver will have to do more than cut costs to get back to relevancy.
Analysts Agree
Covering analysts of ZQK also seem to agree that more pain is ahead for the company in the near term, which is why they have been universally lowering their earnings estimates for the firm as of late. In fact, not a single estimate has moved higher for either the current quarter or current year, with five estimates going lower for each time period in just the past week alone.
The magnitude of these revisions has also been pretty intense too, as the current quarter estimate has plunged from 14 cents a share 30 days ago to just four cents a share today. Meanwhile, for the current year estimate, the consensus has cratered from seven cents a share in earnings 30 days ago to a loss of 19 cents a share today, suggesting a huge reevaluation of the company's prospects lately.
Add this in to a string of earnings misses and a negative earnings ESP and it becomes clear that ZQK's only hope for appreciation in the near term is a buyout. For these reasons, we have assigned the stock a Zacks Rank #5 (Strong Sell), suggesting that we are expecting it to continue to underperform broad markets in the immediate future.
Other Picks
Currently, the textile-apparel industry is ranked in the bottom 38% for the Zacks Industry Rank. This means that good choices are relatively hard to come by, though there are a handful of standouts nonetheless.
In particular, both Columbia Sports (NASDAQ:COLM) and HanesBrands (NYSE:HBI) shine, as they both have Zacks Ranks #2 (Buy) and easily beat estimates last quarter as well. So if you are looking for an apparel company, make sure to check out COLM or HBI instead of ZQK, as Quiksilver may have some more pain ahead unless it can become a takeover target by another name in the industry.