Today we will share with you a unique special situation long idea that might play out in the near term. Kimberly-Clark (NYSE:KMB), a well-known company in the global health and hygiene space, is going to spin-off its healthcare business K-C Health Care later this year. The tax-free spin-off will distribute 100% of the shares of the new company, which will be called Halyard Health, to the shareholders of Kimberly-Clark. We believe that the spin-off would create an excellent investing opportunity that is expected to unlock meaningful value for KMB shareholders. The company has filed Form 10 with the SEC a month ago.
How Big the Opportunity Could Be?
KMB is currently trading around $112 with a market cap of $42.24 billion. Per our estimate, the combined entity post spin-off would be valued at $54 billion (leading to a market cap of $48.88 billion with same debt load), which translates into approximately 15% upside from the current level. So the opportunity could be fairly significant when stocks in general are gyrating in a narrow range with mild upward bias.
K-C Health Care is a provider of surgical and infection prevention products. It also offers a portfolio of innovative medical devices focused on respiratory/digestive health and pain management. Among Kimberly-Clark's four reportable segments, which are personal care, consumer tissue, K-C Professional, and healthcare, the healthcare segment generates $1.7 billion in revenue annually, which amounts to about 8% of the company's total revenue. So after the spin-off, Halyard Health would become a company with $1.7 billion in annual net sales and would be in a position to leverage its expertise in several key categories for driving organic growth independent of KMB's overall growth strategies. Its peer group would comprise of big companies like Medtronic (NYSE:MDT), St. Jude Medical (NYSE:STJ), Becton Dickinson (NYSE:BDX), Baxter International (NYSE:BAX) and CR Bard (NYSE:BCR), most of which trade with EV to revenues of around 3.5x. We expect that Halyard Health would also enjoy similar multiple with a valuation of approximately $6 billion.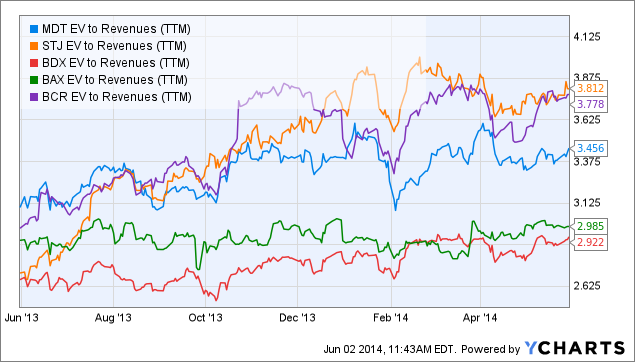 EV to Revenues ((NYSE:TTM)) data by YCharts
The company management believes that after the spin-off, Kimberly-Clark would be able to more efficiently grow its personal care, consumer tissue, and K-C Professional brands including Huggies, Scott, Kleenex, and Kotex among many others. Kimberly-Clark Chairman and CEO Thomas J. Falk said:
The planned spin-off of our healthcare business continues our focus on creating shareholder value. When the spin-off is completed, Halyard Health will be able to take advantage of its leading positions in several key categories to drive its performance and pursue its own opportunities. This move will also allow Kimberly-Clark to further sharpen our focus on growing our consumer and K-C Professional brands around the world.
The company is focusing on innovative product launches for boosting revenue and profitability. However, we believe that in addition to innovative product launches, an innovative marketing strategy is also needed for driving the revenue growth of KMB's consumer care business globally. In North America, KMB has launched innovative Huggies diapers, Depend briefs and Viva towels successfully, and plans to further launch premium feminine care and adult care products this year. For rolling out an innovative marketing campaign worldwide, the company has to incur huge expenses on advertising and product promotion. However, this could boost the growth rate of its consumer care business meaningfully.
Over the past couple of years, KMB's annual revenue has remained flat, hovering around $19.5 billion (excluding healthcare). We believe that after the spin-off, the company's overall revenue excluding healthcare will see a modest growth of 6-8% CAGR from today's 3-5% growth rate and will reach $24 billion within the next three years. If an EV to revenues multiple of 2x is applied on that, the company's enterprise value arrives at $48 billion post spin-off. The rationale behind applying an EV to revenues multiple of 2x for a future growth that hasn't yet materialized is that the spin-off would ensure that assets within the company's core portfolio properly align with its core strategy. This will result in improved operational efficiency that will ensure 6-8% revenue growth we are forecasting.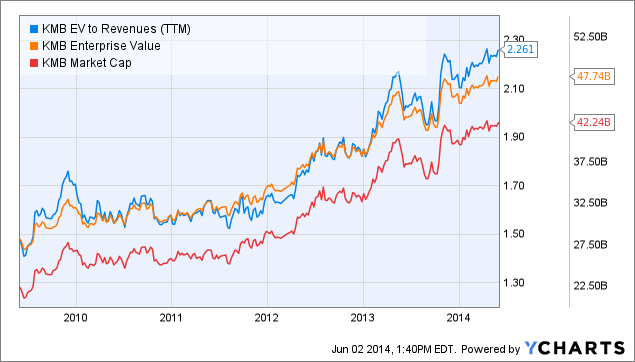 Valuation and Potential Upside
If Halyard Health is valued at $6 billion and the rest of Kimberly-Clark is valued at $48 billion, the valuation of the combined entity would become $54 billion. Currently the company's enterprise value stands at $47.74 billion. An enterprise value of $54 billion leads to a market cap of $48.88 billion with the net debt load remaining the same, translating into an upside of nearly 15% from today's level.
Upside Catalysts
In the first quarter of the current fiscal, the company's organic sales year-over-year in personal care rose 7%, in consumer tissue rose 3% and in K-C Professional increased 4%. However, organic sales in healthcare only increased 1% year-over-year. This clearly indicates that the company's healthcare business has remained a laggard and its spin-off would be beneficial for shareholders. In this scenario if the company posts impressive earnings going forward in the second or third quarter this year, that might drive the stock higher.
The company said that the spin-off would be done in a tax-free manner distributing 100% of Halyard Health's common stock to Kimberly-Clark shareholders. The distribution ratio will be announced shortly before the spin-off, which is expected to be completed at the end of the third quarter or in the fourth quarter of 2014. A ratio of 1:1 should set the price of a single share of Halyard Health around $16. The announcement of the distribution ratio should also act as a catalyst to boost KMB's price.
Risks
To fight competition, the company has no alternatives other than initiating aggressive marketing strategy involving huge costs that might derail its earnings growth engine. Moreover, currency fluctuations will continue to be a headwind.
The company's operating cash flow has been suffering from downward pressure mostly due to higher pension and working capital contributions. Although the company said that most of the pension contributions are over, higher working capital requirements might continue to dampen operating cash flow.
Final Words
We believe that KMB should be considered for buying at the current price with a not so huge but almost certain upside potential with a risk-reward ratio heavily skewed towards longs. The stock has consolidated in a narrow range just below the current level for nearly eight months and a breakout might be imminent.
Business relationship disclosure: The article has been written by a BB Research stock analyst. BB Research is not receiving compensation for it (other than from Seeking Alpha). BB Research has no business relationship with any company whose stock is mentioned in this article.
Disclosure: I have no positions in any stocks mentioned, and no plans to initiate any positions within the next 72 hours. I wrote this article myself, and it expresses my own opinions. I am not receiving compensation for it (other than from Seeking Alpha). I have no business relationship with any company whose stock is mentioned in this article.