After what was a great earnings report for AAR Corp., which is an airplane parts manufacturer that supplies part mostly for governmental contracts, the company has jumped over 8% this morning. The company reported a positive report with an EPS of 0.35, beating 0.30 expectations and improving on 0.27 EPS from one year ago. The company earned over $400 million in revenue, which was also well above expectations. Sales rose 21%. The company did not forecast moving forward, which most likely helped keep all the focus on the solid beat.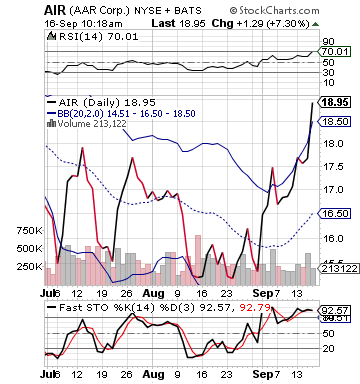 The company, with its jump yesterday morning, has definitely gotten as much movement as it should get. The stock was already extremely overvalued moving into the earnings report, and while its beat was impressive, I am not sure it was worth over 8%. Furthermore, the market was in a red day, and I am guessing it will proceed down rather than up from yesterday. The Philly Fed Manufacturing Index just hit a two month red streak, which is not good news. Bears are looking for anything to fuel them, and this piece of news could help.
With short sales we are looking for opportunities in companies that have the ability to move down from where they are. The upside is very limited for AIR from its current price. The initial wave of demand is starting to wane and now supply is starting to outweigh demand. The only way shares will sell is as the price declines. So, we want to get involved and prosper as the stock moves downward.
Technically, as I mentioned before, this stock was overvalued moving into earnings. It had moved upwards 15% since the beginning of September, partially from a bull run but it also was probably because of the earnings report to be released. When a stock moves that much, it can only move so much more before it needs to sell off. The stock's upper band prior to today was at 18. The stock, therefore, is really moving well outside of its upper band. RSI has skyrocketed close to 80, which is a red alarm for a short sale.
AAR looks ready to move down, and we want to get involved with it now!
Entry: We are looking to short sale this stock in the range of 19.00 - 19.20.
Exit: Looking to cover for a 2-3% gain.
Stop Loss: 3% on bottom.