I started this "tradition" on my blog in 2012. The goal is to pick 20 US and 10 CDN dividend stocks that I think will outperform their peers. This is the reason why I use VIG and XDV as my benchmarks. I keep track of my results for accountability purposes. I find that too many analysts and blogs just drop the ball on their picks when they are not that great. By posting monthly results, I have no other choice but to face my performance and explain it. You can look at my previous picks and returns:
Best Dividend Stock Picks 2012 (-1.47% vs. VIG (US dividend ETF), + 8.32% vs. XDV (CDN dividend ETF)
Best Dividend Stock Picks 2013 (+11.07% vs. VIG, + 0.77% vs. XDV)
Top US Dividend Picks 5.18% (vs. VIG at 2.66%)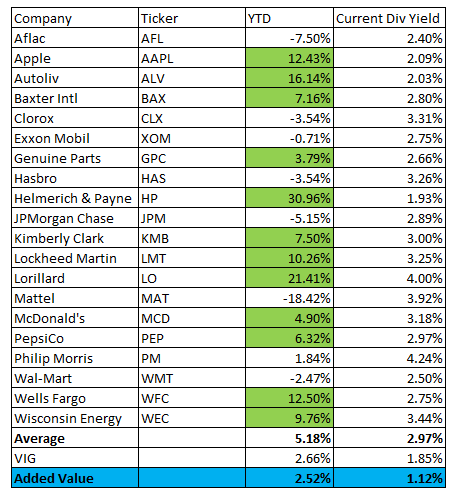 I looked at my first update of the year and my portfolio showed -4.03%, while the VIG was at -5.01%. It is interesting to see that only four months later, the stock market has taken a whole new direction and my picks did almost 10% (9.21%) in such a short period.
Recently, Apple (NASDAQ:AAPL) has been put on a strong uptrend. The stock wasn't going anywhere until it issued its latest financial results at the end of April. Sales were surprising and Apple started to show some growth potential. The stock gained about $100 in 30 days and is now among the best performers in my picks.
Lorillard (NYSE:LO) shows a similar pattern with +10.85% within the past three months. It is my "later bloomer" for this year.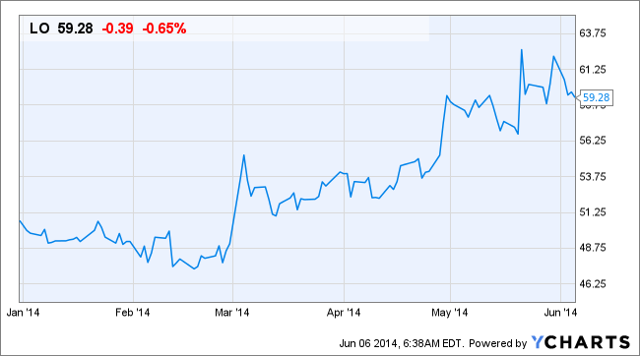 I've finally decided to not drop the ball on Mattel (NASDAQ:MAT). I almost pulled the trigger and sold it, but I decided to give it another chance. Since its very bad results in February, the stock is up by 7%. There might be a chance of recovering more after summer if results are better than expected. Since there isn't much expectation around the company, it shouldn't be that complicated.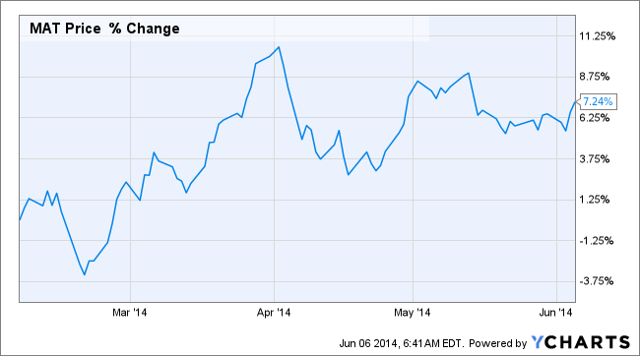 Top Canadian Dividend Stocks + 3.36% (vs. XDV at 3.11%)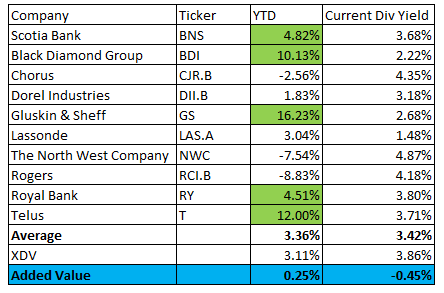 Black Diamond Group (OTCPK:BDIMF), Gluskin Sheff (OTC:GLUSF) and Telus (OTC:TULCF) have kept their big winners position since the beginning of the year. Note that GS jumped by 10% in June (which is not reported in this chart) after the announcement of the acquisition of Blair Franklin Asset Management.

Surprisingly, Canadian banks rocked with the latest quarterly report bringing back ScotiaBank (NYSE:BNS) and Royal Bank (NYSE:RY) up again. This is good news for the upcoming months.
I'm pretty much in line with my benchmark since the beginning of the year, struggling to seriously put my picks ahead of my benchmark. Rogers (NYSE:RCI) and the North West Company (OTC:NWTUF) are still dragging way behind. If one stock could start to pick up, I'll be in a better position to beat my benchmark at the end of the year.
Editor's Note: This article discusses one or more securities that do not trade on a major U.S. exchange. Please be aware of the risks associated with these stocks.