Co-authored by Matt Pauls & Alex Tabatabai
A really good business acquired for too high a price almost always turns out to be a really bad investment in much the same way as a bad business may turn out to be a really good investment if the price paid is too low. It would appear obvious then, that the best sort of investment would be a good business acquired for too low a price. OPAP SA (OTCPK:GOFPY) may be such an investment.
OPAP Background
OPAP S.A. (The Greek Organization of Football Prognostics) operates the lottery and sports betting games of Greece and the Republic of Cyprus (a/k/a Greek Cypriot). The company was founded as a state-owned company in 1958. It was reorganized in 2000 and also granted a 20-year license as the sole operator of lottery and sports betting games in Greece. It went public on the Athens Stock Exchange in 2001. The Greek government owns an approximate 34% stake in the company.
As of 2007, OPAP controlled about 50% of the overall gaming market in Greece (the remaining 50% attributable to illegal gaming). OPAP has a right of first refusal on any new games offered or legalized by the Greek government until 2020. Its most popular games are Stihima and Kino. Stihima is a very popular sports betting game. Kino is a game with tickets bearing numbers in squares, usually from 1 to 80, in which the player circles selected numbers, and the winning numbers are drawn randomly.
OPAP is the largest gaming company in Europe and the exclusive gaming operator for legal gaming in Greece. Being a Greek company, OPAP's share price on the Athens Exchange has been adversely affected due to the recent financial crisis.
Current Greek Financial Crisis
On May 9, 2010, Europe's Finance Ministers approved a comprehensive rescue package worth almost a trillion dollars aimed at ensuring financial stability across Europe by creating the European Financial Stability Facility ("EFSF"). The EFSF is a recently created sixteen member Euro Area group which can issue bonds, notes or other debt instruments in order to facilitate loans to Member States experiencing financial difficulty.
On May 2, 2010, a loan agreement was reached between Greece, other EU members, and the International Monetary Fund ("IMF"), consisting of an immediate 45 billion Euro loan provided in 2010, with more funds available later and totaling 110 billion Euros. The terms of the loan include a 5% interest rate and specific and severe austerity measures which Greece has promised to abide by.
Tax reform
The government passed a tax bill that includes important components to make the tax system more efficient and equitable. The income tax system has become more progressive; exemptions and deductions have been reduced to broaden the tax base; and a number of reforms have been introduced to fight tax evasion, including the tightening of obligations to issue receipts for VAT and to document living expenses, and the introduction of presumptive taxation (IMF Country Report No. 10/111).
Tax administration
In the short run, the government's strategy will focus on safeguarding revenue from the largest taxpayers, stronger enforcement and auditing of high-wealth individuals and self-employed (where risk of evasion is largest) and prosecuting the worst offenders, strengthening enforcement of VAT filing and payment, and collecting on the large stock of tax arrears. For the medium-term, the government will design a program of structural reforms in key tax compliance and administration areas, including: developing and maintaining a comprehensive compliance risk management framework (notably preparing a compliance strategy for 2012); developing taxpayer service capacity to support compliance improvement efforts; substantially improving enforcement operations, particularly in audit, using risk-based approaches; and building headquarters strategic management and planning capabilities in tax and customs administration.
Political & Regulatory Risks
An EU inquiry was launched in 2009 into OPAP's monopolistic status in the Greek gaming market. The Greek government referred this inquiry to the European Court of Justice ("ECJ"). The ECJ has not addressed this referral yet; however, the ECJ has ruled in favor of the Portuguese laws, providing for the State's autonomous power to govern domestic gaming in its own discretion despite Articles 43, 49 and 56 of the EC Treaty, including European gaming operator, Bwin (Case C-42/07, September 8, 2009, European Court of Justice). There was a similar ruling for a Swedish company by the ECJ. Overall, signs point to the EU continuing to inquire into monopolistic national gaming operators with the hope of slowly chipping away at their monopolies. Also, the EU appears to have a long term desire of taking away from nations their domestic right to regulate gaming. However, it is doubtful this will occur before OPAP's current contract with the Greek government expires in 2020. This reinforces our view that future earnings are reasonably calculable through 2020, discussed below.
Online Gaming
Current bans on online gaming in Greece have hurt OPAP's business because OPAP faces a formidable competitor in online illegal gaming. It is estimated that illegal, online gaming in Greece generates revenue amounts comparable to OPAP's top line numbers. This means that currently OPAP only controls half of the market share (50%) despite having a legal monopoly, however this may soon change in OPAP's favor. The Greek government has indicated that it plans to tackle this issue and are set to allow legalized forms of online gambling within Greece so that OPAP can compete with the illegal operators. OPAP's legitimacy as a legal business sanctioned by the Greek government will attract players of the illegal games. Of course, some people will continue to play the illegal games mainly because the illegal games offer higher pay-outs, but OPAP should expect a significant jump in income from an increased market presence.
The Greek government has begun discussions regarding how to combat illegal online gaming and whether portions of online gaming should be legalized. The next step in these discussions was a resumption of legislative discussions on September 12, 2010 [as of September 16th we are not aware of a public update]. The Finance Ministry estimates that these illegal online games revenue about $4 billion Euros (approximately $5 billion US Dollars). During a recent conference call with OPAP's management, the company refrained from making any comments on the discussed legalization of online gaming because in their view this is something that the government needs to discuss and decide on.
Financial Review
Source: Thomson Financial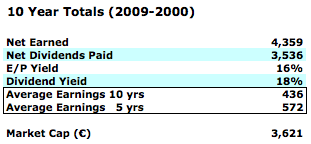 Total % Change 2005-2009
Earnings 30%
Price -65%
How to Think About the Investment
The relevant unknowns appear to be related to potential increases in tax rates by the Greek government and OPAP's post 2020 future, at which point their exclusive license to operate will need renewal. The Greek gaming market will expand to legalize online gambling because the government has identified legalization as the best alternative to illegal online gaming. OPAP will capture most if not all of this market because of its exclusive gaming contract with the Greek government, including a right of first refusal on all gaming in the nation. This new business line and revenue stream will consist of former customers lost in recent years to illegal online gambling.
OPAP operates a monopoly in the gaming industry (mostly lottery and sports gambling). OPAP's average 10-year Return on Equity is roughly 100% and OPAP employ's almost no debt. Earnings have increased a total of 30% from 2005 through 2009, while OPAP's price declined 65%. The Greek government owns 34% of OPAP's shares, one of the reasons why OPAP pays out almost all of its earnings to shareholders via dividends (greater than 80%). OPAP earned an average of €572,000,000 over the last 5 years. Were OPAP only able to earn €430,000,000 annually, going forward, assuming a 30% tax on distributed earnings (current total tax rate for US investors investing in Greece), US investors would effectively earn their respective proportion of €300,000,000 paid as dividends.
Depending on the extent to which an investor maintains confidence that OPAP will earn at least €430,000,000 annually, the valuation becomes quite easy. One recommended approach is to value the income stream as a 10 year annuity. The relevant question then is, what is €300,000,000 a year for 10 years' worth to you today?
Companies in the business of writing annuities, as of August 2, 2010, will provide €300,000,000 annually for 10 years at a cost of €2,514,000,000. However, all else being equal, if you can reinvest at 10% annually over the period, such an income stream reasonably commands a value of €3,439,000,000. This number also assumes OPAP is worth nothing at the end of the period, which is very unlikely because even if OPAP's exclusive contract is not renewed in 2020, the company will not disappear, it will most likely retain a portion of the Greek gaming market share and may have very well expanded into other countries. With all this in mind, OPAP currently sells for €3,688,500,000.
Conservatively measured, we believe the company currently sells for a reasonable price. The current market price appears to ignore OPAP's near-term expansion into the online gaming business, which we expect will be substantial. At the current market price, OPAP's post 2020 business value is, in essence, free.
We are of the impression that €3.6b is a very low estimate of OPAP's underlying value. The current price appears to offer a fairly large margin of safety. The reality is that OPAP will likely continue into the future in much the same way as they have in the past; increasing prices with, or slightly above, inflation. As such, income should increase accordingly and with it intrinsic value. In the unfortunate event that OPAP only distribute €430,000,000, the investment yields 11.6%. More likely than not OPAP will earn roughly the same amount they earned last year, €594,000,000, which equates to a 16% dividend yield. This is acceptable, however, it is also reasonable to expect OPAP's market value to catch back up with OPAP's underlying business value. This increase may very well prove to be substantial. That said, we could live with the alternative.
Shares are traded in Greece on the Athens exchange under the symbol, OPAP-AT. ADR's are available, however are illiquid, have large bid ask spreads, and are half shares.
Disclosure: We are long OPAP.