Wal-Mart (NYSE:WMT) is a company that needs no introduction. Reportedly 90% of the American population lives within 15 minutes of a store. Pair that with the idea that if WMT were a country its 2.2 million associates would rank it ahead of Slovenia in world population and its revenues would place it in the top 30 or so around the likes of Belgium or Argentina. Or expressed more obviously: the company is massive.
Likewise, the Walton family is quite well known and, financially speaking, massive as well. Formed from a single store in Arkansas "Mr. Sam" Walton began to change the face of retail with his 5 and dime. Today, there are 6 Walton descendants that sit comfortably on the Forbes 400 list of the richest people in America. Last time I checked, their collective wealth topped $144 billion - which, incidentally, easily trumps the combined wealth of America's two richest Bill Gates and Warren Buffett.
If you're trying to fathom that type of money, think of it like this: if transformed into $1 bills, that amount would require about 40 Olympic Swimming pools to hold it all.
So why do I bring all of this up and what's the implication for current or future investors? Those are good questions and I'm glad you asked. Even if you can't picture this pile of wealth, you might imagine that it would be difficult to spend this amount of cash. There are only so many sports teams and mansions one can buy. Besides, with a reasonable interest rate the family would have to spend around $10 million per day - just to avoid getting richer.
The reason this is important is because most of the family's net worth is still invested in Wal-Mart. Specifically, the Walton Estate Trust holds roughly 1.6 billion shares of WMT and is controlled by the Walton siblings via Walton Enterprises, LLC. As described, the family doesn't exactly need to sell off shares to maintain their lifestyles, so you might imagine that the trust's share count has remained relatively constant. And this is precisely what we see: from 2000 forward, the amount of shares in the trust has gone from about 1.695 billion to today's 1.609 billion. Sure it is a slight decrease, but only by about 0.4% per annum.
Conversely, the common shares outstanding of WMT have been reduced dramatically in that same timeframe. Below is a graphical look of Wal-Mart's share count since the turn of the century.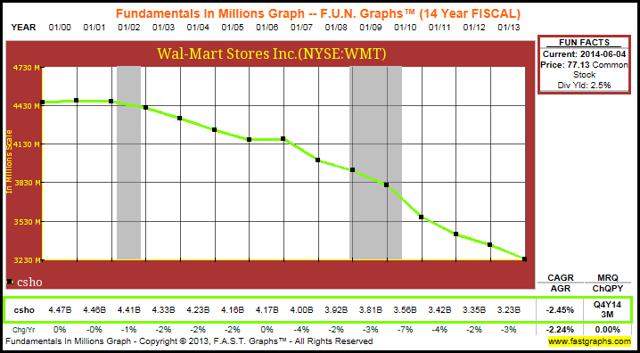 In 2000 the company had approximately 4.47 billion shares outstanding as compared to just 3.248 billion shares reported in Wal-Mart's most recent earnings release. Expressed differently, because the Walton family's share count has remained relatively consistent, the family's ownership has grown from about 38% in 2000 to the 50% mark today. More impressively, this means the family's yearly earnings claim has grown from roughly $2 billion to $8 billion (not to mention total dividends that went from about $340 million to $3 billion).
Of course, none of this is exactly breaking news. The Walton family ownership rise has been well documented and even questioned as a continuing risk to losing independent voices.
So what I'd like to do is take a look out into the future. News is just news in that it simply reports what happened: i.e., "Walton family ownership hits 40%, 45%, 50%, etc." The analysis part is up to us - the consequence of reduced share count amongst a massive family stronghold.
Over the past decade and a half, Wal-Mart has been able to reduce its share count by about 1.2 billion - or at a yearly reduction pace of greater than -2%. That's 1.2 billion claims that no longer exist. So total earnings growth during this time has been about 7.7% annually, yet earnings per share have grown at a yearly rate of 9.8% as a result. Additionally, due to a low starting payout ratio, the dividend has been increasing by about 16% per annum.
If we take it one step further, I don't believe it would be altogether imprudent to suppose a 2% yearly reduction in share count moving forward. If that assumption holds, it's merely a matter of time and math before the Walton family controls the entire company and this article's title comes to fruition. In fact, it would take just 35 years with a linear 2% reduction for 3.2 billion shares to condense to 1.6 billion shares - call it year 2050. As such, it's not unimaginable that WMT could be a private company just as long as it was a public company during this century.
Of course linear rarely happens in finance, but scenarios suggest a range of the general picture: a 1% yearly reduction results in half the shares outstanding vanishing in 69 years, while -3% per year would equate to just 23 years. At its current velocity, Wal-Mart is on a crash course for becoming the world's largest private company.
So, with that information at hand, what are the implications for the current or prospective investor? Well, although I profess no special knowledge, I can imagine one of three basic outcomes.
The first I would deem unlikely and foul spirited, but nonetheless possible. Let's suppose Alice or Jim or John or really any one of them wakes up tomorrow and reads my article. They realize their power - "hey, we own 50% of this thing!" - and decide on a course of action suitable for a world villain. They decide they are going to freeze, or worse yet, eliminate the dividend and instead divert all the profits towards buying back the shares they do not own. They might even take on some debt if they wanted - thereby speeding up the process and taking this mountain of a company private in just a short decade. Worse, for those chiefly concerned with a rising stream of income, the family could probably get quite a few shares on the cheap once this announcement was made.
A second alternative would again be to recognize the course of action - but this time being a bit more benevolent about it. Realizing that Wal-Mart is on pace to become private, they could persuade the board to slow or stop the pace of share buybacks. Given that the company isn't using that cash for reinvestment, this could now be funneled to a higher dividend payout ratio. This, in turn, would continue the streak of increasing the dividend at a pace greater than both total earnings and earnings per share growth. Depending on your penchant for cash, this could indeed be a welcome inflow.
Yet I don't believe that either of those first two options is all that likely. When you have billions of dollars and a lot of time on your hands, you might be inclined to think about your situation. So it's probable that the Walton family has already had this conversation and is happy to stay on the present course.
What this means for investors is that the company would continue to plod along its present path. Growth certainly won't match the heyday of years past, but something in the mid-single digits isn't out of the question given inflation and new stores/markets. The continuation of the share repurchase program would juice growth by a couple of percent a year and dividends would more or less follow earnings per share expansion over the long term. It's more of the same for the partial owners of the world's largest retailer. As WMT comes closer and closer to becoming a private company, shares might command a premium as demand outpaces supply.
What's interesting about all of this is the idea that Wal-Mart doesn't have to do anything that spectacular for the company to become private. The course is already set. As a current or potential investor, your hands are effectively tied to the whims of the family. In the most likely scenario, investors will continue to see reasonable earnings and dividend growth that moderately outpace company growth. Then, at the end of the day, perhaps the Waltons buy you out. You're left to reinvest your proceeds while the world's largest retailer quietly goes on to be the world's largest private retailer of the 21st century.
Disclosure: I am long WMT. I wrote this article myself, and it expresses my own opinions. I am not receiving compensation for it (other than from Seeking Alpha). I have no business relationship with any company whose stock is mentioned in this article.