Nike (NYSE:NKE) has established itself as the largest apparel maker for the sports industry. One of Nike's biggest competitors in the apparel business is Lululemon (NASDAQ:LULU), a company founded with a focus on yoga apparel. There are a number of reasons why Nike should buy LULU.
Why Lululemon Is A Good Fit For Nike
LULU has established itself as a strong brand with a particularly strong following among young women. Nike knows the apparel business quite well and would easily be able to integrate LULU into its operations. I believe Nike would be able to improve earnings from LULU due to its strong knowledge in areas such as marketing and operations. LULU has stumbled since former CEO Christina Day left the company in 2013 and is currently lacking direction. It is too early to say if Laurent Potdevin, who recently took over as LULU CEO, is the right leader for LULU. However, I think there is a strong argument that Nike's leadership would be a perfect fit for LULU and be able to put the company back on the right path. Finally, LULU is a good fit for Nike because it is a direct competitor. By buying LULU, Nike will have eliminated one of its strongest competitors and likely be able to achieve better pricing power.
Lululemon's Valuation
In addition to being a good fit for Nike, I also believe LULU could be acquired for a reasonable valuation. As shown by the chart below, LULU is currently trading at 23 times forward earnings. This is a significantly lower valuation than LULU had been trading at in the recent past. Of course, LULU's valuation has fallen as the company has struggled to achieve the growth that Wall Street has anticipated. Despite coming in below expectations, LULU has continued to grow its sales. While the stock price decline might indicate that LULU's business is in free fall, that is not the case. Rather, the stock has gone down because it was too highly valued. While Nike would have to pay a premium to the current price, LULU could be acquired at a reasonable price. In the past, when LULU traded at sky high valuations, a deal would have been difficult due to price.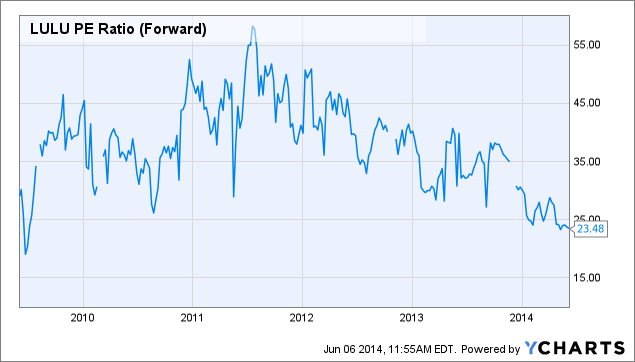 LULU PE Ratio (Forward) data by YCharts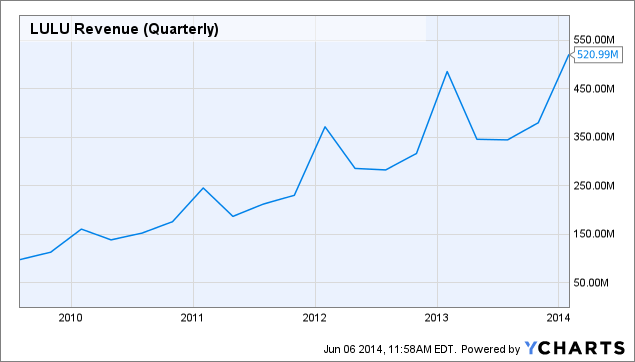 LULU Revenue (Quarterly) data by YCharts
Nike Stock As A Currency
Currently, as shown by the chart below, Nike is trading at about 25 times forward earnings. This appears to be a rich valuation for Nike based on its historic valuation range. Due to the high valuation, I believe Nike could issue stock to pay for part of the LULU acquisition. Also, Nike could also use some of its $5 billion in cash to pay for the deal. With LULU currently being valued at $6.5 billion, it is fair to say that Nike would need to pay at least $8 billion to acquire LULU. Nike could use a combination of stock and cash to pay for the deal.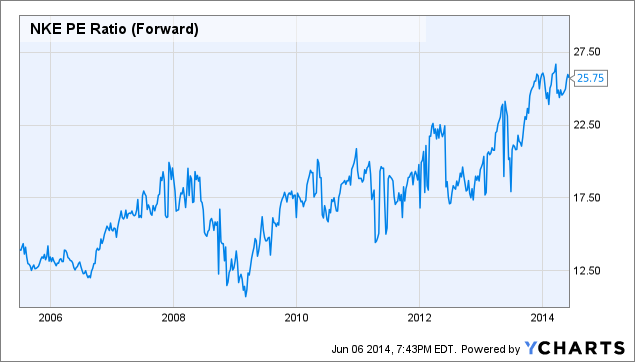 NKE PE Ratio (Forward) data by YCharts
Conclusion
LULU has always been an interesting company and a potential acquisition target. However, until recently, the company's valuation made any deal prohibitively expensive. That has now changed. Additionally, the current lack of direction and leadership makes LULU an easy acquisition target. As the leading sports apparel company in the world, Nike is well positioned to acquire LULU. Nike's high stock valuation also means that stock can be used to pay for the acquisition without the move being too dilutive for Nike shareholders.
Disclosure: I have no positions in any stocks mentioned, and no plans to initiate any positions within the next 72 hours. I wrote this article myself, and it expresses my own opinions. I am not receiving compensation for it (other than from Seeking Alpha). I have no business relationship with any company whose stock is mentioned in this article.