Buy and hold value investors attempt to identify stocks mispriced relative to their earning potential, and hold on to them till the market recognizes this. Often, these mispriced stocks have had a couple of rough quarters, which lead to the market going sour on them.
However, there is one category of stocks which investors should avoid at all costs - these are "value trap" stocks. These stocks appear cheap by traditional metrics such as the P/E ratio. However, once we deeply dig into their financials, we observe a steady trend of deteriorating business metrics, erosion or elimination of competitive advantage, and, worst case, a business model that is being disrupted by competitors. Investing in such stocks is a fool's game - once their business model has been eroded fundamentally, most of these companies enter a death spiral. There are periods where they seem to be recovering slightly (the classic "dead-cat bounce"), only to plunge even deeper the next time around.
In identifying value trap stocks, I attempt to look at the company's business model and evaluate if there is a permanent disruption, or if the challenges are due to operational issues that can be overcome. Below I will try and illustrate some examples of value trap stocks, and identify what indicators to watch out for in these stocks.
Best Buy (NYSE:BBY): Best Buy is a classic value trap. The company has a low P/E ration of 9.48. However, the forward P/E ratio is 11.34: this is a warning sign since it indicates that the expectations are for earnings to decline going forward. As I wrote in my article on Best Buy, the company has been facing stiff competition from online retailers like Amazon.com (NASDAQ:AMZN) and Newegg.com (EGGZ). Online retailers have a structural cost advantage over brick and mortar retailers such as Best Buy, which means that it has to accept lower margins if it wants to compete on price. A good indicator of Best Buy's structural decline is its same-store comps. These have dropped three years in succession and again in the first quarter of the current fiscal year. Best Buy is trying to cost-cut its way back to increased profitability, but in my opinion this will be unsuccessful. The chart below shows how BBY has lagged the S&P 500 over the past 5 years: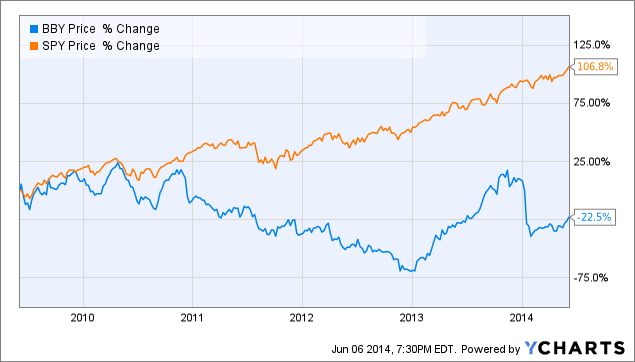 Barnes & Noble (NYSE:BKS): After the bankruptcy of Borders, Barnes & Noble is likely to be the next large retailer to go under. Again, BKS has been disrupted by online retailing, Amazon in particular. The structural cost issues with booksellers are even more pressing compared to consumer electronics retailers such as Best Buy. Books are heavily commoditized, and require no pre-purchase trial if one knows what they are looking for. Amazon, through its "look inside" and recommendation features, has also cannibalized the experiences that brick and mortar booksellers offer. Except for a niche audience for whom a book store is a social experience (who would potentially prefer smaller, independent bookstores), Barnes & Noble's business will steadily continue eroding. Once again the 5-year chart tells the story: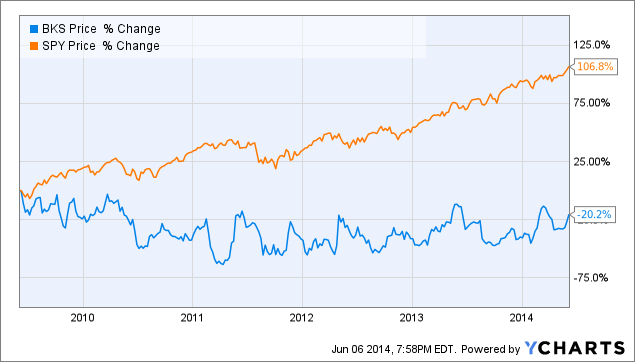 BlackBerry (NASDAQ:BBRY): BlackBerry's fall from grace has been well-documented. The company simply failed to understand the changing trends in the smartphone market and was wedded to its once-successful strategy of appealing to the corporate user. However, as the smartphone moved from being a niche, expensive device available only to high-ranking corporate executives, BlackBerry ignored the trend towards consumerization and kept churning out outdated handsets. Small wonder that the stock fell 90% over the past five years, as handset shipments all but dried up. The company has repivoted its strategy to focus on its core roots of enterprise security, and may well be successful in this niche. No one would argue though that its glory days are well behind it.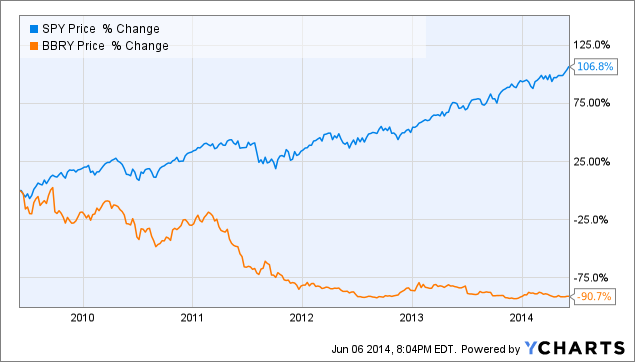 GameStop (NYSE:GME): The last name on my list appears to be a curious selection, since GameStop has not had a bad last five years (it has, though, significantly underperformed the S&P 500)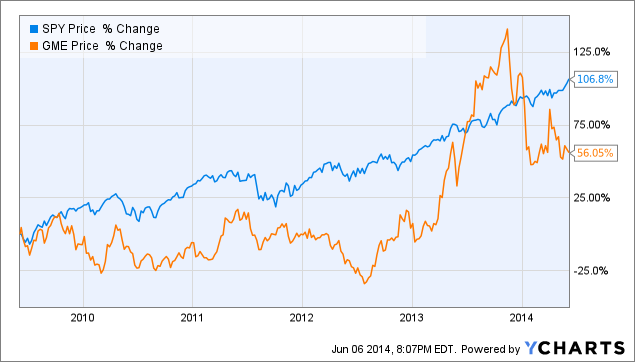 GameStop appears reasonably priced at 11 times earnings; however, the company's business model is under severe long-term threat. Firstly, the dedicated game console market is stagnating. Secondly, online game downloads are going to take up an increasing share of downloads and this trend is expected to continue. Publishers will have control over game life cycles in a way GameStop will never be able to achieve. GameStop's business is at the mercy of external parties, and that is never a good situation to be in.
Summary
I have illustrated the business challenges behind four companies I consider to be value traps. In each of these cases, the fundamental business model is or has been disrupted by competition, or is under the control of external forces. None of these companies have a sustainable competitive advantage, and hence are destined for decline. Their stocks may be cheap, but are not valuable.
Disclosure: I have no positions in any stocks mentioned, and no plans to initiate any positions within the next 72 hours. I wrote this article myself, and it expresses my own opinions. I am not receiving compensation for it (other than from Seeking Alpha). I have no business relationship with any company whose stock is mentioned in this article.