The following is the top 7 gold mining stocks in terms of institutional inflows over the last 3 months. For each stock, we'll list the change in institutional ownership over the last 3 months.

To give perspective on current investor sentiment, we'll also include short float and performance data.

We won't go into details about the other fundamentals of these companies. The goal here is to give you a starting point based on a quantitative screen.

Short float data sourced from Finviz, institutional trading data sourced from Reuters.com.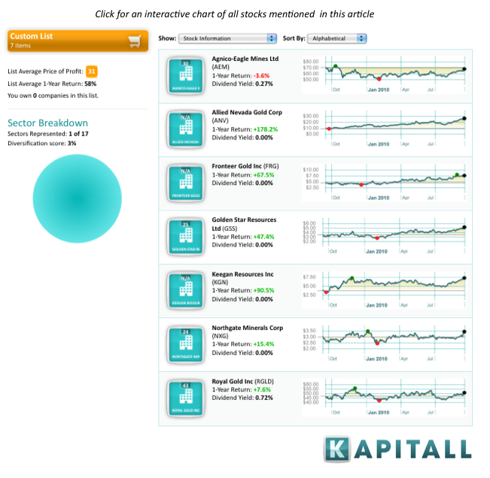 The list has been sorted by the change in institutional ownership over the last 3 months.

1. Golden Star Resources, Ltd. (NYSEMKT:GSS): Market cap of $1,301B. Institutional investors, who own 63.30% of the company, currently own 163,418,255 shares vs. 130,937,721 shares held 3 months ago (+24.81% change). Short float at 4.89%, which implies a short ratio of 3.57 days. The stock has gained 43.18% over the last year.

2. Allied Nevada Gold Corp. (NYSEMKT:ANV): Market cap of $2,327B. Institutional investors, who own 94.39% of the company, currently own 83,606,659 shares vs. 69,878,861 shares held 3 months ago (+19.65% change). Short float at 5.93%, which implies a short ratio of 5.24 days. The stock has gained 177.99% over the last year.

3. Royal Gold, Inc. (NASDAQ:RGLD): Market cap of $2,761B. Institutional investors, who own 61.92% of the company, currently own 33,233,688 shares vs. 28,486,230 shares held 3 months ago (+16.67% change). Short float at 3.08%, which implies a short ratio of 2.09 days. The stock has gained 6.41% over the last year.

4. Fronteer Gold Inc (FRG): Market cap of $936M. Institutional investors, who own 46.18% of the company, currently own 55,729,175 shares vs. 51,069,113 shares held 3 months ago (+9.13% change). Short float at 1.23%, which implies a short ratio of 1.98 days. The stock has gained 69.43% over the last year.

5. Keegan Resources Inc. (KGN): Market cap of $329M. Institutional investors, who own 65.7% of the company, currently own 30,006,465 shares vs. 27,758,135 shares held 3 months ago (+8.1% change). Short float at 0.16%, which implies a short ratio of 1.19 days. The stock has gained 89.47% over the last year.

6. Northgate Minerals Corp. (NXG): Market cap of $980M. Institutional investors, who own 52.89% of the company, currently own 153,877,507 shares vs. 143,908,271 shares held 3 months ago (+6.93% change). Short float at 0.15%, which implies a short ratio of 0.29 days. The stock has gained 12.71% over the last year.

7. Agnico-Eagle Mines Ltd. (NYSE:AEM): Market cap of $10,560B. Institutional investors, who own 74.16% of the company, currently own 124,084,587 shares vs. 116,594,294 shares held 3 months ago (+6.42% change). Short float at 4.02%, which implies a short ratio of 3.04 days. The stock has lost -4.31% over the last year.

Disclosure: No positions